In this post I'll be sharing four Women's fashion trends for fall 2019 and winter 2020 by New York-based trend forecasting agency Fashion Snoops.
Want more fashion trend information?
Keep up with my shopping and fashion adventures on social media and the LIKEtoKNOW.it app @thekeytochic
where you'll have access to emerging trends, personal style, outfit ideas, and shopping reports.
Before we dive in, here are some quick links to more of my trend posts:
February 21, 2019 update - See four women's denim trends for 2020.
January 17, 2019 update - See f
our
men's fall 2019 winter 2020 trends
.
January 15, 2019 update - See four women's trends for spring summer 2020.
August 31, 2018 update -
See four men's spring summer 2019 trends on Fashion Trend Guide.
August 25, 2018 update -
See four denim trends for 2019 on Fashion Trend Guide.
August 20, 2018 update - See five footwear trends for spring summer 2019.
February 2, 2018 update - See 4 Women's trends for fall 2018/winter 2019 in this post on Fashion Trend Guide.
The four themes that Fashion Snoops has presented for the fall 2019/winter 2020 season are Rebuild, New World, Oracle, and Trigger. In this post on The Key To Chic, I'm sharing the inspiration, color palettes, materials, prints, and must-have items for each theme.
1. Rebuild
Here's the background on Rebuild according to Fashion Snoops:
In a turbulent world, we are inspired by the true grit of the post Depression era, a time that merged rural farming with mass industrialization. Influenced by the American Regionalism style, the focus is on heightened emotions and reconstructed notions of design - how to make the best out of what you have. John Steinbeck's novel The Grapes of Wrath is a key influence. Today, we reinforce this focus on a bygone era as we seek to learn from those who persisted despite difficult circumstances, capturing raw emotion and humanity along the way.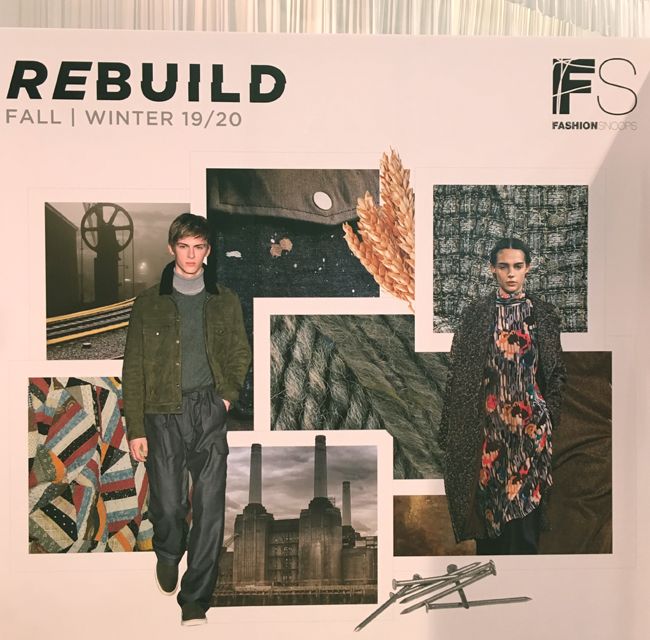 With Rebuild, there's a focus on community, emotions, and the need to find common ground with others. There's a new sense of modern modesty. The color palette for Rebuild expresses authentic realism and endurance. Colors are industrial and bucolic. There are wind worn brights, browns, golds, and iron ore.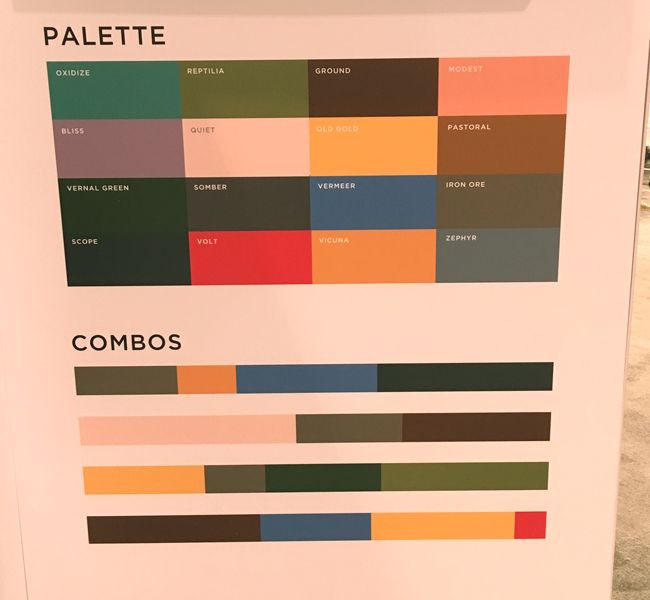 Materials are rugged, cozy, heavyweight, and include picked seams, crafted tweeds, raw denim, starched cotton, patchwork, and railroad stripes. The Women's version of Rebuild is called Pioneertown. Design details are quilted techniques, mixed media, knots, and soft ruffles. Must-have items are the full midi dress, tailored jumpsuit, maxi dress, trucker jacket, puff-sleeve blouse, wide leg pants, and oversized sweater. Important accessories are the western boot, bucket bag, oval sunglasses, corset belt, bandana, and ankle socks. See Chloé for more must-haves.
Shop examples of Rebuild:
2. New World
Recent scientific discoveries ignite a new curiosity in design and inspire unconventional solutions for humanity to interact and sustain the natural world. Technological innovations continue to drive progressive ideas with renewables and sustainability practices, and a focus on merging these concepts with human nature is essential. We venture beyond the boundaries of the planet with awe-inspiring space discoveries that remind us that we may not be as alone in the universe as we once thought. The science fiction undertones of the New World are informed by recent reboots of Utopic fiction, and an emerging emphasis on futuristic forms is inspired by architects like the late Zaha Hadid, whose use of swooping curvilinear lines became iconic.
Human connection is essential for innovation. Colors for New World are tech metallics balanced by lush greens and blues. Humanoid, a pink-based skin tone, is a notable color.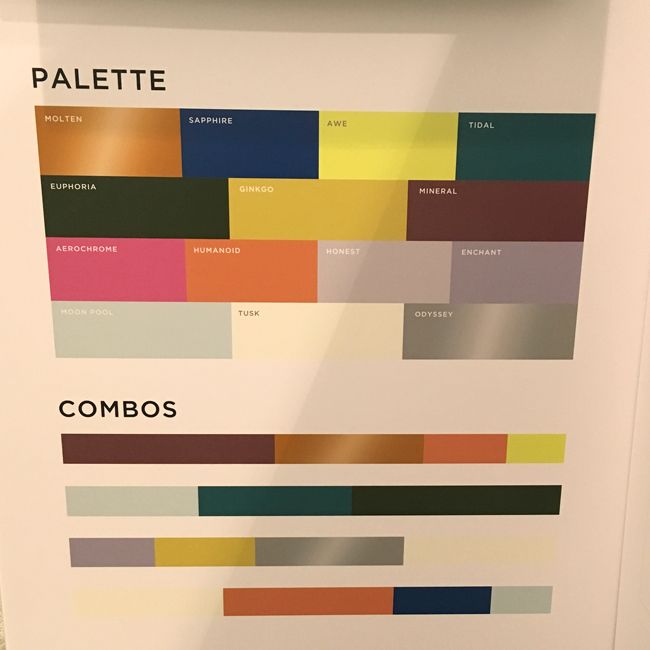 Materials feel organic. They include PVC, puckered fabrics, and nylon. The Women's trend story is called Horizon, and is punctuated with curved lines, futuristic surfaces, and utility elements. Design details are bold cutouts, fringe, high necklines, mixed media, and exposed zippers. Must-have items are the asymmetric dress, boxy tee, puffer jacket, cargo pants, cropped track pants, and pullover anorak. Accessories for this theme include the wide leg PVC boot, crossbody bags, ombré rectangle sunglasses, wide belt, puffer scarf, crew socks, and statement earrings. See Stella McCartney for more ideas and inspiration.
Shop examples of New World:
3. Oracle
We take a step into a seductive new world where mystery and a sense of foreboding luxury create an alluring underworld. Darkness and a whisper of the unknown inspire a rich complexity that elevates the beauty of high-end fashion and design. We become more attuned to the effects of the phases of the moon, rising tides, and astrological shifts. Music and style icons like Michele Lamy and Karin Dreije demonstrate how mystical, feminine power can evoke compelling forms and textures that tap into our primal beings and take us further into the depths of consciousness.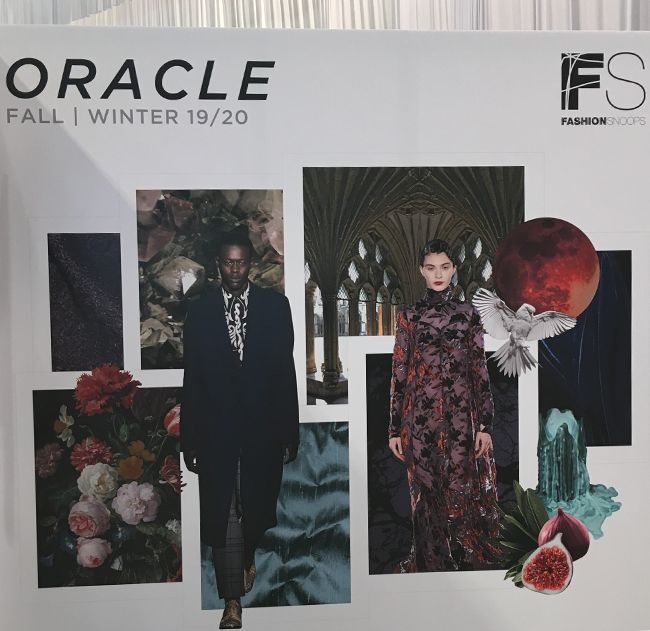 Oracle is rich and indulgent with an underworld element. The color palette for Oracle is dark and hypnotic, with seductive purple, earthy tones, greens, taupes, and blues.
Materials are satin, decayed leather, dark floral prints, weighted velvet, candle waxed fur, and wool bouclé. Texture and luster are important. The Women's trend story is called Enchanted. Design details are puff sleeves, high necklines, embellishments, animal appliqués, subtle pieced construction, ruffles, mixed media, and bows. Must-have items are the velvet midi dress, satin slip dress, asymmetric dress, velvet blazer, maxi dress, cape, and puff-sleeve blouse. Accessories include the pointed toe ankle boot, frame purse, veil, embellished barrettes, corset belt, and leather gloves. See Zimmermann and Ulla Johnson for more inspiration and examples.
4. Trigger
The duality of push and pull creates a catalyst for contemporary design. Normcore dressing is reexamined and reconstructed to compose a unique visual dialogue that blends cerebral construction with a confident streetwise edge. Color becomes assertive and is used with great effect. Artists like John Baldessari and photographer David Brandon Geeting emphasize this undercurrent of graphic impact and inspire the use of saturated hues and unexpected juxtapositions; it's color blocking taken to the next level. It all results in a smart level of minimalism ignited by bold design details and redefining shapes.
There's a streetwise edge to Trigger; see Virgil Abloh's work for inspiration. Colors for the Trigger theme are industrial, and include pink, orange, black, and concrete grey.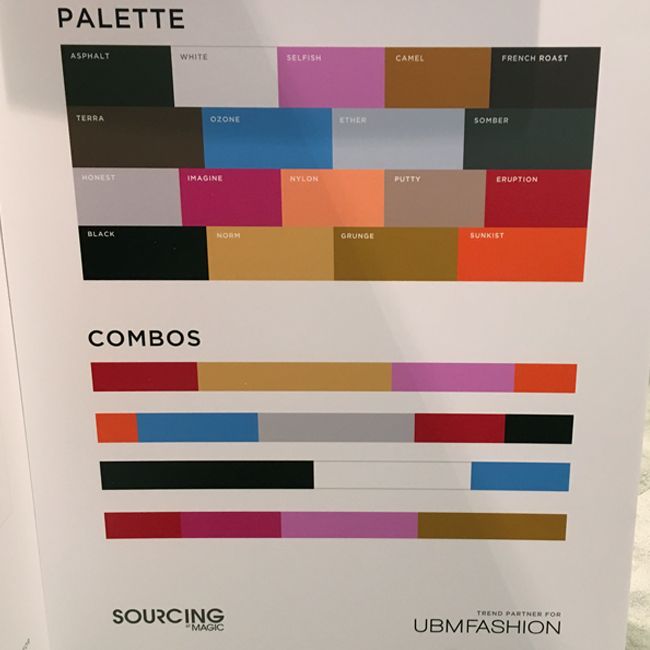 Materials are a mix of fancy, artsy, and industrial. Modular texture is key. The materials take a construction-like approach with bold geometry, Terrazzo fragments, and matte leather. The Women's trend story is called Switch, where architectural lines, '80s details, and energetic colors are key. Volume is very important, as are strong shoulders and utility details. Key items are the sweater dress, fur coat, ladylike pleated skirt, puffer jacket, high waist pencil skirt, and blazer. Accessories are the slingback pump, accordion bag, cat eye frames, gemstone barrettes, fingerless gloves, belt pouches, and sheer socks. See Maison Margiela and Dolce & Gabbana for more examples.
Shop examples of Trigger:
Please note that this blog post is adapted from Fashion Snoops, is protected by international copyright laws, and may not be republished without permission. Students, please feel free to use this information for school projects as long as it's not reproduced or republished online and you properly cite both
Fashion Snoops
and
The Key To Chic
as sources.
This post contains affiliate links and I may be compensated if purchases are made by clicking links.
Keep up with my shopping and fashion adventures on social media @thekeytochic.
Shop the trends: