During a visit to FNPlatform this month, I had the opportunity to visit a few footwear booths to preview the latest collections for fall 2018 and spring/summer 2019. Highlights from the trade show include discussions about sustainability, displays and backdrops to encourage Instagram addicts, colorful, stylish sandals by Brazilian brand Ipanema, and the hottest color of the moment - Gen Z yellow (a rich shade of mustard). If you love shoes, you're in the right place. I'll be sharing five key footwear trends for fall 2018 and spring summer 2019 in this trend report.
1. The Golden Rule
Move over, Millennial pink. There's a new hue in town, and she's called Gen Z yellow. Also known as goldenrod or mustard, this color is hard to ignore; it's everywhere. I spotted it on sandals, flats, and heels at almost every booth. It pairs well with neutrals like taupe, grey, and black, but it also plays well with teal, green, and orange.
Clockwise from top left: Zaxy, Rider, Zaxy, and Stephanie Classic.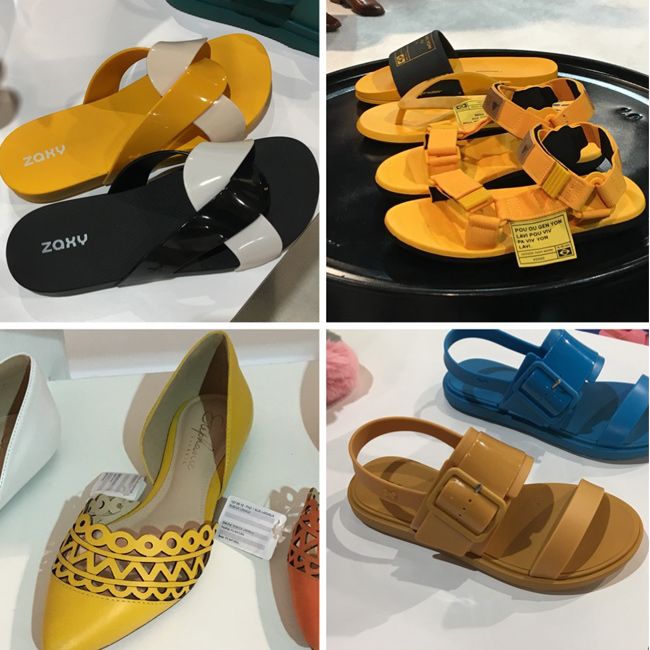 Shop gold footwear:
2. Fit to be Tied
Adorable bows and chic knotted details continue to be strong into the spring 2019 season. Whether it's on casual flip flops or more polished heels, these embellishments add a hint of playfulness to women's footwear.
Clockwise from top left: Zaxy, Stephanie Classic, Carrano, and Carrano.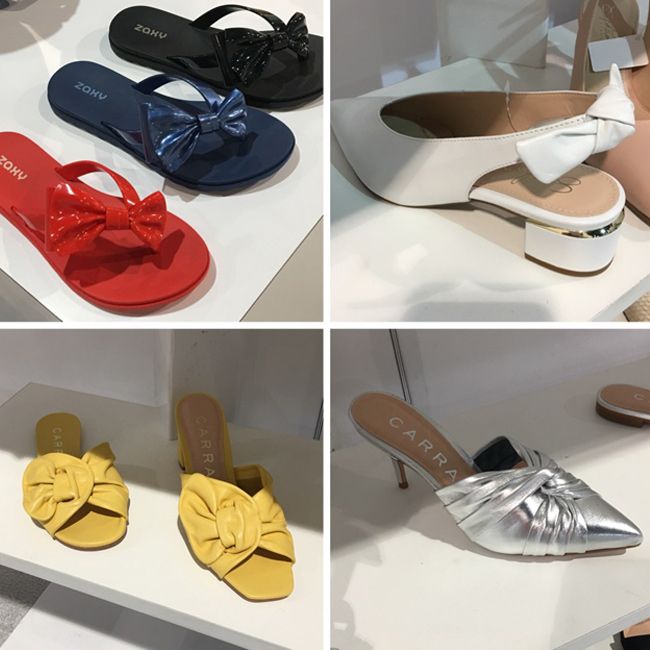 Browse bows and knotted details:
3. Rainbow Brights
Right in line with the resurgence of the '90s, these vibrant rainbow colors inject a happy vibe into sandals and sneakers.
Clockwise from top left: Stephanie Classic, Stephanie Classic, Coolway, and Ipanema.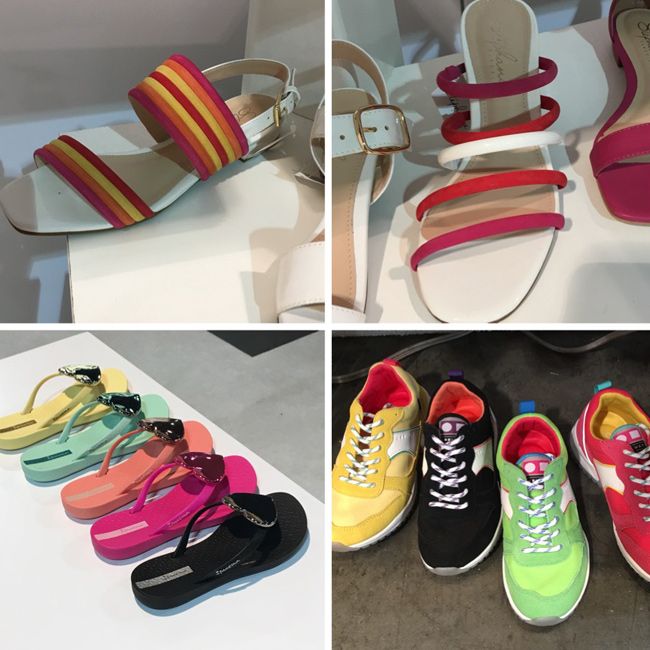 4. Sneakers with Thick Soles
The chunky "dad" sneaker is having a moment, thanks in part to luxury brands like Balenciaga, Chloé, Louis Vuitton, and Stella McCartney. They're not just for athleisure looks. I've spotted them worn in dressed-up ways, with everything from leopard print midi skirts to striped wide-leg trousers.
Clockwise from top: Carrano, Coolway, and Schutz. Shop the Schutz sneaker right here under $200.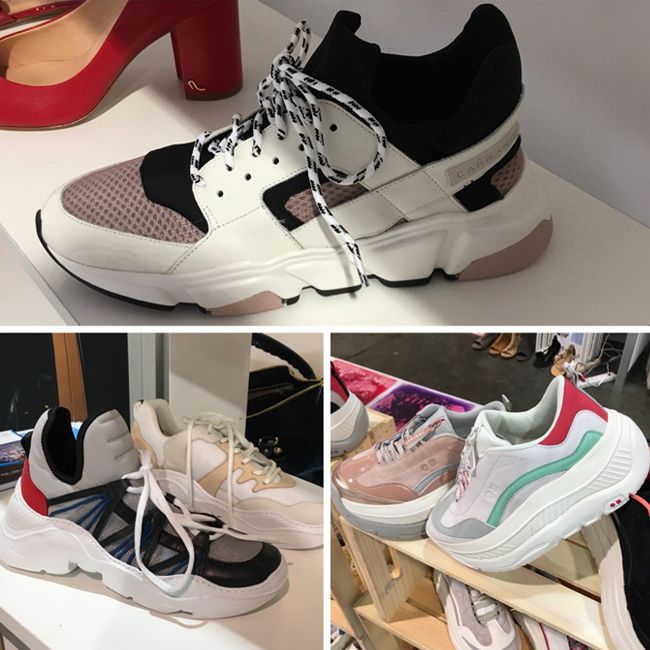 Shop designer sneakers:
Browse more chunky sneakers:
5. See Through Style
Lucite and clear strap details, also reminiscent of the '90s, were another trend I saw repeated in many booths. Several brands showed them in heels, pumps, sandals, and even ankle boots.
Clockwise from top left: Carrano, Schutz, Coolway, and Vicenza.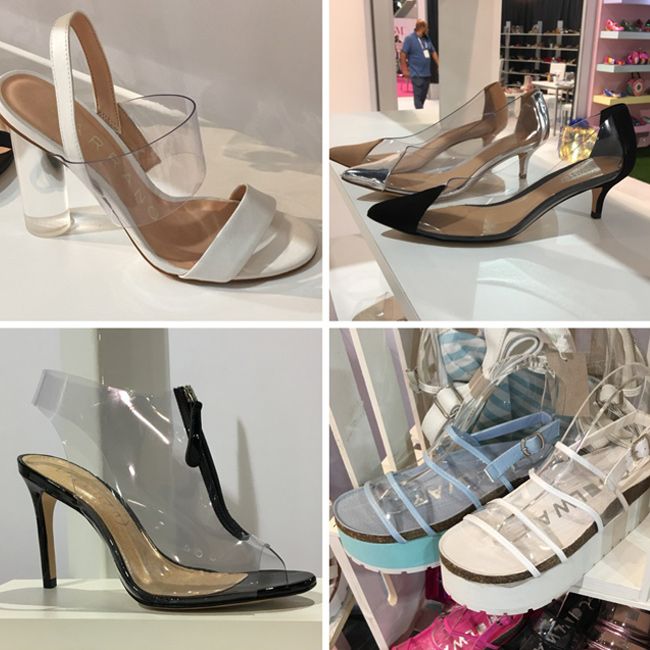 See more clear footwear styles:
This post contains affiliate links and I may be compensated if purchases are made by clicking links.
For more trend forecasts and fashion inspiration, see these reports on my blogs:
Four women's denim trends for 2020.
Four
men's fall 2019 winter 2020 trends
Four women's trends for spring summer 2020
Four denim trends for 2019 on Fashion Trend Guide
Women's fall 2018/winter 2019 fashion trend forecast (macro trends)

Women's fall 2018/winter 2019 trend forecast (four key themes)

Women's spring summer 2019 fashion trend forecast
Keep up with my shopping and fashion adventures on social media and the LIKEtoKNOW.it app @thekeytochic.
See more shoes and shop the trends: