Target's been on a roll lately with the introduction of several exclusive new brands, and this season there are big changes in store in the clothing departments - namely, the introduction of Wild Fable for Juniors and Original Use for young men. Being a frequent Target guest, I happily stumbled upon the early launch of Wild Fable this weekend. In my store, it appeared to replace the Xhilaration line, as I didn't see any Xhilaration products left in the department (it was all on the sale racks). Although the advertised launch date of Wild Fable is August 3, I'll be sharing my thoughts on fit, value, and quality in this early shopping review so that you know what to expect when shopping online or in stores, especially as the back-to-school season begins.
February 22, 2023 - Shop new Wild fable swimwear for spring and summer:
February 1, 2023 update - Get the latest for spring:
May 4, 2022 update - Shop new Wild Fable arrivals:

My first impression of the collection was an abundance of '90s inspiration, trendy basics, plaid prints, stripes, crop tops, sportsleisure, and distressed denim. Think Cher Horowitz, Saved by the Bell, or Spice Girls and you get the idea. Fabrics are mainly lightweight polyester and rayon, while sizing is similar to Xhilaration and Mossimo Supply Co. (It runs small, so when in doubt, go up a size.) If I had to compare Wild Fable to another brand, it reminded me of H and M's Divided line or even Urban Outfitters. Good news for your wallet - everything is under $40. The collection includes plus sizes up to 26, but my store did not carry them.
November 25, 2021 update - Get ready for the holidays:


March 22, 2021 update - Get the latest arrivals: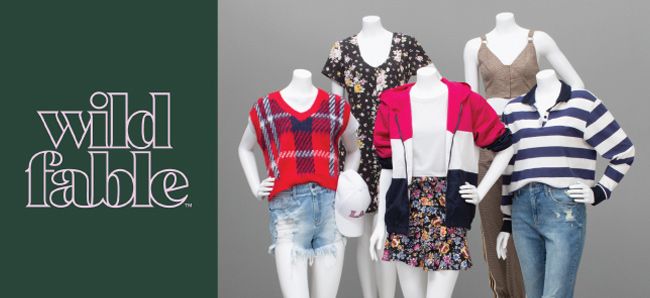 The visuals remind me of shopping at Topshop in terms of graphics, mannequin styling, and cross merchandising.
Denim Sizing Notes
These $20 high rise skinny jeans run big. I'm usually a size 0 or 2 in denim at Target and the 2 was slightly big, with some stretch. These $22 high rise mom jeans (above on the right) run small in the waist, so I got a size 4. Both styles are selling out quickly in the two stores I visited.
In terms of value, the low-priced line is aimed at budget-conscious teens and twenty-somethings, and heavily features synthetic fabrics. To make the sheer polyester and lightweight rayon pieces last longer, I'd wash them on the gentle cycle and tumble dry low or lay flat to dry. At first glance, quality appears similar to Mossimo Supply Co. or Xhilaration, and a step below Who What Wear.
Distressed trucker jackets, micro tops, and black-and-white prints are de rigueur in the Wild Fable collection. There are endless opportunities for layering, especially when sweater weather arrives. if you're a fan of short skirts and dresses, then rejoice, this line is for you. Not a midi length in sight!
If you're like me and you lived through the '90s, then you may be less enthusiastic about revisiting some of these trends. I may make an exception for some of the deconstructed mom jeans, cropped tees, and sportswear.
This post contains affiliate links and I may be compensated if purchases are made by clicking links.
January 30, 2019 update - See my Kona Sol at Target swimwear review.

September 2018 update -

Love Target style? Read my

Prologue at Target review

, my

Universal Thread review

,

and my

A New Day review

for more style ideas and fit tips.





Shop more pieces by Wild Fable: