I've recently returned from
WWDMAGIC
, where I scoured the trade shows for new trends, attended a few trend forecasting seminars, and brought home more photos than I have room to share here. In this post, I'll be sharing six key fashion trends for fall 2017 and winter 2018, as presented by New York-based firm
Fashion Snoops
.
Follow along on my
Facebook page
and
Pinterest trend boards,
where you'll have access to trend information, fashion inspiration, shopping reports, and personal style.
August 21, 2018 update - See four fashion trends for fall 2019 and winter 2020.
August 15, 2018 update - See seven trends for fall 2018 on Fashion Trend Guide.
February 19, 2018 update - See five Women's footwear trends for 2018 in my MAGIC trade show report.
January 25, 2018 update - See my favorite spring 2018 trends in this mini retail report.
January 23, 2018 update - See four Men's trends for fall 2018/winter 2019.
January 9, 2018 update - See nine trends for Women in my spring summer 2018 fashion trend preview.
January 4, 2018 update - See a spring summer 2019 fashion trend forecast.
September 26, 2017 update - Browse emerging denim trends:

September 13, 2017 update - See 9 key trends for fall 2017/winter 2018 in my retail trend report.
August 30, 2017 update -
See 4 men's fashion trends for spring/summer 2018.
August 17, 2017 update - See this fall 2018 and winter 2019 fashion trend forecast.
August 8, 2017 update - See 9 fall 2017 back-to-school fashion trends in my retail report.
July 25, 2017 update - Shop top retail trends:



July 18, 2017 update - See fall 2017 denim:

July 8, 2017 update - See 4 Women's trends in this spring summer 2018 fashion trend forecast on Fashion Trend Guide.

June 1, 2017 update - See my summer 2017 retail trend report on Fashion Trend Guide.
March 7, 2017 update -
See 6 key spring/summer 2017 denim trends for Women on Fashion Trend Guide.
March 6, 2017 update - See this spring summer 2018 fashion trend forecast featuring 4 key themes by Fashion Snoops.
March 1, 2017 update -
See the top 6
spring/summer 2017 fashion trends
for Juniors in my trade show report.

February 27, 2017 update -
See top
footwear trends for 2017
in my trade show report featuring seven key shoe themes.

February 13, 2017 update - See emerging denim trends:

January 24, 2017 update - See 6 key denim trends for 2017 in my new report on Fashion Trend Guide.
*Please note that this blog post is adapted from Fashion Snoops, is protected by international copyright laws, and may not be republished without permission. Students, please feel free to use this information for school projects as long as it's not reproduced or republished online and you properly cite both
Fashion Snoops
and T
he Key To Chic
as sources.
Now on to the six trends for fall 2017 and winter 2018.
1. Code (aka Re:volution)
This trend resonates with Demna Gvasalia's influential work at Balenciaga and Vetements. It's almost about breaking the fashion system from collections to dressing in anonymous separates. It's industrial and gritty. Fabrics are more normal, and proportions are more exaggerated. There are lots of active elements, which works well for the young contemporary market. It's about anti-establishment and empowerment through graphics.
Here's how Fashion Snoops describes the trend: "The power of the people will be heard. In our continuously chaotic world, the streets are becoming the one true democratic space, helping to set the stage for a new attitude in contemporary streetwear design and a sartorial uprising. This neo-punk sensibility with military undercurrents is reinventing basics that maintain a tough tailored edge, placing a special emphasis on the concept of soft utility and expressive silhouettes. Re:volution is graphics-heavy with contemporary camo and positive propaganda, and the head-to-toe look boldly acts to protect, perform, and protest."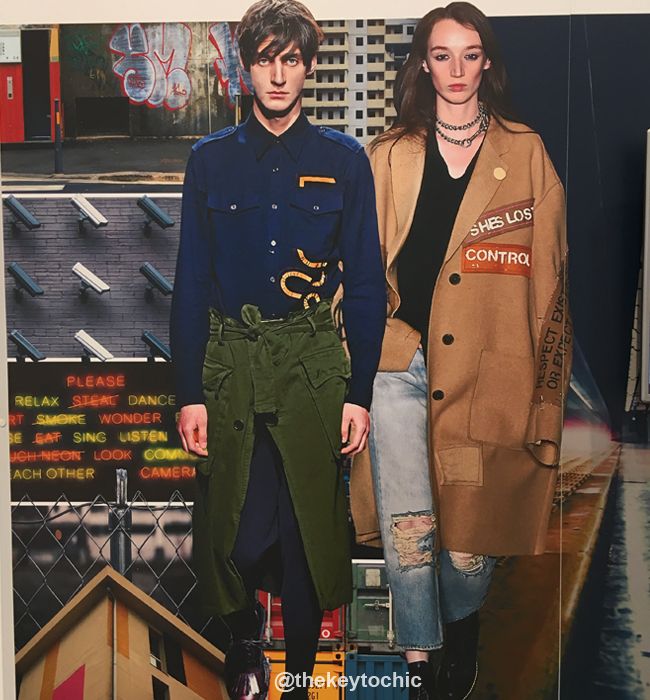 The color palette reflects active influences. There's poppy red, tangerine orange, trophy yellow, and magenta. Base colors are pea green, olive, navy, blue ash, khaki, and sharkskin grey.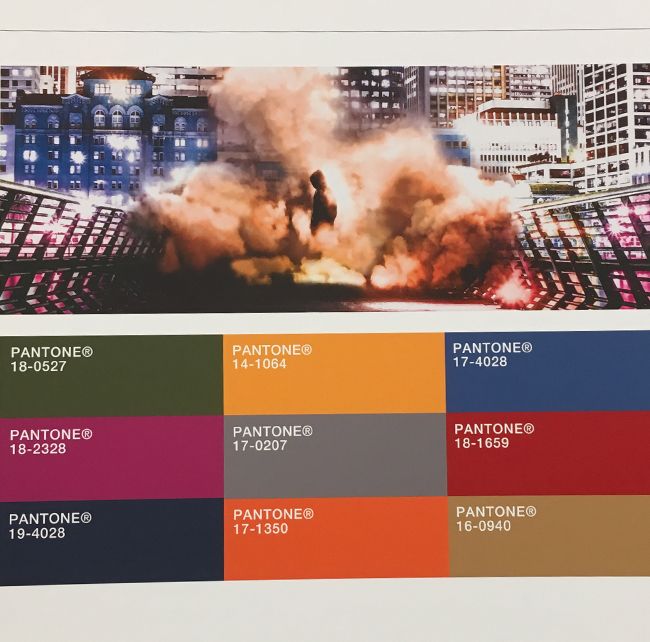 Materials are utility-based, such as: twill, washed cotton, nylon, jersey, fleece, and vintage washes of denim.
Graphics are bold messages, like on this eye-opening T-shirt. Design details are about large proportions, large shoulders (see this striped top as an example), hoods, flat pockets, deconstructed motifs, ties on hems, and raw edges on denim.
Key items are the anorak, parka, oversized coat, bomber jacket in shiny materials, the puffer jacket, trucker jacket with volume, sweatshirt in oversized shape, mock turtleneck sweater, fuzzy crop sweater, oversized turtleneck, sneaker boots, the woven tee in a boxy silhouette, crop tops, overalls, and the cropped pant with a raw edge hem.
See Vetements for examples:

See examples of Code:
2. Precious Oddity
This theme is influenced by Alessandro Michele at Gucci. It's quirky, it's about individuality, and it's also about wearing unexpected things that you're not supposed to in a mash-up, "chic grandma" kind of way. Think vintage meets cool meets nerdy. Wallpaper prints and kitschy conversationals factor in, as well as pajama dressing and loungewear influences.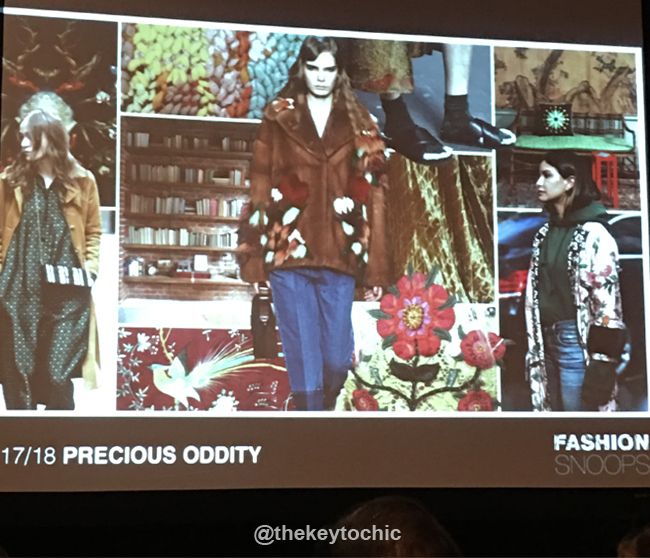 The color palette is a mix of greens and golds, including: shamrock, goldenrod, mustard tones, autumn orange, cinnamon, scarlet red, indigo blue, carnation and frost pink.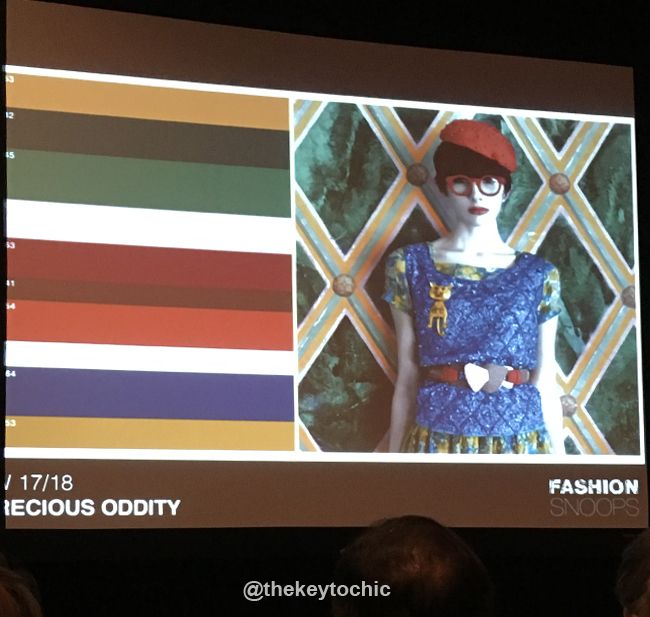 Materials are a rich and eclectic hodge podge: burnout, jacquard, patterned fur, velvet, Swiss dots, and rib knits.
Patterns are an eccentric mix: ditsy florals, patchwork, wallpaper motifs, majestic "land of the dreamer" motifs with insects, birds, mirror motifs, etc. on bomber jackets. This reversible silk Gucci bomber and this silk bird print dress are excellent examples.
Design details are pretty: quirky collar on woven blouses, self belts, bow ties necks, pleats, ribbed banding, Key items are: pajama shirts, the bow blouse, the ruffle top, the midi skirt, the button front skirt, the A-line skirt, robe dress, slip dress, culottes, wider leg trousers, relaxed jumpsuit, the robe coat with kimono sleeves, bomber jacket, quilted crossbody bag, sheer socks, and tennis shoes (like this pretty printed pair).
See examples of Precious Oddity:

Get the Gucci look:


3. Intellect (aka Beaux Arts)
This story is about a smart woman who borrows her style from the Beaux Arts and Bauhaus art movements. There are retro '70s elements and geometrics. Intellect demonstrates a less polished perfection. There's an awkward vibe, abstract sophistication, and a strong Victoria Beckham influence.
Fashion Snoops describes it as channeling the "confident swagger of the 1970s with a smart and sophisticated approach. Individual statements are celebrated, signaling less polished perfection and more awkwardness. Art movements and interior design of the referenced decade are reflected with a retro color palette and geometric patterns. The nonconformist flavor of the '70s is essential to altering the notions of basic knits, outerwear and tailored clothing. Silhouettes often follow the lines of Bauhaus furniture and items possess a bookish quality, giving off a novelty, independent look above the status quo."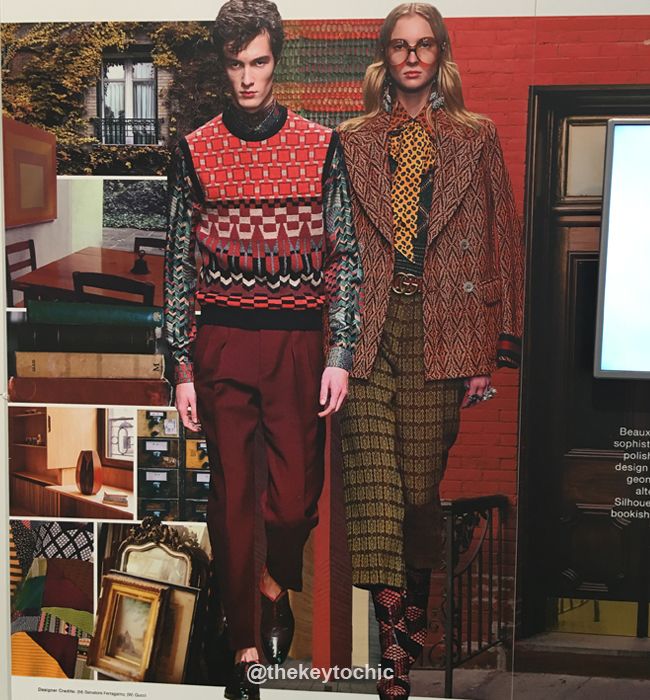 The color palette includes potter's clay, cinnamon, dusty cedar red, trophy yellow, pea green, lime yellow, khaki, and ballet pink.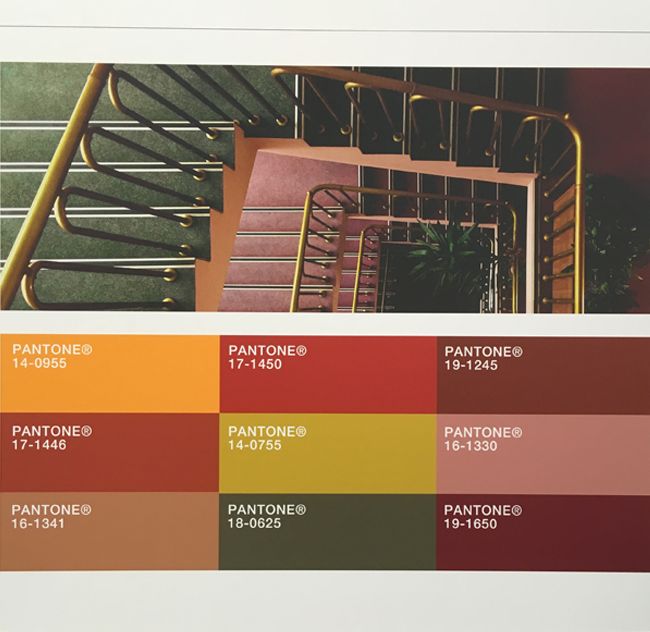 Materials channel the vintage notion and include: herringbone, tweed, wool felt, suede, shearling, lurex knits for a metallic feeling, and mohair.
Graphics are bookish, with geometrics for a retro palette. Shapes are organic, with a vintage '70s feel. Revived repeats are smaller in scale and borrow from patchwork.
Design details are zip front closures, snap front skirts, blocked motifs, fur trim, side slits, and patchwork motifs. Key items are the bow blouse, the tunic top, mock neck sweaters, dusters, the mid-calf slip dress worn layered, the shirtdress, the sweater dress, pleated skirts, culottes, tailored wide leg pants, flared pants, the boxy jacket, the oversized coat in rounded silhouette, and the mid-calf boot with chunky heel.
See examples of Intellect:

4. Dispatch
This story captures the spirit of wartime Vietnam along with the culture of the people in Vietnam. There are ethnic motifs, batik patterns, wrap and kimono silhouettes, and a fusion of east-meets-west.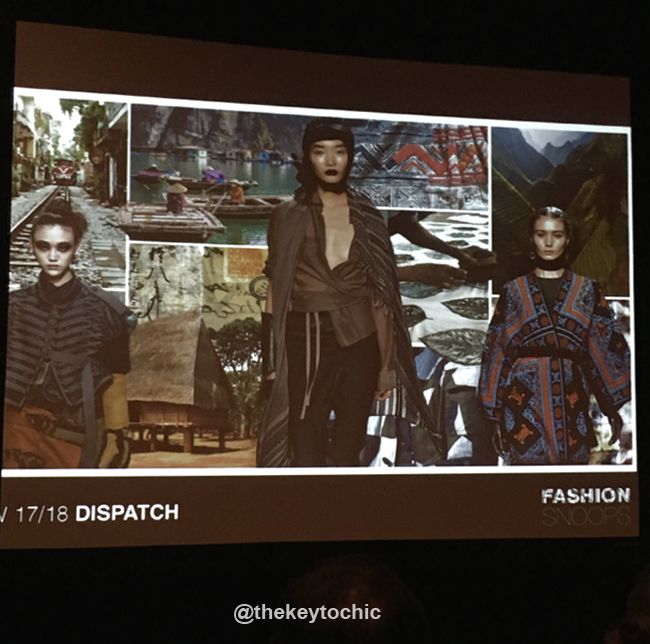 The colors are military influenced: pea green, drab, olive green, steel blue, spicy mustard, autumn orange, and cinnamon.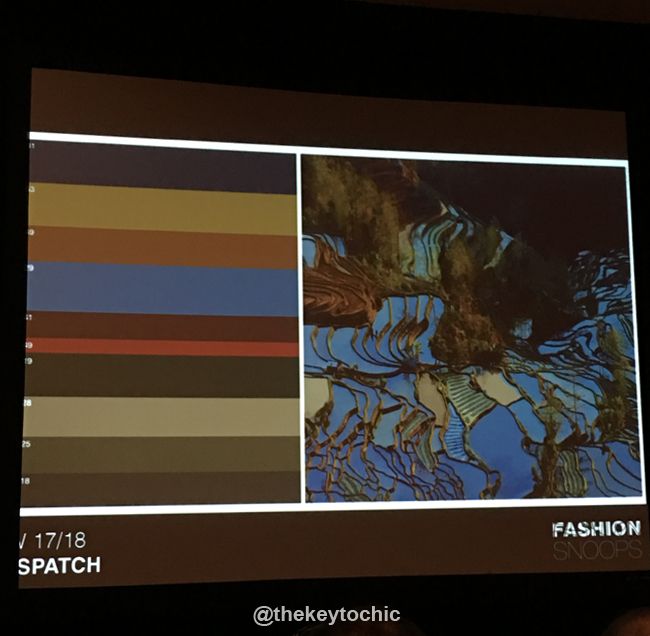 Materials are rugged and ethnic: twills, pebbled leathers, jacquard, openwork, silk, nylon, quilted materials.
Graphics are Indochine: calligraphy motifs, living camouflage, abstract patterns, batik prints, and woodblocking motifs. Design details reference the military: braiding, epaulettes, patches, brass buttons, embroidery, raw edge hems.
Key items are: the trench coat, parka with cargo pockets, light overcoat, officer's jacket, robe coat with kimono sleeves and self belt, quilted jackets, utility shirts with cargo pockets, the tunic with embroidery, turtleneck sweater, relaxed-fit cargo pants, coveralls with snap-front, the column dress, wrap skirt with tie details, combat boots, and the headscarf.
See examples of Dispatch:

5. Runaway Roadtrip (aka Native Wild)
This story is about a group of girls who leave home to go on a dream road trip to the American Southwest. They might visit thrift stores, diners, trading posts, and travel along Route 66 to explore small towns. It's a modern day Thelma and Louise vibe. There's a psychedelic-cowboy aesthetic with the prints. It's about embodying a homegrown spirit and '50s kitsch.
As Fashion Snoops describes it: "They say it's always about the journey, not the destination. Inspired by the intrepid spirits who discovered parts unknown, this trend puts adventure in style front and center. Today's explorers set out on voyages that take them to the many quiet corners of the earth, craving authentic experiences along the way, including a major focus on the well-curated general store. Along with the expedition comes a focus on rugged yet rich surfaces, and fabrics that get more beautiful with age. Avoiding the cliché uniforms of the Wild West, today's adventure seeker can live life at its ultimate volume by embracing a mix of woolen comforts and tongue-in-cheek, kitsch embellishment, never taking the journey too seriously."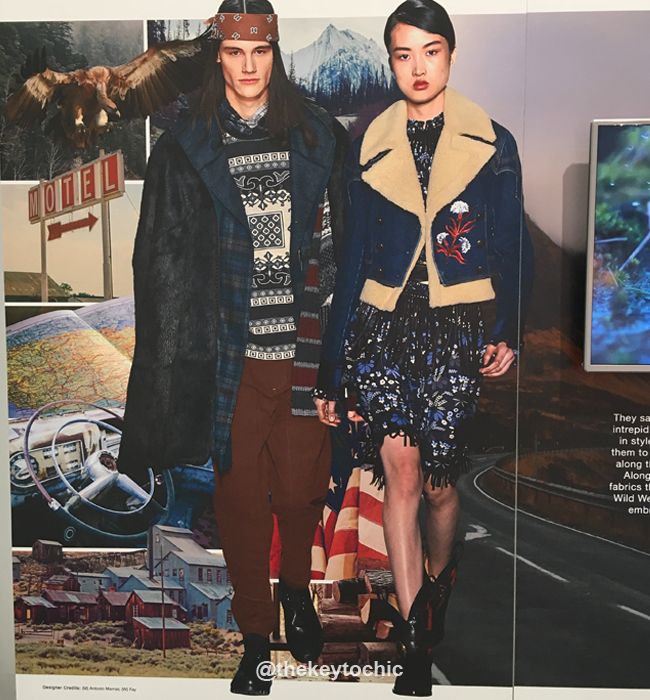 The color palette is hearty and includes neutrals, camel, buttercream, autumn orange, stone grey, and cedar red. There are also Americana elements with teal blue and periwinkle.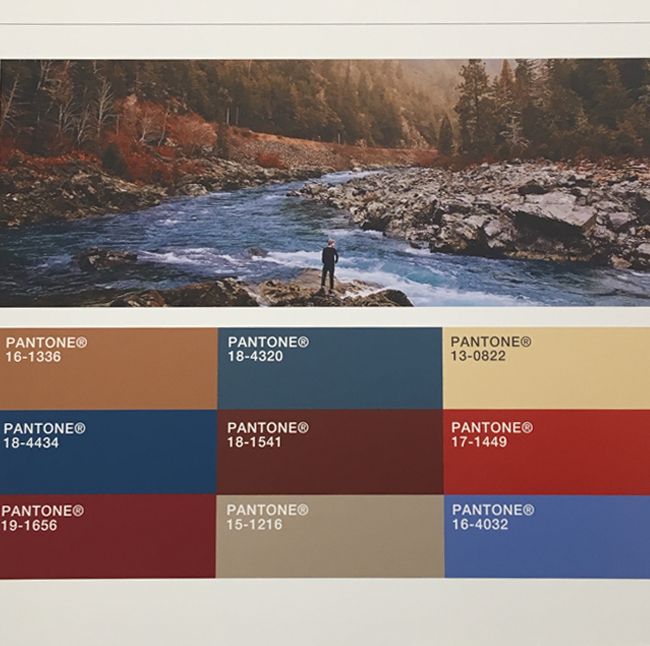 Materials are rugged leather, suede, denim, flannel, and softer prairie vibes in the form of chiffon or satin. Patterned furs and intarsia knits offer more warmth.
Patterns are inspired by neon signage and Route 66 Western graphics. Kitsch rodeo is more pop influenced with bold and bright colors. There are traditional Americana patterns including bandana, Western, and flag prints.
Design details are Southwest: fringe, embroidery, lace-up closures, studs, and raw edges.
Key items are the yoke-front shirt in satin/velvet, the bow-front shirt with Victorian neckline, the peasant blouse, intarsia sweater, mock neck turtleneck with contrast yoke, button front skirt, shirtdress, A-line skirt, shift dress with yoke, sweater dress with fringe trim, slimmer flare pants, culottes, boxy jacket, trucker jacket, fur vest, cape, printed headscarf, Western buckled boots, and the saddle bag. See this Western blouse and this glitter star sweater by Coach and this for great examples of the trend.
See more examples by Coach:

See examples of Runaway Roadtrip:
6. Ritz (aka Iliad)
Holiday-focused, Ritz has a dark Art Deco celebration that sets the tone for this expression. It's about less confined silhouettes. There are beautiful patterns for the holiday season in fancy materials, and it's high on drama. Ritz has a mysterious and opulent aesthetic that's very intriguing.
Fashion Snoops describes it in this way: "The notion of elevated luxury has been one that has driven design for generations. Inspiration is found in things like dark art deco, and elegant jazz clubs and theaters. With a slant towards decadence, the trend begins with the 1930s, while more romantic notions and gender-blurring lines beckon a new perspective. Less confined silhouettes make a liberated statement, while neoclassical and even minimalist directions are explored. Stylized patterns mimic deco buildings while novelty materials step into the limelight. High on drama, refinement and indulgence are at the core of the head-to-toe look."
The colors are jewel tones: plum, ivy, soft gold, metallic and hues evocative of the '20s. There's also dusty mauve, bisque, and stone.
Materials encapsulate the '20s with chiffon, tulle, lace, satin, burnout effects, velvet and lamé.
The graphics are decadent Art Deco, and fanciful. There are wallpaper motifs. There are also Hollywood Romance prints and flapper era imagery.
Important details include: plunged necklines, draped details, fur trims and collars, robe styling with kimono sleeves, tassels, feather trim, beading, and sequins.
Key items are: tops with higher necklines, Victorian blouses, and mock tops with puffed sleeves. Sweaters are dusters and mock neck styles. Dresses are: mid-calf, the slim midi, and the A-line with peasant sleeves. Evening dresses have slits, embellishments, column shapes, and mid-calf length with ruffles. Skirts are mid-calf dirndl, pleated, and draped. Outerwear is full length, such as the robe coat in silk or satin, and the men's jacket with broad shoulders. Accessories are floral crowns, the top-handle bag and the high-heeled sandal.
See examples of Ritz:

For more photos of each trend, catch up with me on
Pinterest,
where I pin additional trend forecasting info and inspiration. To see footwear trends, read my report on mule shoes and my 2016/2017 footwear trend report on Fashion Trend Guide.
Follow along on

Facebook, Twitter, Snapchat,

and

Instagram

@thekeytochic for exclusive fashion content, mini trend reports, shopping stories, and personal style.
This post contains affiliate links and I may be compensated if purchases are made by clicking links.