In this post I'll be highlighting four spring summer 2019 fashion trends for Women in this fashion forecast via trend forecasting agency Fashion Snoops.
Want more fashion trend info?
Keep up with my shopping and fashion adventures on social media and the LIKEtoKNOW.it app @thekeytochic
where you'll have access to emerging trends, personal style, outfit ideas, and frequent shopping reports.
February 21, 2019 update - See four women's denim trends for 2020.
January 17, 2019 update - Read about f
our
men's fall 2019 winter 2020 trends
.
January 15, 2019 update
- See four
women's trends for spring summer 2020
.
August 31, 2018 update -
See four men's spring summer 2019 trends on Fashion Trend Guide.
August 25, 2018 update -
See four denim trends for 2019 on Fashion Trend Guide.
August 21, 2018 update - See four fashion trends for fall 2019 and winter 2020.
August 20, 2018 update - See five footwear trends for spring summer 2019.
February 2, 2018 update - See 4 Women's trends for fall 2018/winter 2019 in this post on Fashion Trend Guide.
Please note that this blog post is adapted from Fashion Snoops via MAGIC trade show, is protected by international copyright laws, and may not be republished without permission. Students, please feel free to use this information for school projects as long as it's not reproduced or republished online and you properly cite both Fashion Snoops and The Key To Chic

as sources.
1. Suburbia Disturbia
We take a step back in time to the post World War II era where technological advances underscored the Cold War and suburban life became mainstream. The decades between 1950 and 1970 marked the emergence of middle class America where suburban sprawl transformed farmland to a landscape of track development housing. Bill Owens, the famed American photographer, captured this movement in his 1972 book titled Suburbia, which documented the growth of suburban developments and the nuances of middle class life. The iconic photographer William Eggleston was another key documenter of this time as his photographs of everyday middle class life brought color photography to the forefront of the art scene. This shift in gaze to suburban living inspires a new examination of the ideas of normalcy and inquires us to take a peek below the surface. This curiosity is reinforced by directors like David Lynch whose recent revamp of his television series Twin Peaks marks a new fascination with the oddities and seedy underbelly of small town living. The contemporary photographer Karen Khachaturov creates a spin on the portrayal of everyday life with his use of saccharine sweet pastel hues and surreal suburban imagery.
Key words associated with Suburbia Disturbia are: artisan, simple luxury, authentic, natural, and locally sourced.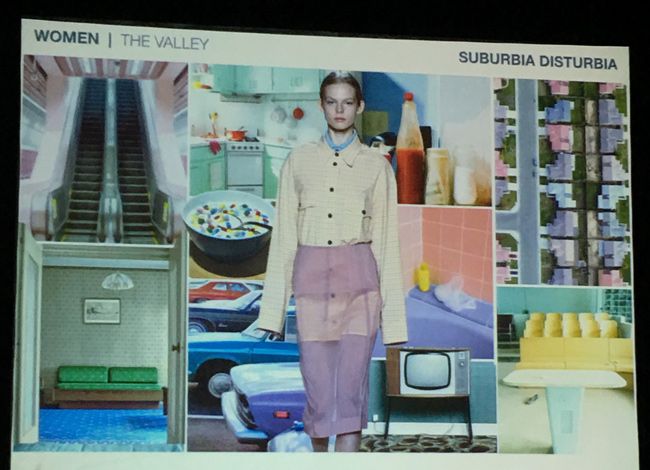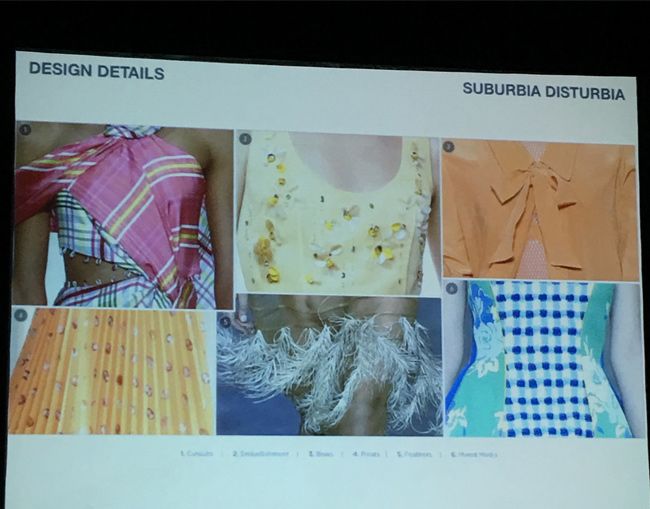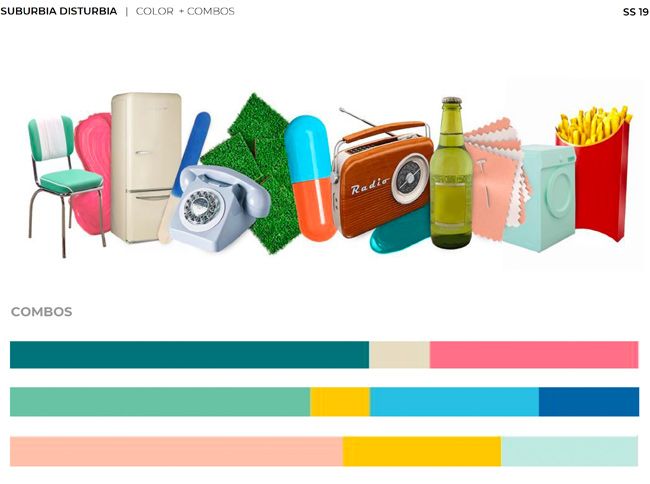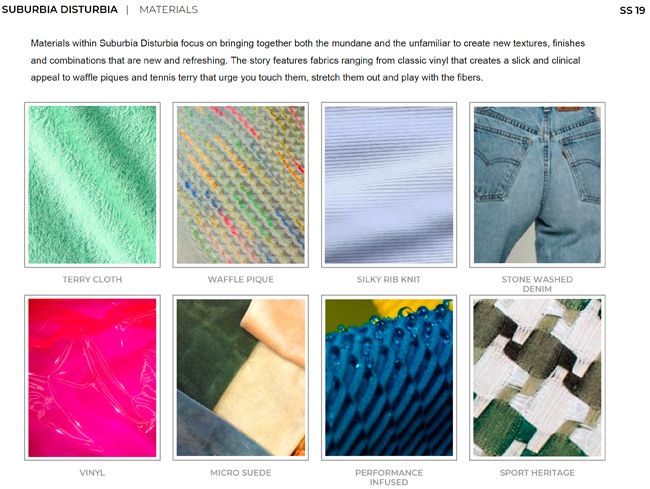 Materials focus on bringing together both the mundane and the unfamiliar to create new textures, finishes, and combinations that are new and refreshing. The story features fabrics ranging from classic vinyl that creates a slick and clinical appeal to waffle piques and tennis terry that urge you to touch them, stretch them out, and play with the fibers.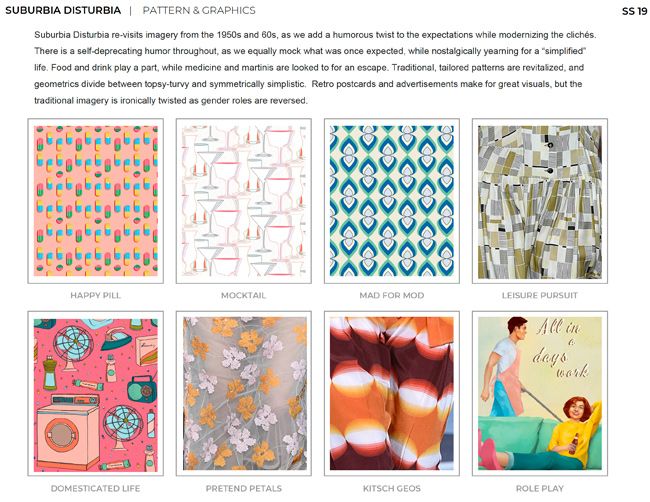 Patterns and graphics revisit the imagery from the '50s and '60s. They have a self-deprecating humor throughout. Food and drink play a part, while medicine and martinis are looked to for an escape. Traditional, tailored patterns are revitalized, and geometrics divide between topsy-turvy and symmetrically simplistic. Retro postcards and advertisements make for great visuals, but the traditional imagery is ironically twisted as gender roles are reversed.
Shop examples of Suburbia Disturbia:

2. Mesa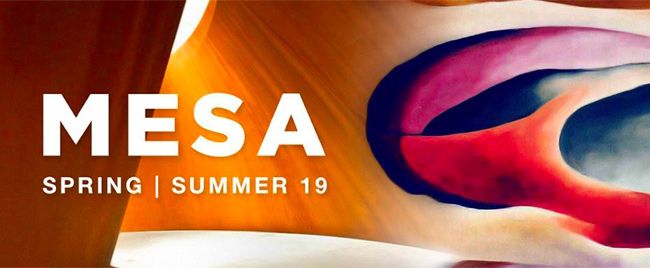 In Mesa, we find inspiration in the dry desert landscapes of the American Southwest and in particular, locations like Nevada, Utah, Arizona, and New Mexico. Raw desert environments have long been a refuge for soul searchers and wisdom seekers as those environments hold great spiritual power. The captivating beauty of these locations was a great inspiration to the iconic American artist Georgia O'Keeffe. Her oil paintings of blooming desert flora, dried bones, graceful canyons, and the endless desert horizon epitomize the stunning glory found in the Southwest. With this inspiration comes a desire to seek solitude and reconnect with the self. Meditation and yoga are expanding beyond trendy studios as they become an essential way of life. A focus on the feminine form emerges with designers like Faye Toogood abandoning hard industrial lines in favor of round handcrafted shapes that accentuate organic surfaces. Understated lines balance the raw undercurrent of Mesa, with conceptual artists and sculptors like Richard Serra and Nancy Holt inspiring clean curvilinear shapes and an enlightened interaction between light and shadow.
Key words associated with Mesa include: sensuality, feminine, emotional, passion, and harmony.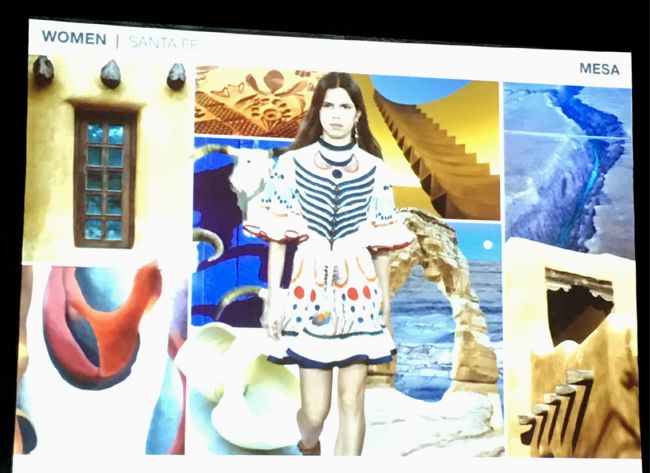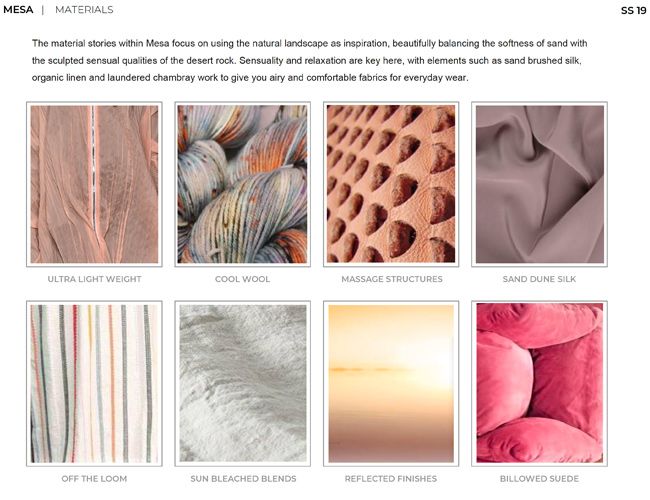 The material stories within Mesa focus on using the natural landscape as inspiration, beautifully balancing the softness of sand with the sculpted sensual qualities of the desert rock. Sensuality and relaxation are key here, with elements such as sand brushed silk, organic linen, and laundered chambray, which work to give you airy and comfortable fabrics for everyday wear.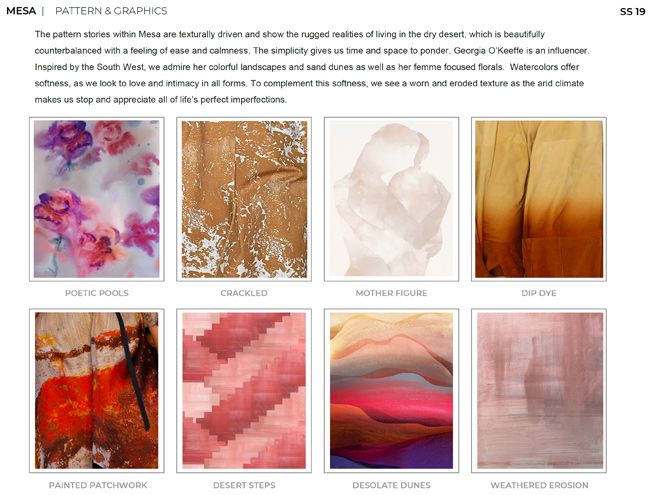 Pattern stories within Mesa are texturally driven and show the rugged realities of living in the dry desert, which is beautifully counterbalanced with a feeling of ease and calmness. The simplicity gives us time and space to ponder. Georgia O'Keeffe is an influencer. Inspired by the Southwest, we admire her colorful landscapes and sand dunes as well as her femme-focused florals. Watercolors offer softness, as we look to love and intimacy in all forms. To complement this softness, we see a worn and eroded texture as the arid climate makes us stop and appreciate all of life's perfect imperfections.
Shop examples of Mesa:

3. Silicon Society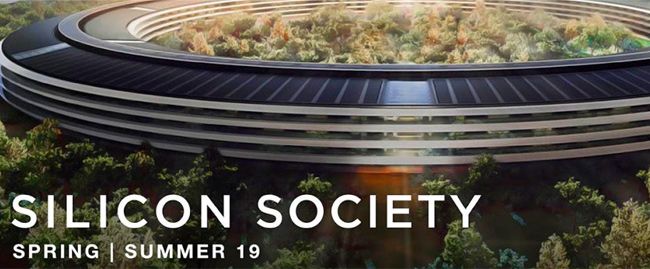 Silicon Society represents the rise of refined neo-nerd culture. Known as the hub for tech startups, science and sustainability innovation, and a distinct entrepreneurial spirit, the creators of Silicon Valley inspire a fresh take on modern minimalism. Foregoing the cold slick aesthetic of the early aughts, this trend approaches streamlined design with a warmer, more laid-back and humane approach. Impeccable materials and thoughtful design considerations become essential as demonstrated by key influencers like the industrial designer Yves Behar. His aesthetic blends intuitive shape with understated surfaces and a distinctly effortless usability. Brands like Allbirds also reflect this pared-down point of view and show how a following is built through ethical practices and a strong belief in quality over quantity. Sustainability and a certain ethical code underscore Silicon Society as millennials and progressive thinkers strive to create user-friendly solutions to everyday challenges. Success stories like that of Airbnb remind us that while a certain level of seriousness is required to be successful, there is always room for a good dose of humor and play. Oftentimes, those playful spontaneous moments bring out the best in innovative design.
Key words for Silicon Society are: everyday uniform, new professional, sleek, smart eco, and engineered style.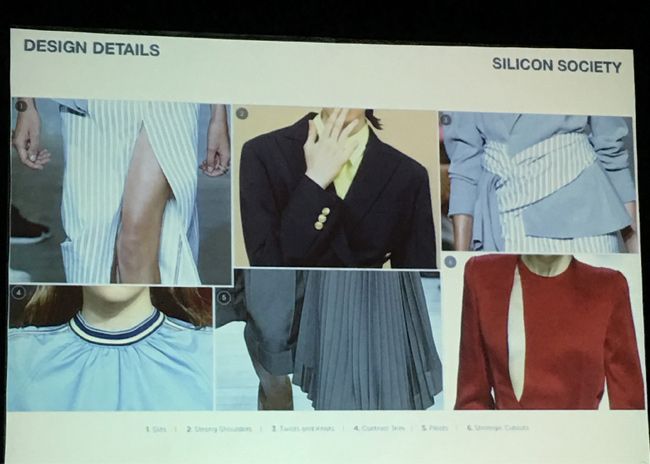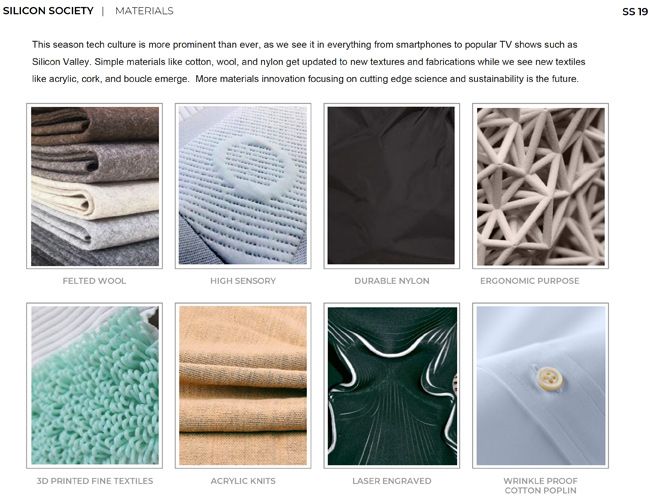 Simple materials like cotton, wool, and nylon get updated to new textures and fabrications while we see new textiles like acrylic, cork, and boucle emerge. More materials innovation focusing on cutting edge science and sustainability is the future.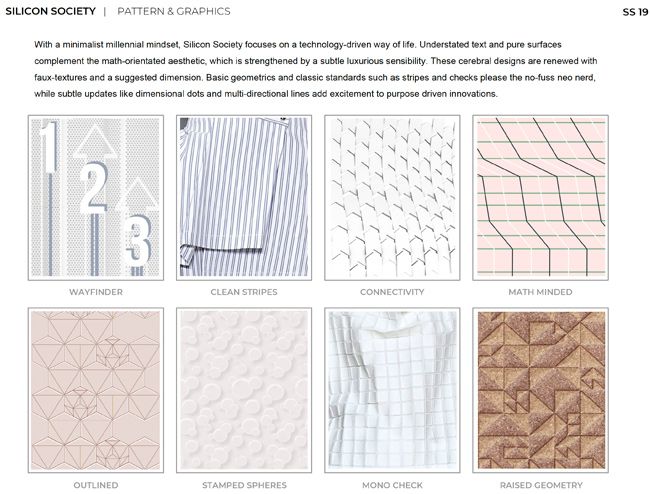 For patterns and graphics, Silicon Society focuses on a technology-driven way of life. Understated text and pure surfaces complement the math-oriented aesthetic, which is strengthened by a subtle luxurious sensibility. These cerebral designs are renewed with faux-textures and a suggested dimension. Basic geometrics and classic standards such as stripes and checks please the no-fuss neo nerd, while subtle updates like dimensional dots and multi-directional lines add excitement to purpose-driven innovations.
Browse examples of Silicon Society:

4. Origins
In Origins, the call of our elders beckons us to look to the past and examine the ancient rites and rituals of our ancestors. As the secrets of isolated places become revealed to us, we gain renewed reverence for the indigenous tribes of the Amazon and Australia. Through the examination of their cultural traditions, we continue to gain new insights on living closer with nature and respecting the diversity of life that our earth offers. Peruvian chef Virgilio Martinez exemplifies this drive with his restaurant Lima Floral. Using primarily indigenous ingredients, his contemporary culinary techniques have elevated traditional Peruvian dining to new heights and taken the food world by storm. Lisa Ross, a New York-based artist and photographer, is a key influencer in this trend as her Living Shrines evoke the spiritual connections that one can build between the living and the dead. Shamans and medicine women know how to use the offerings of the jungle to enhance spiritual discovery. Through globalization, outside cultures have begun to explore these practices and traditions. This is highlighted in the provocative documentary The Reality of Truth by Michael "Zappy" Zapolin. Bringing together some of the top leaders in a diverse range of religious and spiritual modalities, the film discusses the use of psychedelic botanicals like ayahuasca to transcend the physical world and explore greater spiritual realms.
Key words linked to Origins are: journey, roots, ancient traditions, earthly, purity, and heritage.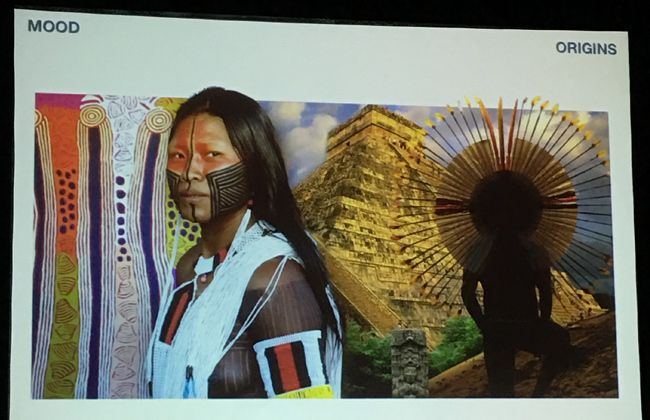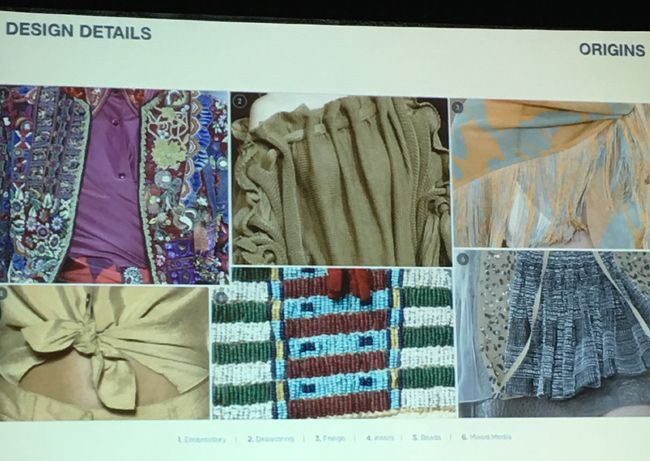 Materials, from natural mats to earthen clay, serve a vital purpose that explores cultures and practices outside our own norm. Natural dye, crafty crochet, mud cloth, and natural wovens are prominent.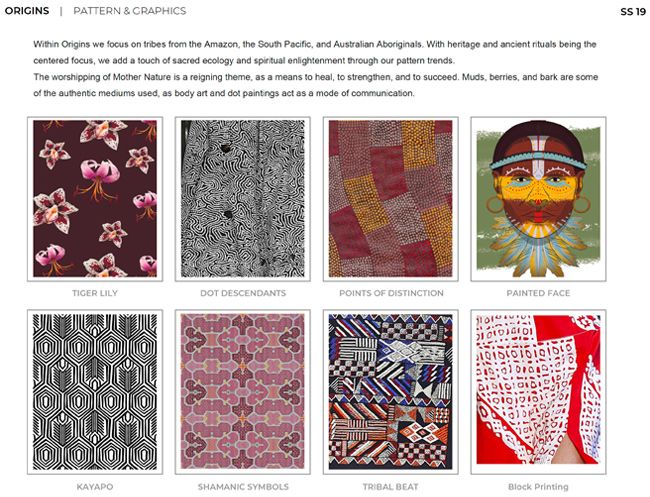 Within Origins we focus on tribes from the Amazon, the South Pacific, and Australian Aboriginals. With heritage and ancient rituals being the centered focus, we add a touch of sacred ecology and spiritual enlightenment through our pattern trends. The worshipping of Mother Nature is a reigning theme, as a means to heal, to strengthen, and to succeed. Muds, berries, and bark are some of the authentic mediums used, as body art and dot paintings act as a mode of communication.
See examples of Origins:

For more forecasts, see my

fall 2017/winter 2018 fashion trend forecast, this spring summer 2018 fashion report, and this spring summer 2018 fashion trend forecast.
For more fashion trend inspiration, follow me on social media @thekeytochic.

August 30, 2017 update - See 4 men's fashion trends for spring/summer 2018.
This post contains affiliate links and I may be compensated if purchases are made.
Browse trends: