It's time to look ahead at four key fashion trends for next year in this spring summer 2018 fashion trend forecast featuring themes presented by New York-based firm
Fashion Snoops
.
Follow along on my Insta stories @thekeytochic,
Facebook page
and
Pinterest trend boards,
where you'll have access to trend information, fashion inspiration, shopping reports, and personal style.
August 21, 2018 update - See four fashion trends for fall 2019 and winter 2020.
August 20, 2018 update - See five footwear trends for spring summer 2019.
August 15, 2018 update - See seven trends for fall 2018 on Fashion Trend Guide.
March 5, 2018 update - See key Women's fashion trends for 2018 in my MAGIC trade show report.
February 21, 2018 update - See five Women's footwear trends for 2018 and five Women's denim trends for 2018 in my MAGIC trade show reports.
February 2, 2018 update - See 4 Women's trends for fall 2018/winter 2019 in this post on Fashion Trend Guide.
January 25, 2018 update - See my favorite spring 2018 trends in this mini retail report.
January 23, 2018 update - See four Men's trends for fall 2018/winter 2019.
January 9, 2018 update - See nine trends for Women in my spring summer 2018 fashion trend preview.
January 4, 2018 update - See a spring summer 2019 fashion trend forecast.
September 26, 2017 update - Browse emerging denim trends:

September 13, 2017 update - See 9 key trends for fall 2017/winter 2018 in my retail trend report.
August 30, 2017 update -
See 4 men's fashion trends for spring/summer 2018.
August 17, 2017 update - See 4 trends for fall 2018 and winter 2019 in this trend forecast.
August 8, 2017 update - See 9 fall 2017 back-to-school fashion trends in my retail report.
July 25, 2017 update - Browse top retail trends:



July 18, 2017 update - See denim trends:

July 8, 2017 update - See 4 more trends for Women in this spring summer 2018 fashion forecast on Fashion Trend Guide.

July 5, 2017 update - See new trends:


June 1, 2017 update - See my summer 2017 retail trend report on Fashion Trend Guide.
June 10, 2017 update - See summer '17 denim trends:

Please note that this blog post is adapted from Fashion Snoops, is protected by international copyright laws, and may not be republished without permission. Students, please feel free to use this information for school projects as long as it's not reproduced or republished online and you properly cite both
Fashion Snoops
and T
he Key To Chic
as sources.
1. Colony
The first trend for spring summer 2018 is called Colony. Design is distilled down to the essentials in Colony. Through the use of modern architectural shapes and a limited color palette, a unique and unexpected sense of sophistication appears both sensible and refined at once. This translates into pure tailored silhouettes that are effortlessly constructed with minimal extraneous detail. Natural materials and rustic surfaces are essential, underscoring an emphasis on true craftsmanship. This recalls the maker's movement influenced by Amish traditions and the hand crafters and artisans of Roycroft, a 19th century village of workers who were integral to the Arts and Crafts movement in the United States, and whose creed heralded the belief in working with the head, hand, and heart. With a focus on heirloom surfaces, deconstructed design, and industrial details, Colony takes a farm-to-closet approach at contemporary dressing.
Base colors are essential to the Colony story. Khaki twill, woodlands green, cacao brown, shirting blues, dove blue, and homespun, softer tones such as pink sand and dune beige factor in.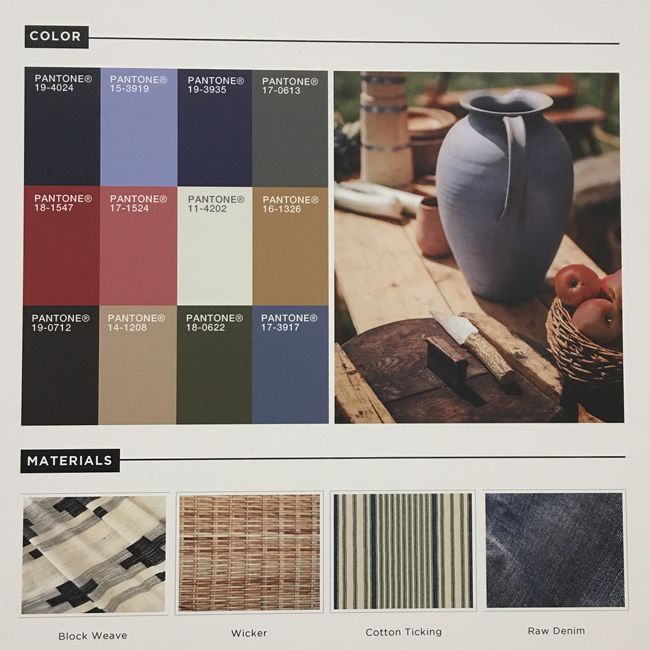 Key design elements are wicker fabrics, cotton ticking stripes, and raw denim. Details are unfinished or raw hems in denim, soft ruffles, lace-up systems, and handcrafted quilting. Prints include tailor's chalk, crafted grids, and dried flora (like on this Etro blouse).
Key items are the reworked shirt, the asymmetric skirt in various hemlines (see this Rag & Bone style), the straight-tailored man blazer with strong shoulders, hacked trench coat, wide leg pants with higher rise, non-traditional power suit, corset belt, and the pointed-toe shoetie with block heel (like this style by Sole Society).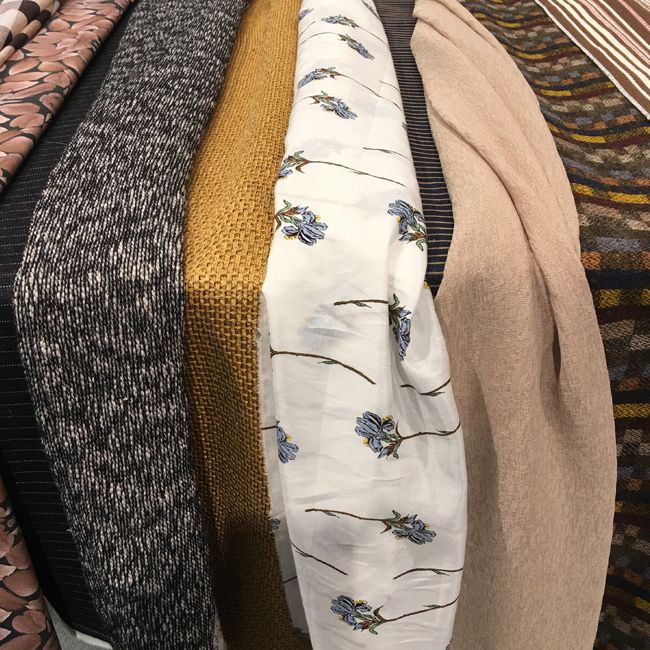 See examples of Colony:

2. Museum of Me
Museum of Me celebrates the individual in the utmost form. Our world today is championing diversity from every angle and we are celebrating what makes us unique. This trend story is inspired by eclectic souls who see the world as their canvas, always presenting a strong sense of self from their wardrobes to their home. We look at museums as places that fuel creativity, igniting minds and imaginations through their extraordinary collections. Who said that art is only limited to paintings and sculptures? Let's explore 'the artist' as being anyone who is daring enough to use who they are as a canvas, layering on what they love without any regard to others. In fact, it is often the combination of modern and traditional aesthetics that feels the most correct for this moment.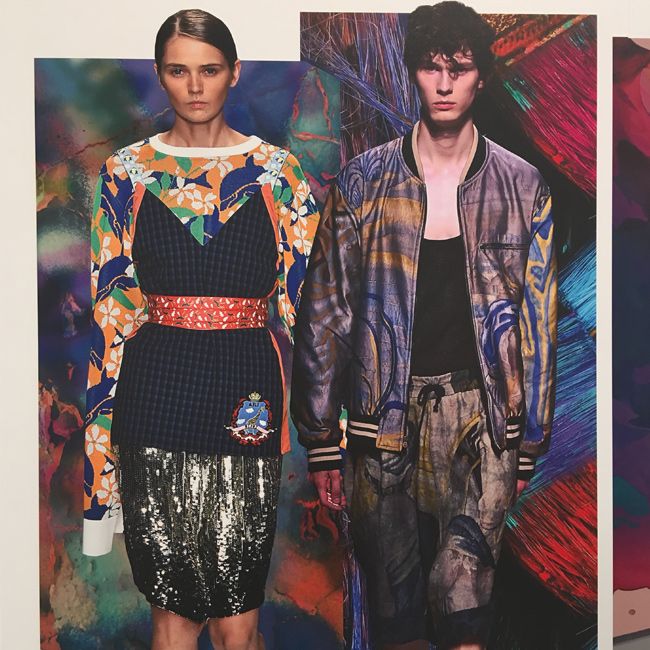 Colors are vibrant and bright, including: red, yellow, admiral blue, bengal orange. Mid-tones are peat moss, paradise pink, and pink sand. Materials are eclectic and novelty, such as jacquard, tulle, and sequin.
The trend features crafted details and art school embroideries, ruffles, gallery stripe panels on pants, and asymmetric hemlines. Graphics are artistic painterly techniques and hand drawn illustrations. Patterns are bold, with color blocking, hectic expressionism, photorealism, and mixed media. Key items are the reworked shirt, asymmetric skirt, vintage-inspired blouse with ruffles (like this pretty style by MSGM), floor length overcoat, wide leg jeans, and slip dress with mid-calf hemline. Accessories are the flat mule, updated loafer, ankle strap pump, choker scarf, and artsy earrings.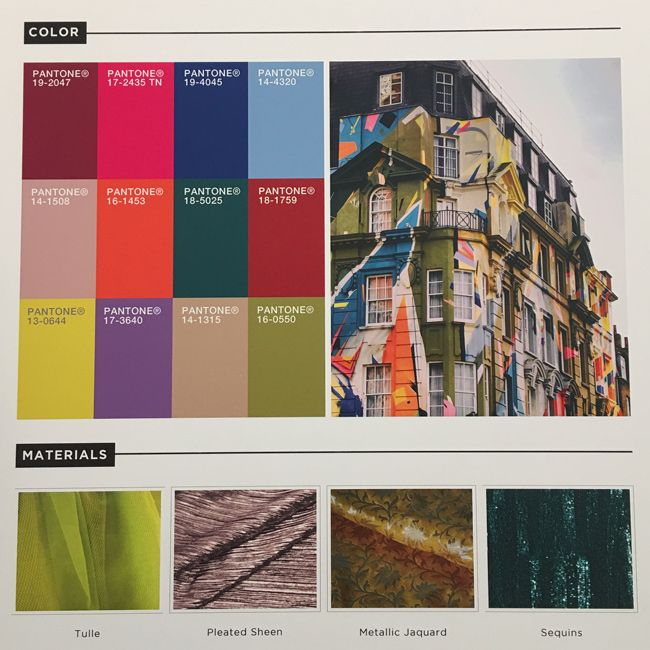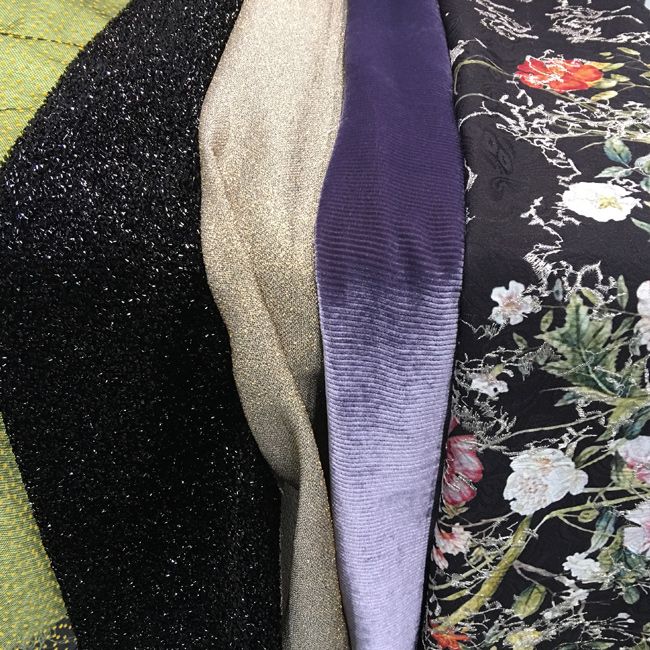 See Museum of Me examples:

3. Africa Rising
Africa Rising turns our gaze to the burgeoning renaissance occurring across the continent. The momentum of its development has accelerated with intense business and financial investments fueling an upward progression. Africa is now a beacon for tech entrepreneurship with both Kenya and Nigeria being heralded as the Silicon Savannah. This economic infusion has fueled new energy on the creative side. Contemporary life is redefined in a new cross-cultural synthesis such as pattern mixing with traditional African elements. Black culture and the use of decorative backgrounds illustrate traditions of the past. This becomes evident with embroidery and appliqué details that perfectly contrast contemporary shapes and materials. This surge in positive creative energy is underscored by a fresh sense of pride as local creators and makers rise to inspire on a global scale.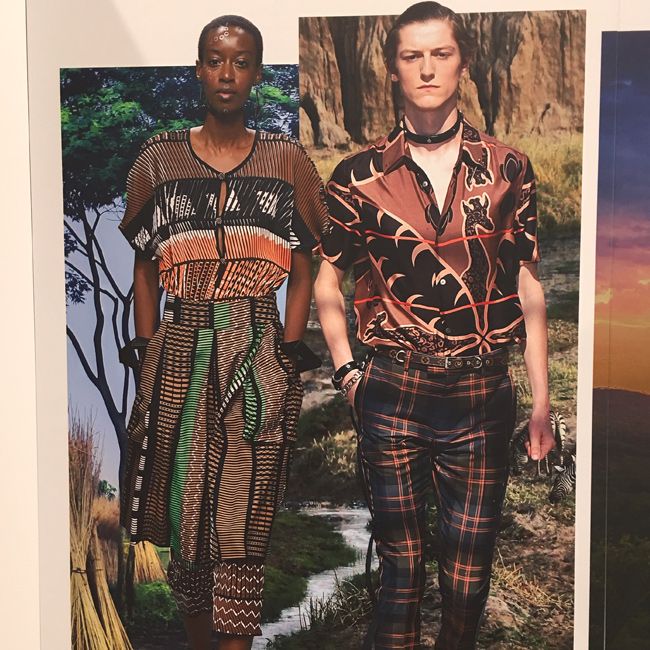 Colors include darker utility hues such as beige twill, woodlands green, and cacao brown. Brights are shamrock green, bengal orange, and sumac red. Spicy mid-tones are medallion yellow and yam. Materials are natural hemp and banana silk. There are exotic skins in accessories.
Details are cut-out features, lace-up or criss-cross detailing, knotted techniques in shirting, and raw/undone hemlines. Patterns are eclectic and tap into artisanal crafts. There's also wax printing, tribal patterns, tropical prints, wood blocking, and animal prints. Key items are the slip dress, shirtdress, midi dress, trucker jacket, and robe with caftan sleeves. Accessories are the ankle wrap sandal, tote bag with beading, straw hat, round aviators with colored enamel frames, and statement cuff.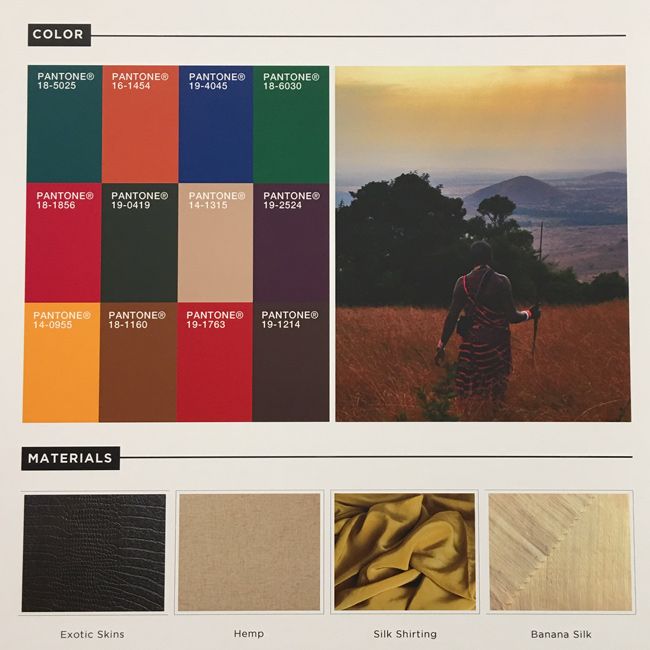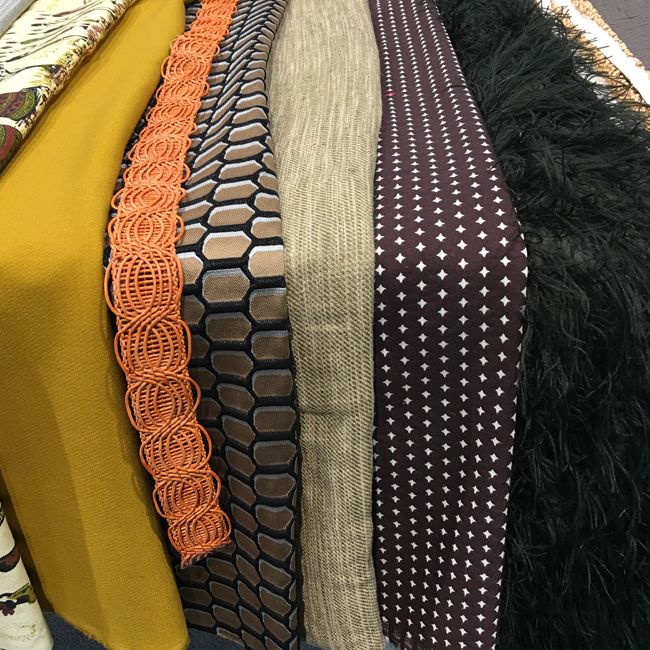 See examples of Africa Rising:

4. Sixth Sense
Sixth Sense examines the union between technology and the human body. This trend defines our tech-obsessed society, which becomes increasingly parallel to virtual reality. Sight, smell, hearing, taste, and touch inform our experience of the world, and a new sensory perception emerges. Wearable technology continues to infiltrate our daily lives, becoming more integrated with the human form. As a result, it becomes more fluid, soft, and pliable - a surprising contrast to its perceptions of the past. Key elements achieve extreme impact, from hydra-charged colors to surrounding performance tech materials. With a heightened sense of functionality, it's easy to get lost between worlds, and that's exactly the point.
Colors set the tone for a heightened sensory experience. The Sixth Sense palette includes bright yellow, as well as lively mid-tones sugar pink and warm chai brown. Pale colors also appear: violet, river rock grey, and futuristic irridescent.
There is an active influence with enlarged mesh, translucent, sheers, and crushed velvet materials. Details are utility, including cinched drawstrings and surface zippers. Contrasting prints, mixed media, and contrast stitching are important. Patterns are scientific, such as Petri pools and cellular prints, cityscapes, blurred techniques, or optical illusions and distortions. Key items have an athletic influence and include: the sweatshirt, paperbag waist baggy pants, sheer bomber jackets, bra tops for layering, the boxy tee, nylon parka, visors, mini bucket bags, mono lens frameless sunglasses, mismatched earrings, and stocking boots.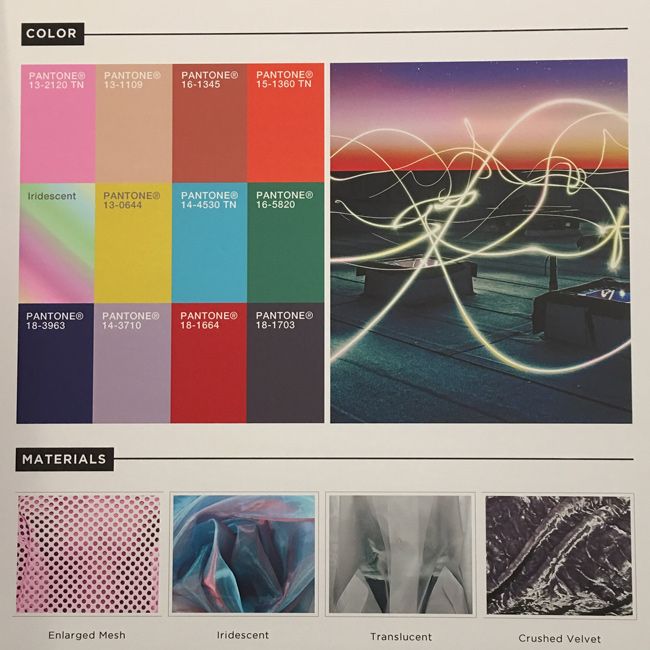 See Sixth Sense examples:

Follow along on

Facebook

,

Twitter

,

Snapchat,

and

Instagram @thekeytochic for exclusive fashion content, trend reports, shopping stories, and personal style.
This post contains affiliate links and I may be compensated if purchases are made by clicking links.
See more examples: