With visions of chic striped tees, printed pencil skirts, beautiful blouses, and cape blazers in my head, I arose bright and early to go to Target, shop the new
Who What Wear Collection
and try on my favorite pieces for this review. (Perhaps you saw my Snapchat and
Twitter
shopping and fitting room coverage? My user name is thekeytochic in case you want to connect). As I expected when I arrived at Target at precisely 8am, there was no line of sleep-deprived women or anxious crowd of shoppers waiting to shop the collection - just one young woman and her very helpful boyfriend. (Yes, I was a little bit jealous since I shopped solo this morning.) We had the neatly arranged racks all to ourselves.
In a change from previous designer launches, the #MyWhoWhatWear merchandise was placed in the Women's department, not in the Juniors' department. The store had a strong selection of most pieces, including the trench vest, minimal moto jacket, and printed scarves. The belt bag was nowhere to be found, so I ordered mine online after arriving home from the store. Fingers crossed it'll be shipped since it now appears to be sold out a few hours after I placed my order.
November 28, 2021 - Shop for the holidays:


May 2, 2021 update - Shop the latest:
June 4, 2018 update - See new arrivals for summer 2018 in my latest Who What Wear shopping review.
February 3, 2018 update - Love Target style? See my Universal Thread at Target review with fitting room photos and sizing tips.
April 30, 2017 update - See all the new cuteness for spring 2017 in my new Who What Wear review.

January 29, 2017 update - See the latest arrivals for spring: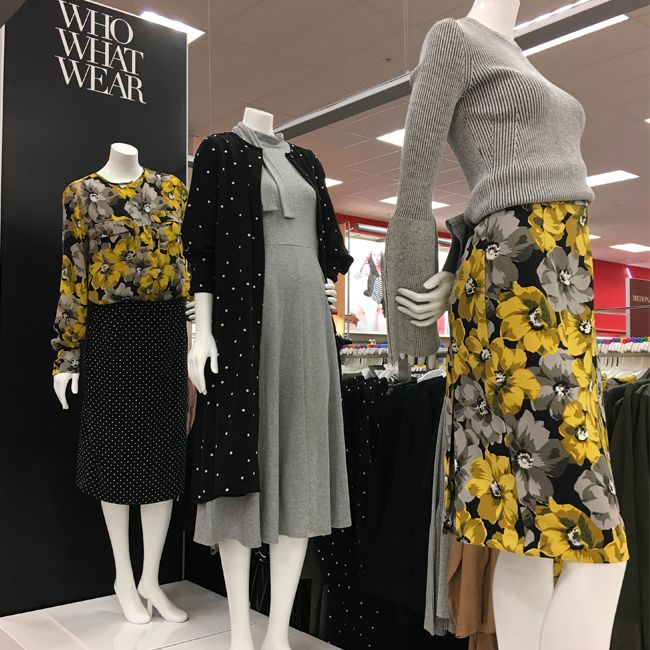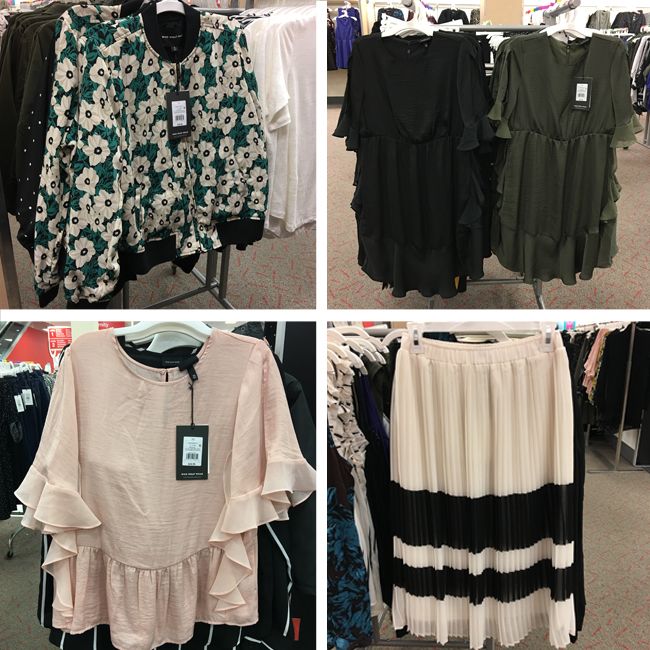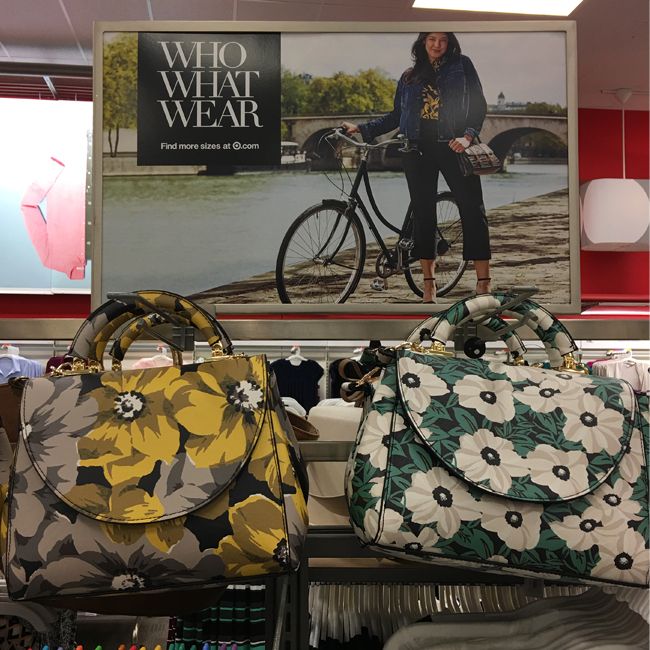 Nov. 27, 2016 update - They've made my dreams come true and launched a footwear collection! Shop the latest:

Here's a peek at the visuals.
The collection features an abundance of neutrals and stripes with hints of olive, yellow, and cobalt blue. Dots and florals are easy to mix and match, making the collection effortless to style many different ways.
The bateau tee comes in several colorways, is made of lightweight cotton, and fits true to size.
They didn't have the floral pencil skirt in my size, oddly enough. It's a woven poly crepe with a back zip, no stretch, a back slit, and midi length. It runs true to Merona sizing. I would've preferred it in a thick and stretchy scuba construction instead of crepe.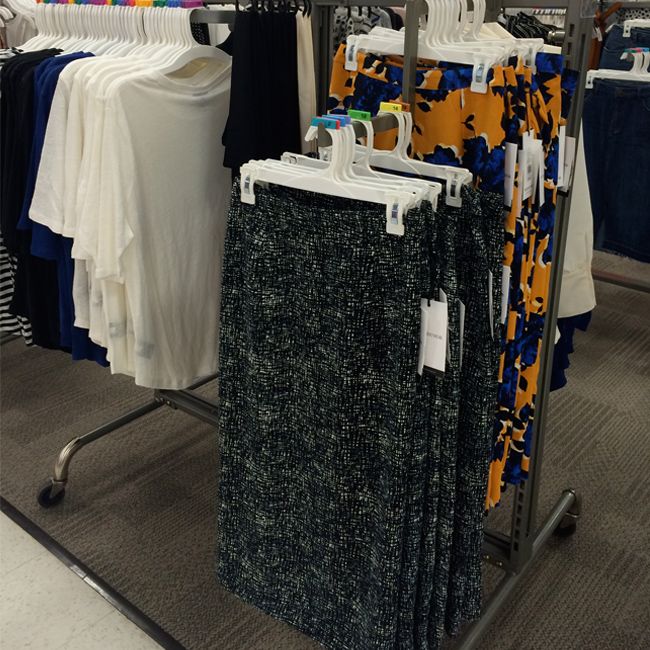 The minimal moto jacket was a surprise hit for me. It has authentic moto details such as the belt, epaulettes, and zip pockets. It runs true to size, but does not come in XS. The only thing I'd add on this is zipper detail at the sleeves. It felt and looked pretty nice for $45.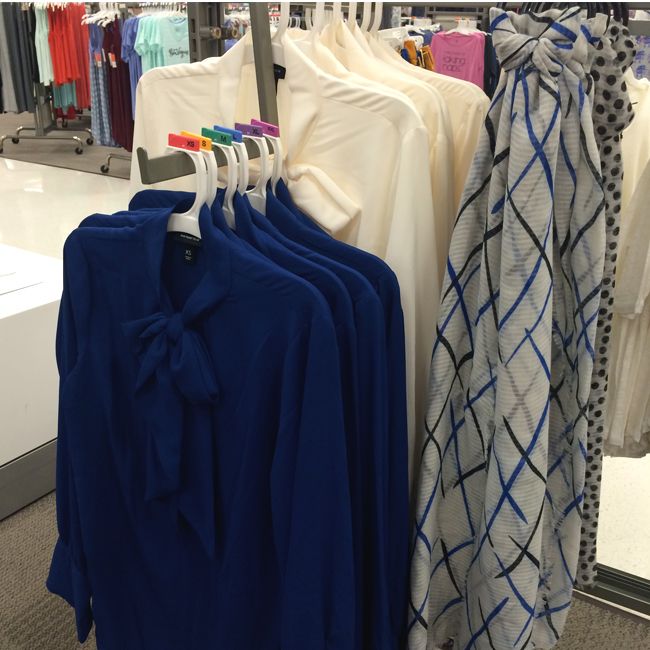 Both the birdcage skirt ($29.99) and bateau sweater ($27.99) are made of hefty, sturdy cotton. They look much more luxe than their price tags might dictate. These were top picks for me after seeing them in store. Also, that scarf came home with me but wasn't initially on my wish list!
Fall is almost here, and I spy a darker color palette. The blouse on the right comes in three prints, is sheer, and has cute ruffles and smocking.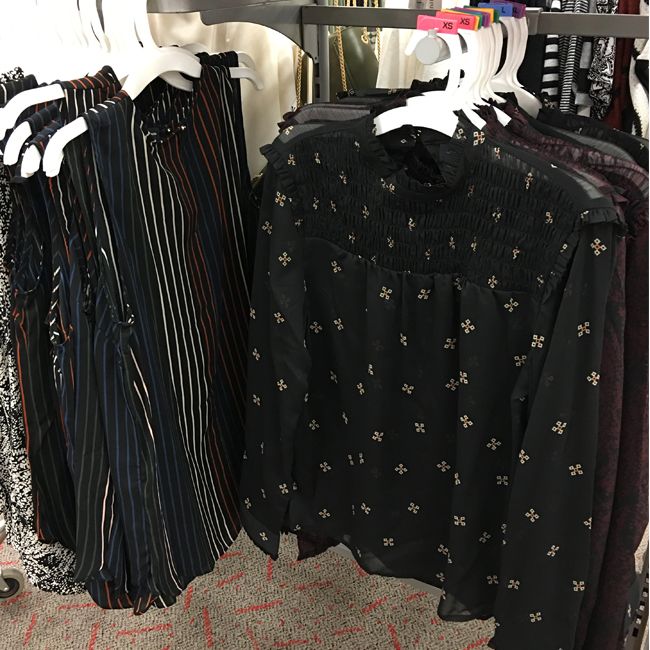 If you're looking for the perfect cropped or kick flare jeans, these are it! The zipper pull is sturdy, the rise is mid, and the length is great for petites. They are flattering and run true to size. The army utility jacket on the right is oversized, comfy, and has 7/8-length sleeves with cute epaulettes, a cinch detail at the hem, and a snap front design. It's the perfect tomboy piece to act as a counterpoint to the feminine skirts, blouses, and dresses in this collection.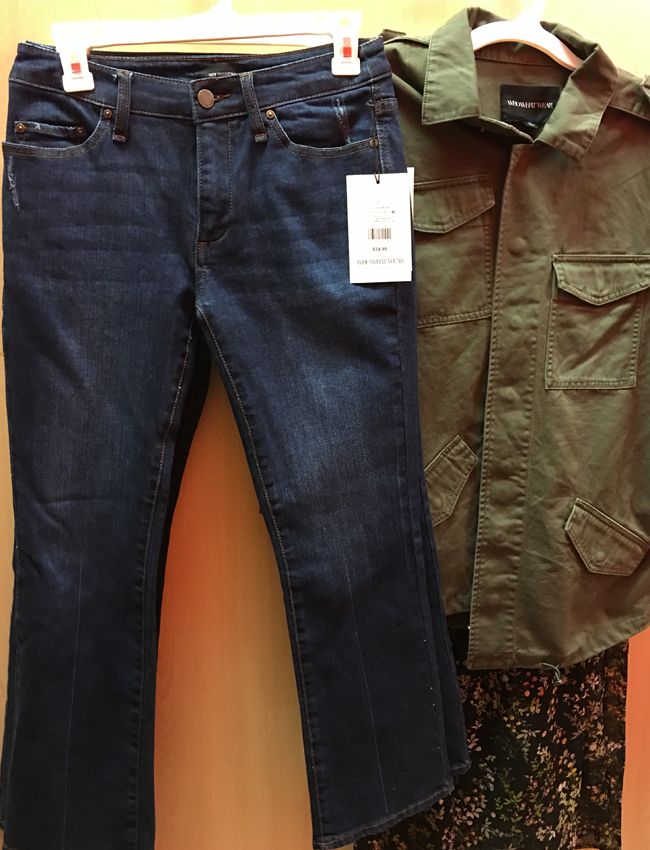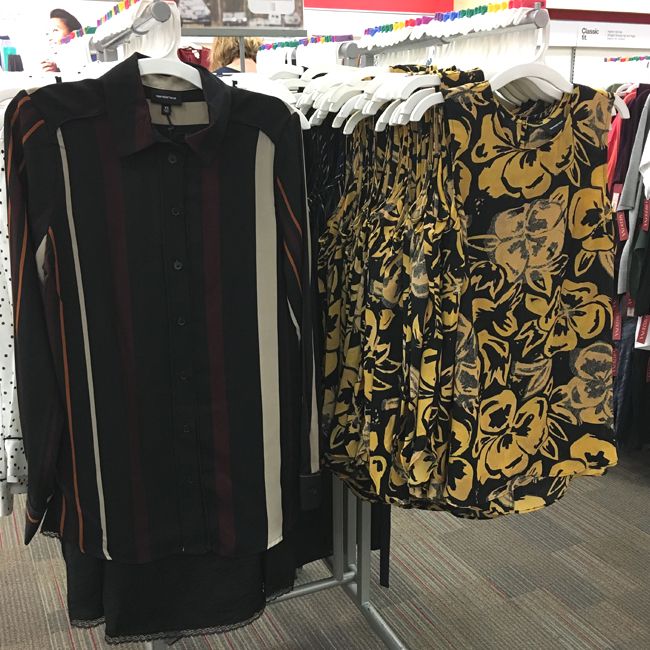 This floral skirt below has a car wash design (pretty strips of fabric which swoosh in such a cool way when you walk). It has a tailored waist and is mid-length.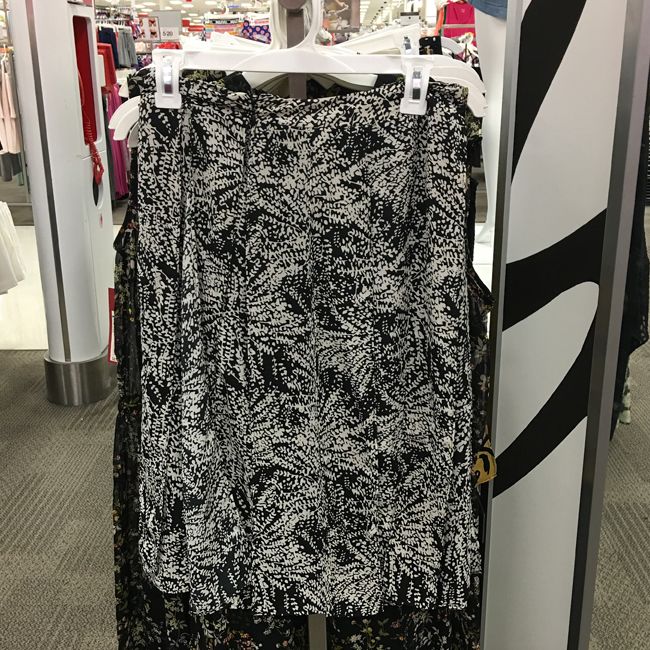 I adore the floral bomber jacket on the right. It might be my favorite Who What Wear piece so far. It's totally my style, and it also comes in solid black. I'll be wearing mine with pleated skirts (like this one from the collection), slip dresses, and all kinds of denim this fall/winter.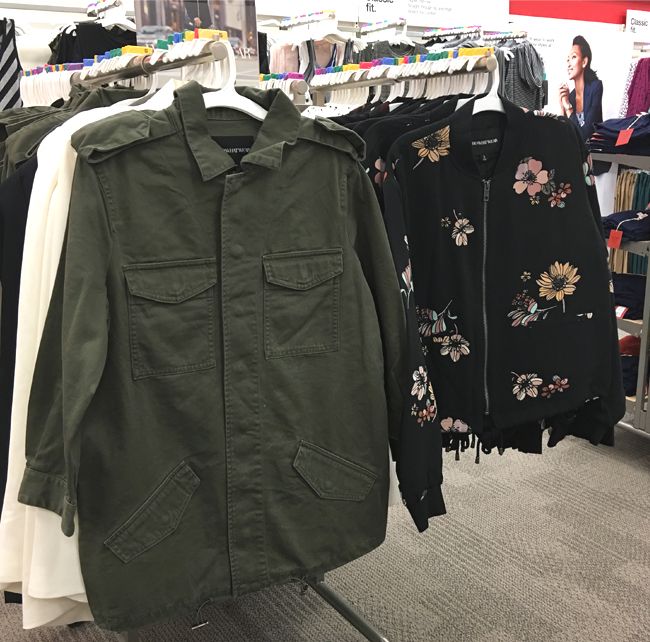 March 20, 2016 Update
See March 2016 new arrivals, which feature summery fabrics, more florals, and lace. My favorites include this eyelet shirt dress, lace-up tee, high neck lace blouse, red floral dress, and peplum V-neck top.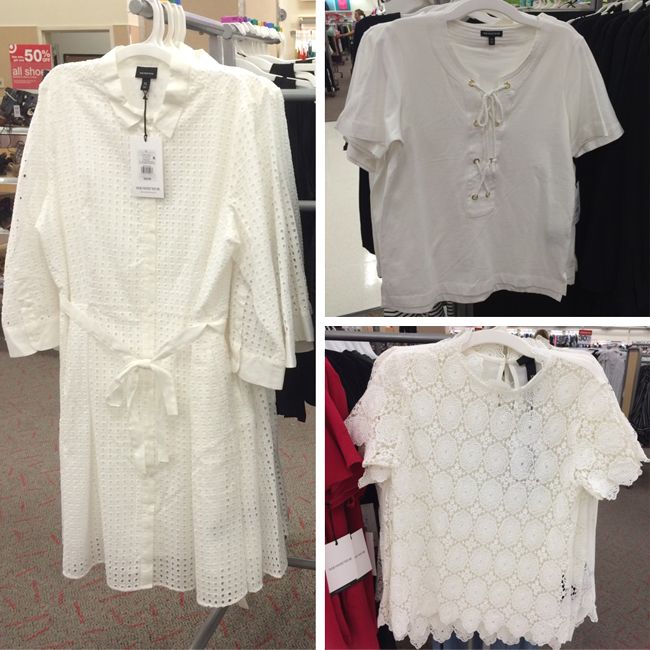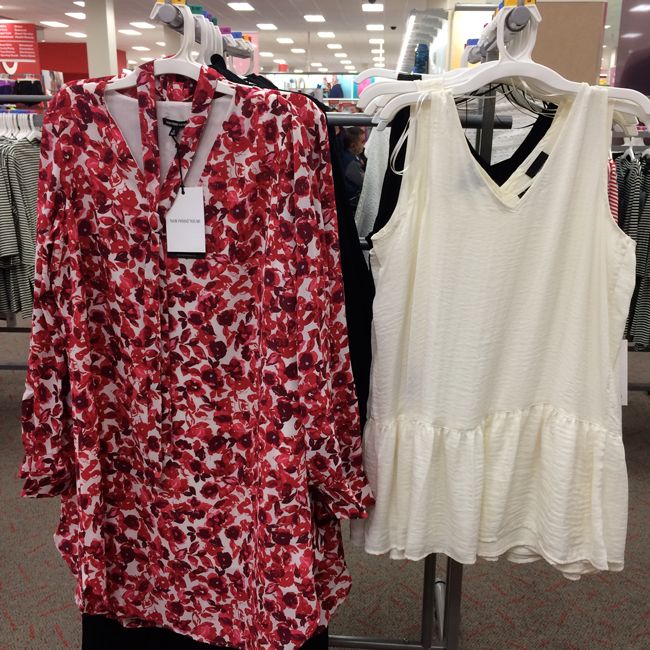 May 19, 2016 update - See more spring arrivals, including the new book by Katherine Power and Hillary Kerr, The Career Code.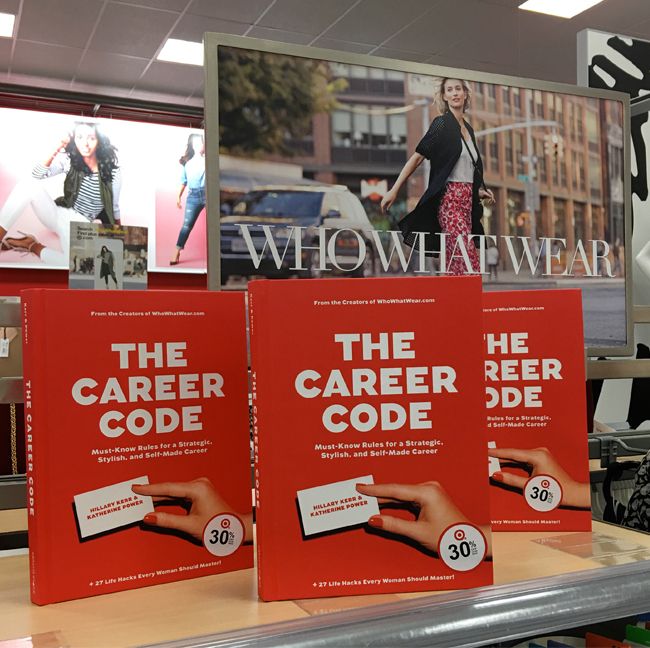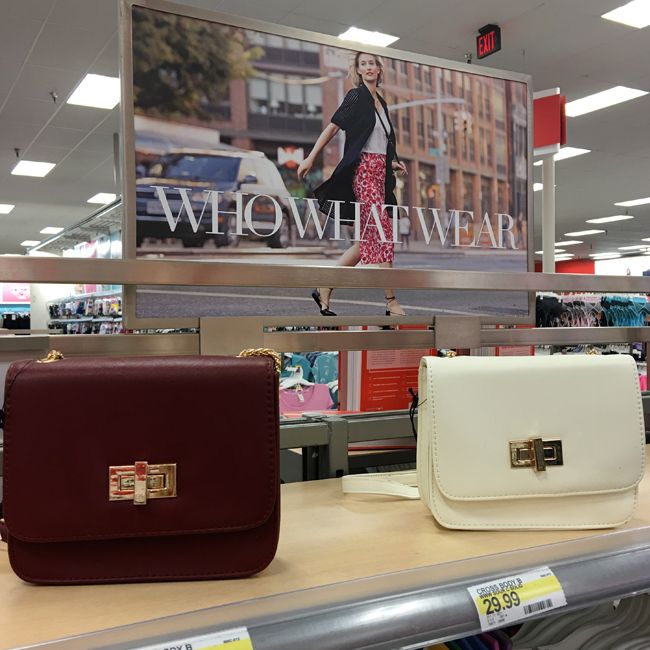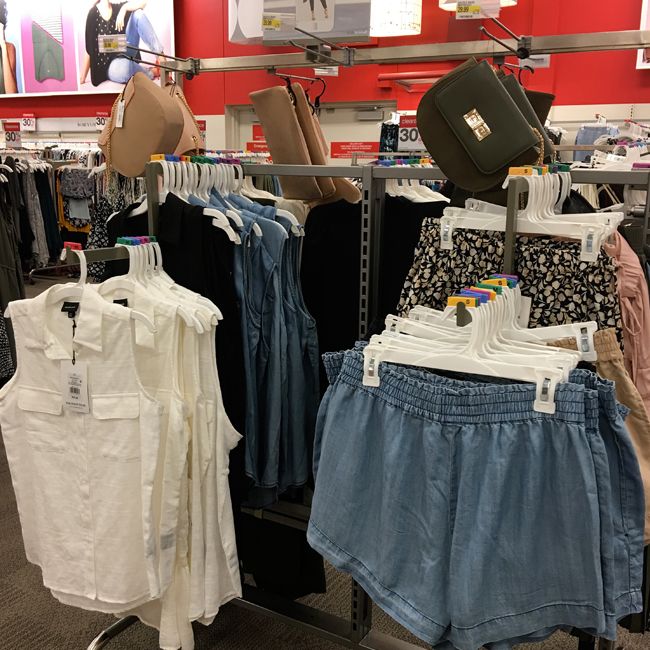 In the fitting room
For size reference, I tried on XS in the tees, 2 in the denim, and small in the outerwear (which didn't come in XS). I am petite and 102 lbs. I usually wear XS and 2 in Merona at Target, and that is sometimes big on me. #ShortGirlProblems
The trench vest (size small) has interior waist ties that you can cinch or even tie together. The linen fabric makes it hefty, and the front patch pockets have large buttons. I would have preferred a smaller size/shorter length on me. I also think it would drape better in a lighter or synthetic fabric. Overall, I think it's worth the $39.99 due to all the layering possibilities: over a dress, under a moto jacket, with a tee and jeans, etc. This is better for taller ladies.
The cape blazer, at the top of my wish list, was too big in size small. I liked the padded shoulders and longer hem in back though. It was nicely made but just did not flatter me.
I was pleased by the length and feel of the linen blend utility jacket in size small. Sure, it was roomy, but a sweater underneath and some cinching at the waist would remedy that. If I didn't already have a few jackets like this, it would have come home with me.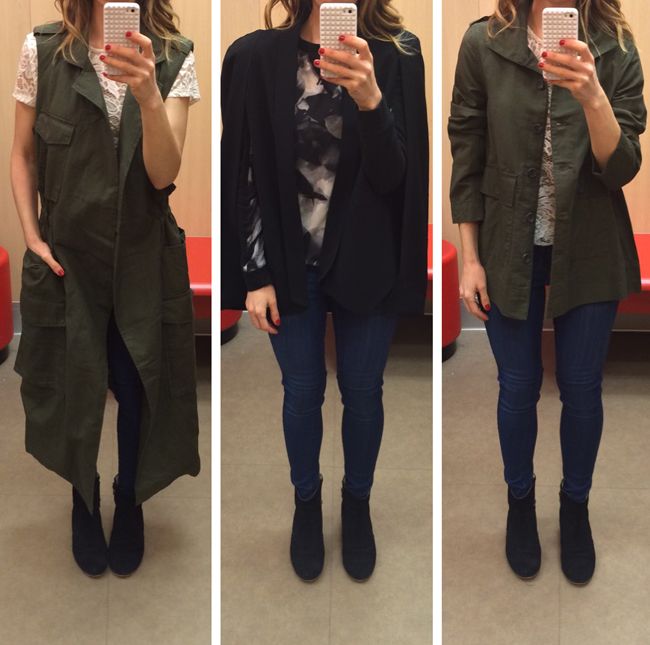 The ribbed sweater dress ($36.99) is true to size, made of nylon, has cap sleeves, and hugs curves. It looks so modern and sleek on the hanger. I'm wearing XS. It was soft, stretchy, and medium weight. It also comes in black, which I might go back to buy. I love it layered under the moto jacket for a downtown vibe.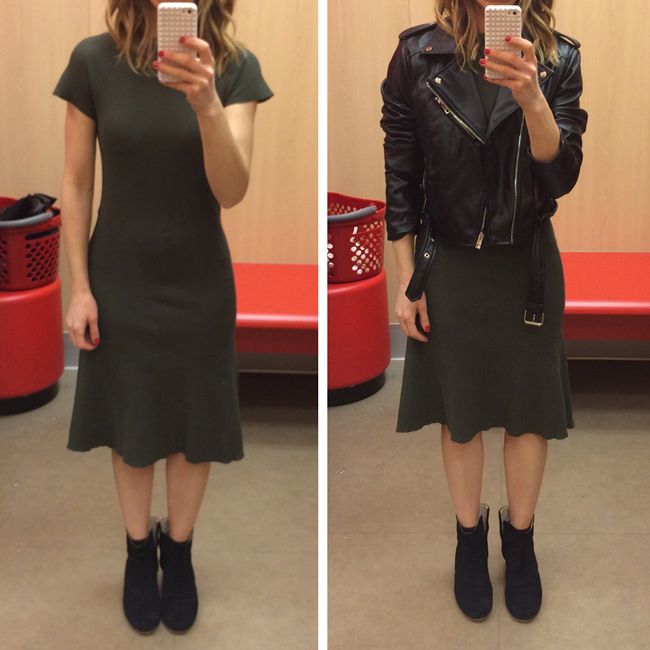 Here's the floral fluted dress ($29.99) worn three ways. The dress also comes in a striped, solid, and floral version. It's a non-stretchy poly crepe with a decent back zipper. The shape is straight, so I'd add a belt at the waist for more definition. The fluted hem makes it dressy and it looks great in motion. I layered the linen stripe tee ($17.99) in the middle, and the super soft faux suede mod moto (size small) on the right. I found the linen tee to be ever so slightly itchy because I'm sensitive to certain fabrics (even cashmere). The blue moto jacket was too big in the arm and shoulder area. I would have liked some sleeve detail, but the blue color was beautiful and pairs well with the rest of the collection. It's a nice lightweight piece for the winter to spring transition, and also comes in black ($39.99).
The bateau tee is made of 100% cotton, which is great for $19.99. The XS was roomy on me, and the hemline had a straight shape, unlike the linen stripe tee above. The denim skirt in size 2 was loose in the waist, but I liked the wash of the denim and the frayed hemline. Despite the long length, I like the way it looked with the striped top but not with my ankle boots. The silky peplum top looked really dressy in person, with feminine pleats and ruffles. It's made of polyester and fully lined. The small is loose on me, and I envision it (or the polka dot version) with dark skinny jeans and heels for a casual/dressy juxtaposition.
The bow blouse ($27.99) in blue had a side vented hem with a longer length in back, so I tucked it into the skinny crop pants for a more polished look. I loved the French cuffs and ease in the wrist area. I adore this blouse worn tied as a bow or worn loose - two thumbs up on this piece. On the racks, I didn't love the fabric of the cropped pants, but once in the fitting room, I liked the mid rise, stretchy waist and legging-like comfort. No pockets, though! They reminded me of the crinkly synthetic dress pants that Express used to sell about a decade ago. They were looser on the lower leg than I'd prefer, so overall, these were a thumbs down for me. The button back tank ($22.99) was really long on me, so I tucked it in. I liked the print, but it would be prone to static due to the lightweight poly construction. I was able to slip it on easily over my head, and it had cute button details on the back.
I took home the rayon/linen stripe tee ($17.99) on the left (other prints available). I'm wearing XS and it had an easy fit with a center back seam. It's the ideal slouchy tee for every day and for layering. I may go back for the lace version ($22.99) in the middle, which also comes in black. I tried on XS. It runs narrower than the tee on the left, is soft, and requires a camisole in case you're modest. I'd wear this for winter with the hem peeking out from a cropped cable knit or over a thin turtleneck. I also envision it tucked into a pencil skirt for a sleeker look. The linen tee on the right ($17.99) is lightweight, also comes in solids, is ever so slightly sheer, and runs true to size.
The fit was comfy and it had a cute scooped hemline.
I'm wearing XS. I'm wearing the slim boyfriend jeans on the left and right in size 2. They were loose everywhere, but felt well made for $34.99. I'd compare them to other styles by Mossimo in terms of fit and quality. Size 0 would have been a nice option for this style.
I liked the easy fit of the striped button-up blouse, which also coms in more prints and solids ($24.99). It evokes the feel of a luxe Equipment blouse, although in lightweight poly instead of silk. The XS was roomy, so I tucked it into the birdcage skirt ($29.99) in size 2. The skirt, made of cotton canvas, felt substantial and had great inverted pleats. I'd love to see pockets on this skirt! The length was too long for me, but I appreciated the feminine design and A-line structure. On the right, I doubled up on painterly dots with the allover printed tee (seen earlier in a striped version) and my own belt.
Below is my layering effort with the button-up blouse and bateau sweater. I took home the sweater in XS because I just can't resist a structured striped knit (such a simple piece, yet so hard to find great versions).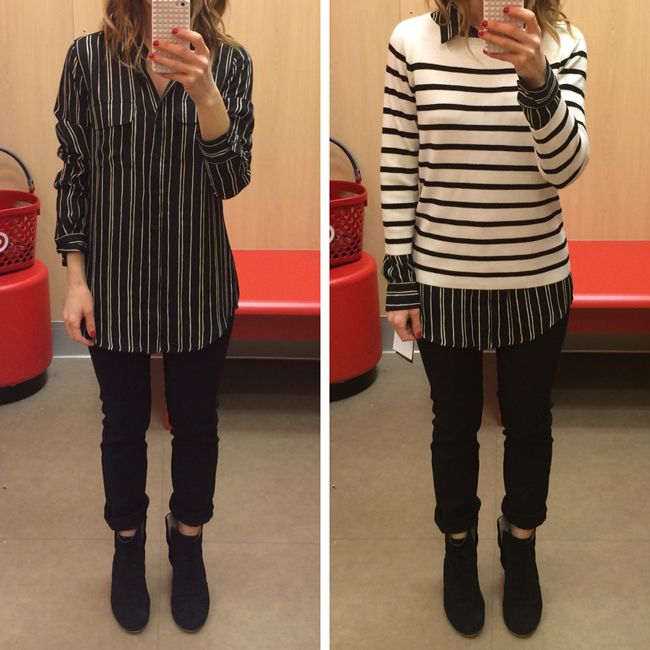 March 2016 update - Here are some March 2016 arrivals below. The stripe top on the left has cute mini bell sleeves, but I didn't love the print because it was not flattering. Perhaps in a floral this would've come home with me. It's a non-stretchy polyester crepe which I wasn't crazy about. The peplum tank top worked for me, as it's great for layering and pairing with skinnies or leggings for casual looks. It also comes in white, is lightweight, and oversized. I layered it under the high neck lace top, which I love. My only misgiving about this top is that the back is not lace, but a sheer polyester. It's comfortable, true to size, and also comes in black.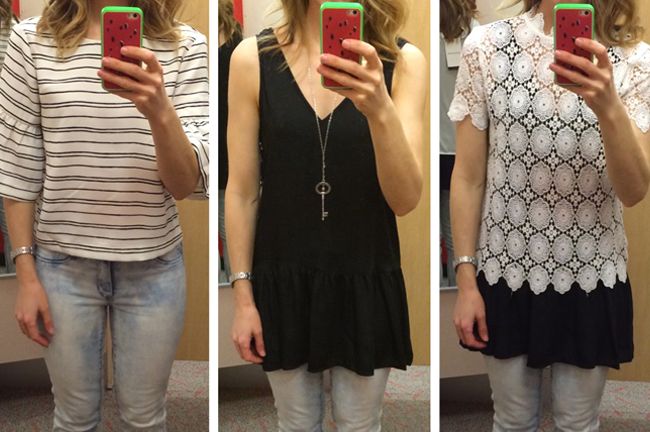 May 18, 2016 update - See the latest fitting room photos.
I'm wearing size XS in these white tops. Both are oversized, lightweight cotton, and slightly sheer with structure. The one on the right has a side tie closure, but I didn't like the length on me. The top on the left has cute trim along the arms and neckline. Both work well for layering and pairing with skinny jeans, leggings, or shorts.
Below is the ruffle top in XS worn with the pleated skirt in small. Like many pieces in the collection, these aren't optimal if you're petite. I tucked the blouse into the skirt for a more tailored look, but the skirt was still too loose in the waist and too long. The blouse, which runs big, is a wrinkle-prone poly crepe, while the skirt is made of a heavier weight polyester. Both pieces come in other colors. Pale pink, olive, black, and white seem to dominate the spring 2016 collection.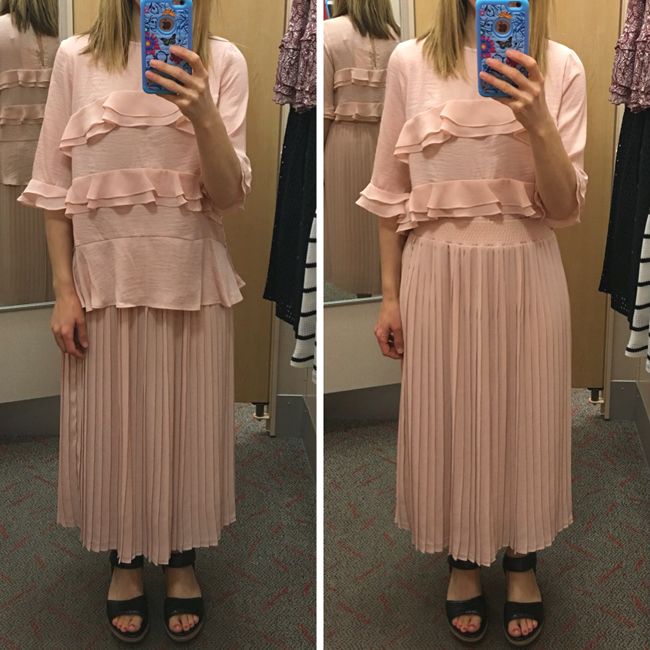 Below is the eyelet shirt dress in XS. (See the plus long-sleeved version.) It has an attached lining, which makes putting it on over your head difficult. It runs true to size, but I had trouble getting my arms through the straps properly. Once on, I loved the structured fit, waist tie, button front, and midi length. It also comes in white. On the right is the marled crew sweater in XS. The sleeves run small, so I'd size up on this to account for shrinkage. It's part sweater and part tee, with a lightweight construction, retro stripes, and slightly loose fit. It also comes in olive and a rust/chestnut color.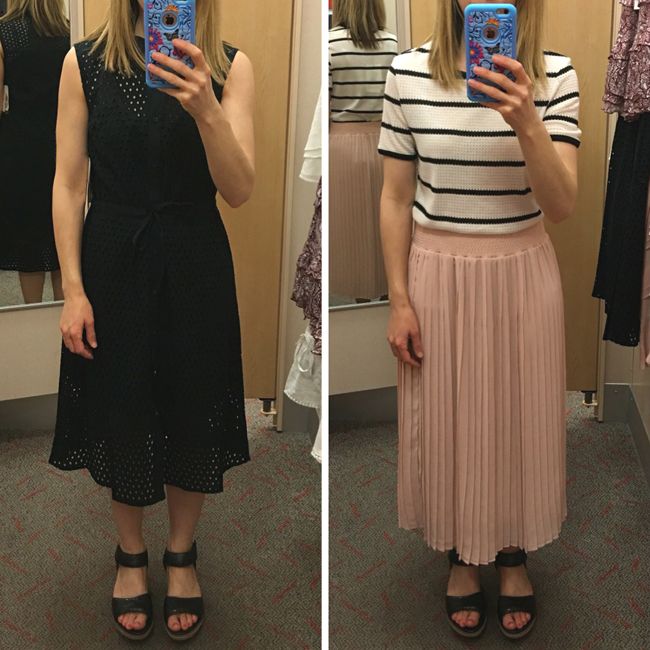 I tried on the layered ruffle skirt (which also comes in a floral print) in XS. It's true to size. It has an adjustable side tie, pull on styling, and stretchy waistband. The ruffles add volume, which can be tricky to wear. I tried the skirt various ways, and my conclusion is that it would work best for me with a fitted top tucked in. I do love the look of this skirt paired with the ruffle top in the same print, however.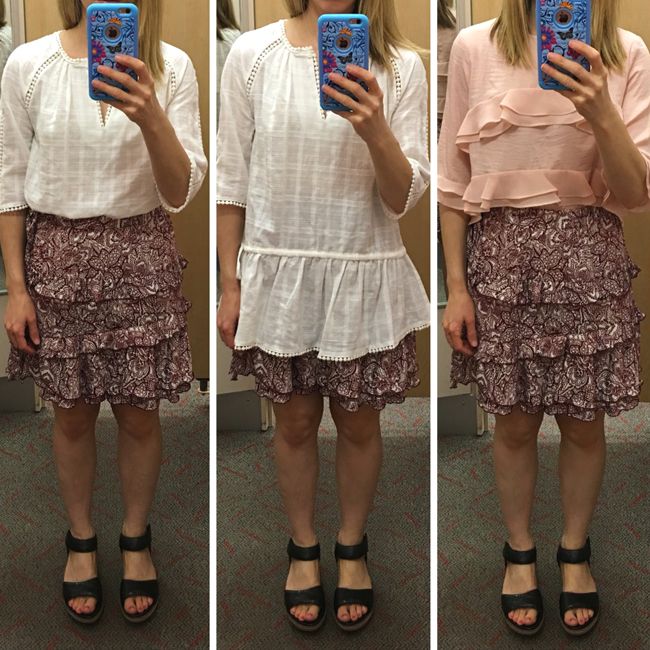 September 2016 update - Here's a look at some of the fall collection. Sizing is true to size on everything except the pencil skirt on the left, which runs small. I'm wearing a 4 in the pencil skirt and a small in the open shoulder tunic sweater (which I think looks better worn loosely), while the other pieces are XS and 2.
From left to right: The open shoulder tunic sweater is soft and lightweight, and also comes in grey. The faux leather pencil skirt also comes in black and has two front pockets, but runs small in the waist. The tie neck blouse is slightly wrinkled, but I love the fit and feminine vibe. I paired it with the faux leather birdcage skirt, which was too long for my taste. The pajama polka dot shirt dress on the right feels silky and really comfortable, plus it's an emerging trend for fall 2017.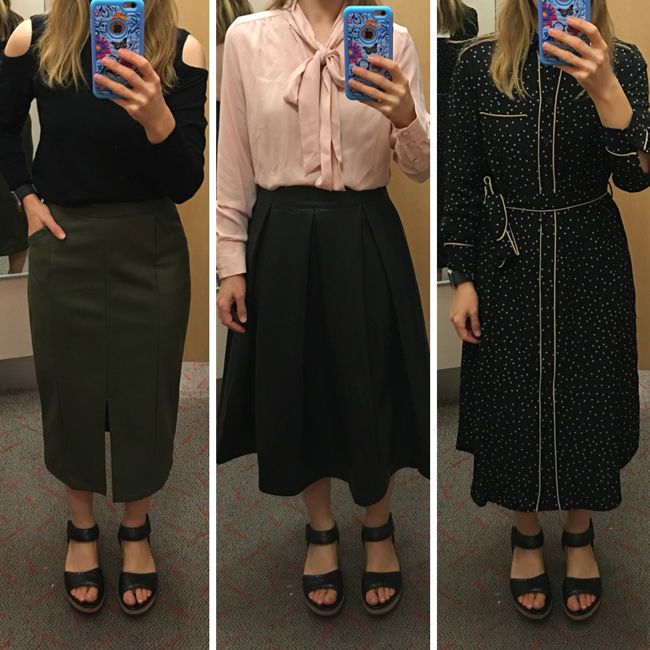 While these pieces from Who What Wear may lack the frenzy and excitement of previous Target capsule collections, they're classic, quality pieces with longevity and versatility. Hillary Kerr and Katherine Power of Who What Wear know the fashion business inside and out, and combined with their love of street style, this has resulted in a strong collection of wardrobe staples.
I once read that your wardrobe should consist of 80% basics and 20% trendy/fun items. Along that note, this collection serves up a strong helping of chic tops, luxe-looking basics and a small dose of bright/colorful on-trend offerings. A quick glance in my closet, and it is apparent that I'm no good at buying basics. This collection will help me with that!
Here's a peek at how I wore the printed tee, floral square scarf, and moto jacket.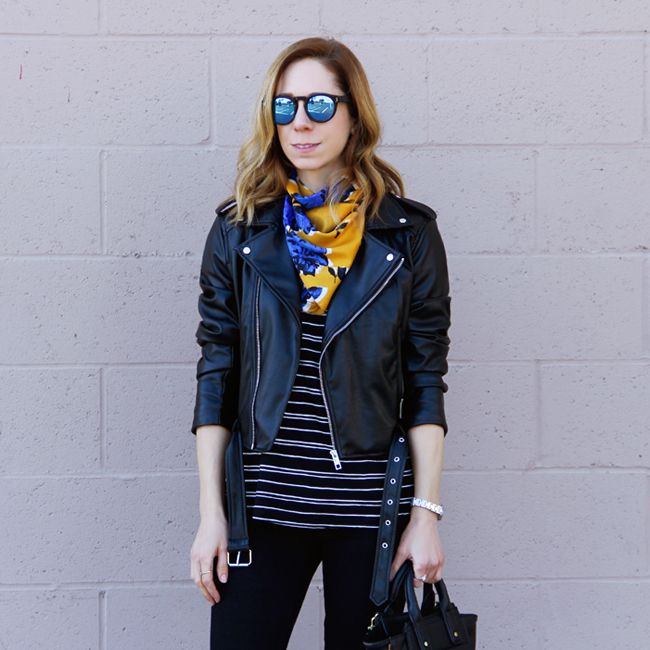 August 27, 2016 update - Here's a look at how I wore the car wash floral skirt this month.
In closing, here's what I'd love to see from Who What Wear in the future:
Petite sizes, XS in outerwear, and size 0 in denim. #ShortGirlProblems
More florals and paisley prints, please! Stripes are nice, but more variety!
Structured tote bags with cute hardware and lots of pockets.
More fun belts like the knotted style and the belt bag.
Rompers, jumpsuits, bodysuits, and embellished shorts for summer.
Footwear, footwear, footwear: wedges, sporty sandals, sleek booties, embellished heels, and trendy sneakers. #ShoeAddict
Catch up with me on Snapchat,
Twitter
,
Instagram
, and
Facebook
@thekeytochic for more shopping and fashion inspiration.
This post contains affiliate links and I may be compensated if purchases are made by clicking links.
September 2018 update - Love Target style? Read my Prologue at Target review, my Universal Thread review, my Wild Fable review, and my A New Day review.
Shop my favorites: