On Wednesday night, reality show alumnus Lauren Conrad kicked off New York Fashion Week with her new ladylike fall 2015 collection (dubbed LC Runway) which was live streamed on LCRunway.com. Staying true to her brand's identity as the go-to for girlie pieces in pastels, the collection featured models with milkmaid braids, a subdued color palette, delicate jewelry, ladylike (leather!) handbags, diaphanous materials, and dramatic dresses. The icing on the pastel cake? Right after the show, fans could shop the LC Runway looks for 25% off. Kudos to Kohl's for putting on a fun show and making the collection available right away!
April 15, 2019 update - Shop new LC Lauren Conrad arrivals:
October 18, 2018 update - For more Kohl's style, see my POPSUGAR at Kohl's review.
September 7, 2017 update - See my LC Runway Fall 2017 review.
Fall 2016
The floral wide-leg pants are medium weight polyester, high-waisted, and run slightly small, while the ruffle halter top is true to size.
Below I'm wearing the floral pants. I sized up from my usual 2 to a 4 in case I wear them with blouses tucked in this winter.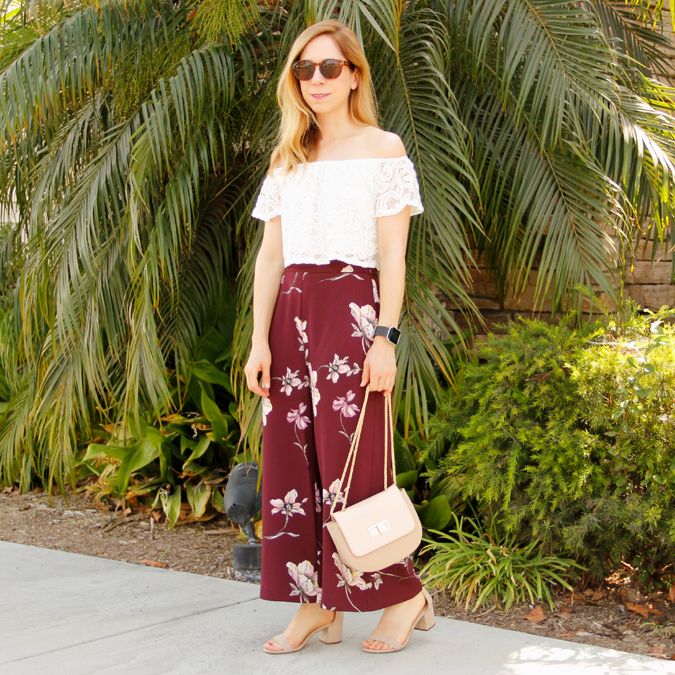 Intrigued after live streaming the 2015 show, I instantly made my wish list. I then paid a visit to my local Kohl's store on Thursday morning, where the associates were just placing all the pretty merchandise on the racks. My timing was spot on. Here's a look at my store's selection.
Floral prints, blush tones, maxi lengths, and lace details give the collection a soft, airy vibe.
I spy lots of lace and I'm not mad about it! So many of these pieces would be perfect for a fall wedding, bridal photoshoot, or fancy party. I can imagine them being worn for a fantasy forest photoshoot with soft lighting, woodland animals, and gauze tents. OK, so I'm getting carried away here...let's just say I'm inspired. My birthday is in the fall, and I'm going to indulge myself in this collection!
Fitting room photos:
For reference, I'm typically a size XS or 2 in the LC Lauren Conrad line, and petite with a current weight of about 101 lbs.
The floral maxi dress below was a favorite, and I'm wearing a 4. It has a full slip and back button at the neck which can be tricky to put on and fasten without help. The dress is too big in the waist and in the length, but I still loved the light feel and the pretty print. It reminds me of Erdem, one of my favorite designers and a master of dramatic florals. Note the scalloped edges on the floppy bow tie at the neck. Cute details, right? Ideal for twirling in the wind or on the dance floor.
The lace trim blouse below was worn very well by Chrissy Teigen at the LC Runway show, and so it was an instant favorite. It's sheer (so a camisole might be required) with tricky buttons at the back neckline. I'm wearing a size small since I couldn't find my regular XS and it's true to LC sizing. It also comes in solid navy and pale violet colorways. I paired it with the embroidered velvet shorts, which are a size 4. The shorts run very small and are well tailored, with a few loose threads that I had to fix. These two pieces are favorites; I adore the juxtaposition of velvet with chiffon.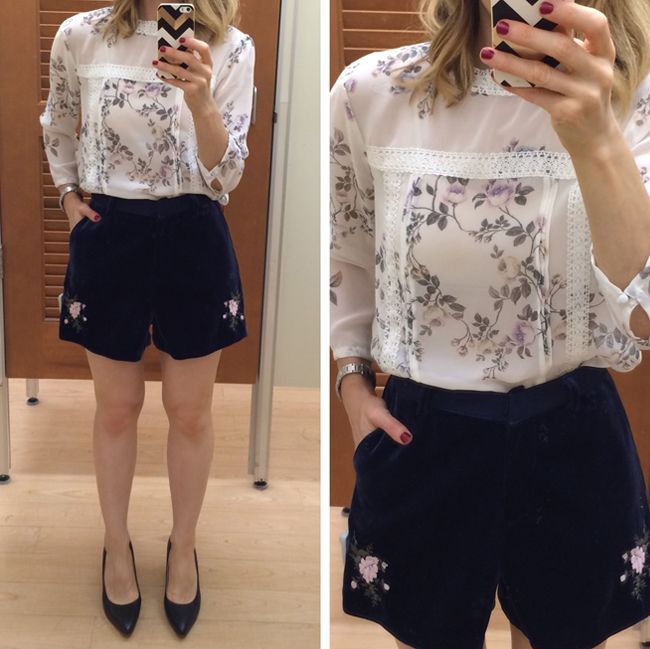 A closer look at the playful embroidered shorts which run from 2-16. The waistband is trimmed in ribbon and does not have stretch. I advise sizing up on these if you're curvy.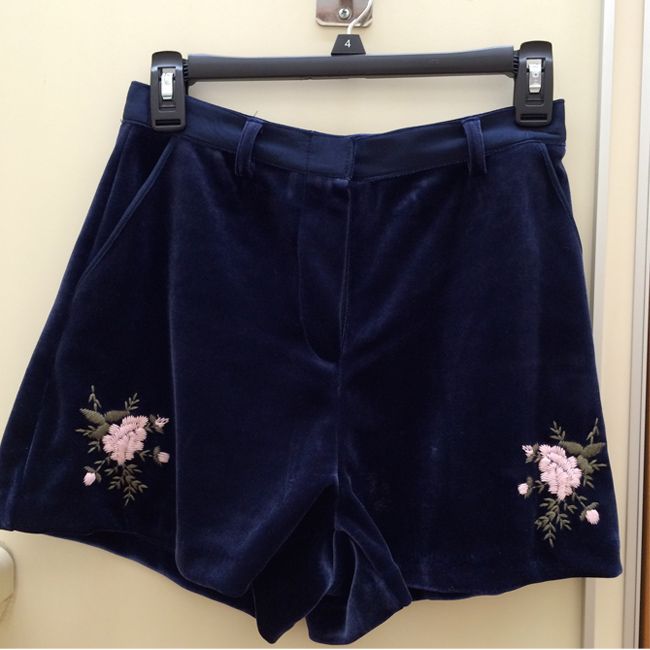 Below is the scallop lace crop top with the floral scuba skirt. The crop top was worn by Lauren Conrad with these high waist wide-leg trousers for her show. (More on that below.) On the right is the faux suede moto jacket in a size 4. It's true to size, medium weight, well made, has pretty rose gold hardware, and is very comfortable. The floral scuba skirts are thick, structured, and slightly scratchy due to the poly/spandex construction. I'm wearing size 2 in both, and they are well tailored with a back zip closure. I'd size up on these If you're in doubt, as they run small in the waist.
I love the moto jacket and floral skirt together for a masculine/feminine mix.
The moto jacket also comes in a forest green, which my store did not carry.
Sept. 6, 2016 update - It's now sold out, but here's the 2016 version in camel, black, or wine.
Note the godet insets and soft floral print of this floral scuba skirt, which comes in three different colorways: whisper pink, green gables, or dress blues.
Below, I'm wearing the scallop lace crop top dressed up with the scuba skirt and dressed down with my own Zara cigarette jeans. The bell sleeves make this top on-trend and very romantic. It's a little bit Victorian and a little bit '70s, and I love that. It's comfortable cotton/nylon, easy to put on, and runs slightly big. I'm wearing size small. Beware the sheer lace fabric if you're modest, as this one might require a camisole or bandeau.
Here's a detail shot of the scallop lace crop top, which also comes in pale grey and hushed violet.
Below, I'm wearing the open-back lace romper in a size 4, which was too big in the bodice and shoulders. I love the fact that it's lined, has bell sleeves, an open back style, and pockets, but the button at the back of the neck was tricky. I'd probably love it a lot more in a smaller size. The lace babydoll mini dress on the right was a favorite of mine on the runway, and I'm wearing a size 4 since they didn't have a 2. (Sizing is 0-16 on this dress.) There's a back zip and several buttons in the middle of the back which were impossible for me to fasten. On the plus side, it's lined, comfortable, and once it's on, it feels both flirty and grown-up. See the sexy back button details for yourself. Although the sleeves were too long and I'd need someone to help me put this on, I still adore it.
I layered the sheer lace maxi duster over the jacquard crop top below. The duster's length is too long for me, but I liked the lace panels, button details at the waist, and the layering possibilities. I'm wearing size 4 in both pieces, and the fit was too big on the crop top, and just right on the duster except for length.
Below, I styled the jacquard crop top with the high waist wide-leg trousers. The pants are a size 4 and too big/too long. They are lined, so they are not sheer, which is often an issue with white trousers. The crop top is true to size and has a full center back zip and snaps, making it nearly impossible to put on unless you have bionic arms and superhuman flexibility.
It has a flirty bow detail at the waist.
Once I managed to get the top on, I did love the way it looked with the
jacquard midi skirt
, which was actually more of a maxi skirt on me.
The skirt is a size 4, has pockets, and has a slight sheen to the fabric. The waist is well tailored/runs small, so if in doubt size up on this one. I adored the way the skirt felt (ladylike, glamorous, and dramatic) so it's a collection must-have for me.
Here's a look at the back of the floral jacquard crop top (which is selling out quickly). The floral fabric slightly reminds me of curtains, but the color palette and dusty florals are right in line with my personal style.
Full disclosure: I would've loved to take home almost all of the collection, but sensible spending habits and limited closet space prevented that. The collection's pale hues, lace looks, and dressy details appealed to my feminine side.
I'm looking forward to dressing some of these pieces up and down for fall. Fortunately, it's currently 25% off, but it's going fast.
Jan. 22, 2016 update - See my spring 2016 LC Lauren Conrad fitting room review.
Thank you to Kohl's for partnering on this post.
Share your favorites
with me (and see what I bought) on
Facebook
,
Pinterest
,
Instagram
and Snapchat @thekeytochic.
Shop LC Lauren Conrad: