With the rise of
athletic-inspired apparel
and the growing popularity of casual "athleisure" attire in our modern lives, the popularity of the jogger pant makes perfect sense. It's a comfortable, easy-to-wear wardrobe staple that can transition from workout to the workplace (or vice versa) with ease. These are certainly not the sloppy sweatpants of the past! Sure, the silhouette is slouchy and relaxed, but the right pair can channel both a professional and street-style ready vibe. With modern versions having tapered legs, rolled hems, and roomy pockets, they be worn in many chic ways, especially when dressed up like the ladies below.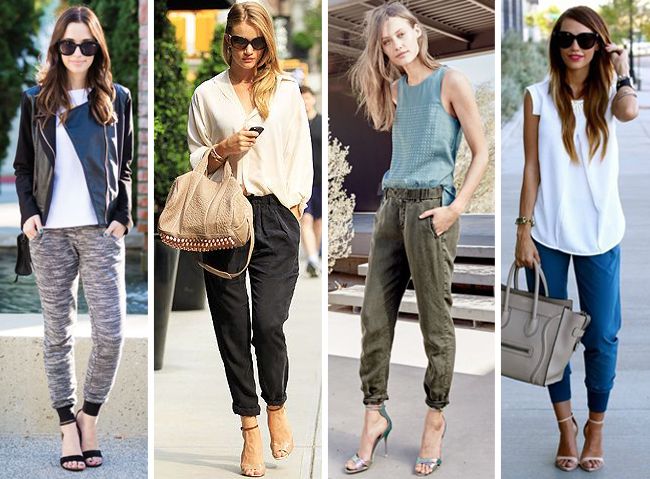 I love how the dressy element of high heels juxtaposes the relaxed shape of the joggers. Just add a silky blouse and you've got an instant outfit!
April 3, 2021 update - Shop cool prints:
March 22, 2021 update - Shop new joggers for spring:
November 14, 2020 update - Shop cute joggers:
Wear them with:
March 7, 2019 update - Shop joggers under $60:
Wear them with:
Maybe you're like me - a fan of leggings or skinny jeans and wary of voluminous pant leg shapes. Perhaps you'd like to dip your toes into the trend, but you're not sure how to wear jogger pants.
Here are five tips that I've learned for how to wear jogger pants:
Do treat jogger pants like trousers and dress them up with polished footwear, especially for the office. Choose minimal open-toe heels or refined pumps to effortlessly elevate your look.
Don't wear your pants too big or slouchy. Think slightly loose and above the ankle when it comes to fit. Roll the hems if you like to show off your favorite heels.
Do pair your jogger pants with a dressy blouse or cropped jacket. Balance out the volume of the lower half with a more tailored silhouette on top. I love bomber jackets, moto jackets, bombers, and cropped blazers.
Don't go overboard on sportswear staples. The look should be laid-back and relaxed, but not too sporty. The look is best achieved with a balance of dressy and casual pieces. When in doubt, take your style cues from J.Crew and choose sophisticated but preppy pieces for a chic vibe.
Do consider prints and patterns as long as they don't overwhelm your frame. Proportion and scale are key. If prints aren't your thing, then keep it classic with denim, silk, chambray, twill, or rayon styles in solids and neutral colors.
This post contains affiliate links and I may be compensated if purchases are made by clicking links.

Wear your joggers with:
Shop more joggers: