After strategically shopping the Phillip Lim for Target collection online last night with lots of browser refreshing, help from #PhillipLimforTarget Twitter links (the best way to score your favorites from the collection), and patience, I awoke early to inspect the goods in person for this Phillip Lim for Target review. Despite all the hype, there was no Limsanity when I shopped the collection at 8am in two very quiet suburban stores. I am so grateful for that!
September 17, 2019 update - If you are in search of
the
Phillip Lim for Target boom print scarf
(42" x 42"), p
lease e-mail me to purchase at (info at thekeytochic dot com) or DM me on social @thekeytochic.
September 16, 2019 update - Shop Phillip Lim for Target:
August 2019 update - If you missed out on Phillip Lim the first time around, bookmark this page now to shop the #Target20 anniversary collection on September 14, 2019. Target is celebrating 20 years of design by re-releasing some of its bestsellers, Phillip Lim included. See which pieces they are bringing back and get shopping tips here.
At store number one, there were about a dozen well-heeled men and women hovering at the entry by 8am. Nobody hoarded, nobody got hurt, and there was plenty of merchandise on the racks by the time I checked out an hour later. This was a classy and sophisticated bunch! I love it when everybody plays nicely and there is no fighting or negativity. After all, as much as I love fashion, it's just fashion!
The items that I thought would sell out (the Boom sweatshirt and mini satchels) were practically untouched. So what was popular? The men's tees in camo and tiger sold well, as did the paper print floral dress and animal print pullover. The women's trench coat got bad reviews for fit from the ladies in the fitting room, and indeed, it was way too long on me.
Below, the bags remain untouched an hour after the store opening.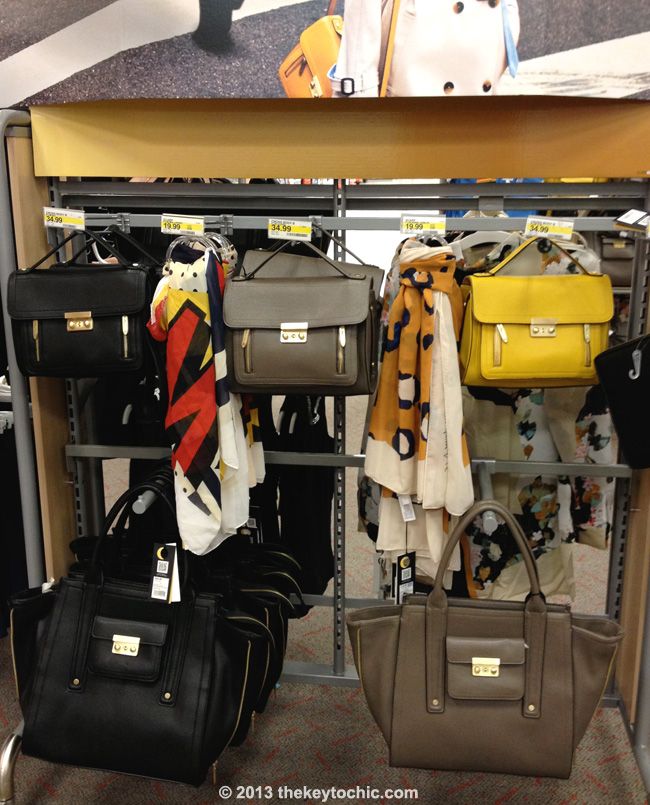 The boom sweatshirt was not a coveted item in my area. Looking for an alternative? How about this one or this more colorful one under $20. There's even a cropped one with sequins that says bam!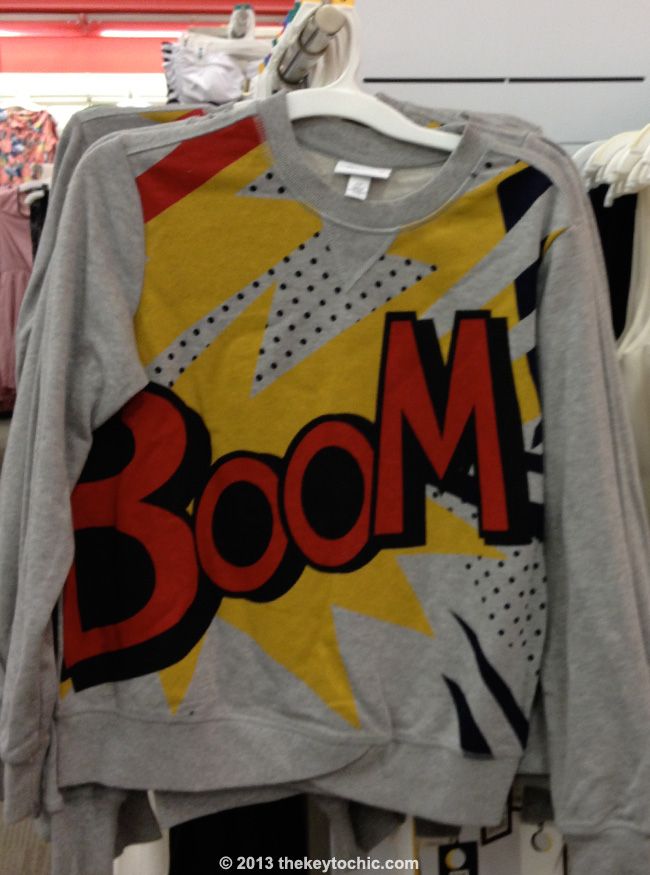 I took a few pieces to the fitting room for my usual fitting room review and instantly found that most of it runs large. Not a surprise, but useful to know if you are between sizes. I tried mostly XS and 2. For reference, I usually wear sizes extra small or 2 in Women's and small or 3 in Junior's sizes at Target.
The boom sweatshirt was not as soft as I'd have liked, and the fit is slightly big. I'm wearing small below, although XS also fit. I loved the men's tiger tee, which was soft. I'm wearing a medium (since a small was unavailable).
As for the boom dress, the length was too long and the skirt slightly sheer. It runs large, but I styled the XS with a tuck to make it shorter.
**Styling tip for wearing the drop-waist dresses : if you're petite or curvy like myself, then play with the sweater portion of the dress to fold, tuck, or bunch it up so that the skirt's length is shorter that the sometimes unflattering mid-calf length. Below, I'm wearing it that way instead of pulled straight down as in the lookbook. If you're tall or straight in the hip/thigh area, then it might look better styled as on the lookbook model. You might also notice that I tucked under the hem of the boom sweatshirt because I have a short torso and wanted to reduce the bunching at the waist. Being petite and curvy has forced me to learn little styling tricks to make clothing look better!
The animal skirt was impeccably tailored with a nice hand to the fabric and a sturdy back zip and hook-and-eye closure. I also liked the popular lightweight animal pullover, which I tucked into the skirt to show off the waistline. I'm wearing XS and 2 in the animal print pieces. The paper print floral dress had a tricky zipper, felt hefty, and flared more at the hem than I expected it to. I'm wearing XS. It has a curved seam in the back, pleated seams on the shoulders and arms, and looks very well designed. The loose paper floral blouse was a top pick. I'm wearing XS, and it's lightweight, but prone to static. Below, on the right, I layered the sparkle peplum top in XS over the floral blouse as a vest.
Surprise hits? The black sparkle peplum top (below in the center in XS) was very well tailored when zipped, but also had a poor zipper that got stuck. The tiger tee (in medium) and women's sweatpants (in XS) both felt very soft, slouchy, and comfortable.
I cajoled my boyfriend into trying letting me style him in the Phillip Lim for Target men's clothing and hi-top sneakers. For reference, he's 5'10" and about 145 lbs with a slim build. He's wearing a medium in the trench coat, a small in the mock neck sweater, and the tiger tee in medium. He found the sneakers to run big and feel more like boots due to the stiff construction, and unfortunately, he thought the sweater's 13% wool content made it slightly itchy. The trench coat would've fit better in small, and I thought the structured fabric and design details (such as buckles) were impressive compared to Target's typical jackets. The tiger tee is truer to his personal style, and I joked that we could be twins and wear it together with dark denim. He's also wearing Denizen slim straight jeans in size 30.
I liked the camo pullover (in medium) and tee (in small) on him, and below on the right, he's wearing the French terry sweatpants from the collection (in small). Both fit well, were comfortable, and appeared well made. Too bad he's not a fan of camouflage the way that I am.
I tried on a few of the same men's pieces for myself. Below, I styled the mock neck sweater two ways - pulled down over the hips and tucked under. I would've bought it if not for my sensitivity to the itchiness of wool. I'm also wearing the camouflage tops below, and now I wish I'd bought the camouflage pullover for myself in small! I love the dark mix of colors and easy, casual fit. Camouflage is a recurring trend that never seems to go away, and the pullover would work well for me this fall with inky skinny jeans and pumps.
My overall impressions? I avoided the sparkle dresses because I didn't like the shape, and I was mainly drawn to the prints because they suit my personal style. I think this collection had mass appeal due to the wide range of basics-with-a-twist that they offered. Philip Lim stayed true to his modern, chic design aesthetic with his collection. I would have loved to see footwear for women, though! Kinda jealous the men got streetwise sneakers and cool cardigans. While browsing online, I thought the tuxedo dress looked chic, as did the black and white drop waist dress, neither of which were in store.
Bags are the true stars and best sellers in this collection, and if you didn't get the Phillip Lim styles you wanted, consider this pretty alternative or even this chic tote (also at Target). I especially love this fall color, and this one. The external pocket, as well as the ability to wear it multiple ways, make it a Target handbag favorite.
As far as quality, the Phillip Lim for Target bags look well made with strong magnetic closures that are easy to use. I can appreciate the feet on the bottom of the satchels, as well as the soft interior linings (cotton, perhaps?) and exterior pockets on many of the styles. Be warned that the mini satchel is indeed mini. I mean just enough room for a wallet, smart phone, and other small essentials. Despite its small size, it's still my favorite bag in the collection, likely because it so closely resembles Lim's popular mini Pashli.
At this time, most of my online orders have shipped, and fortunately, I was able to buy much of what I wanted online last night. I'm sure my mail carrier is going to hate me by the end of the week.
Didn't get what you want? Here are some shopping tips:
1. Go to Target often over the next few days and weeks to check for returns (especially at the end of this week, when online orders reach their destinations). There will be plenty of shoppers with buyer's remorse, and online exclusives get marked down up to 70% off when they are returned.
2. When you go to the store, stalk the fitting room go-back racks. A lot of the merchandise sits there before it's put back on the racks. Also check the customer service desk in the front of the store for returns, as well as other areas of the store for items that are placed in the wrong area. That's how I found a coveted Missoni blanket a month after the launch back in 2011!
3. Ask friends and family or use social media to reach out to people/shoppers who can help you find what you need. The #PhillipLimforTarget, #TargetStyle, and #Limsanity hashtags are helpful. Stay positive and polite!
4. Most of the pieces are already sold out online, but use Target's search function to find items in your area. I search by zip code to find what's nearby.
5. Target told me that they will not be replenishing the in-store or online merchandise, so don't expect restocking.
Good luck! Let me know what you bought, how your experience was, and what your favorites are! You can also keep up with me and get expert shopping tips and updates on Facebook or Instagram @thekeytochic.
This post contains affiliate links and I may be compensated if purchases are made by clicking links.
September 23, 2016 update - Shop 3.1 Phillip Lim for fall 2016:


Shop chic satchels and more by 3.1 Phillip Lim: