In the spirit of the fitting room reviews and photos that I have been doing since 2007 with Target's capsule collections, I though I'd post some personal style photos and my share my own Jason Wu for Target review, albeit with a twist. I've styled my purchases with favorite pieces from my wardrobe, and I'm including tips on where and how to wear the pieces.
September 16, 2019 update - Shop Jason Wu for Target:
August 2019 update - If you missed out on Jason Wu for Target the first time around, bookmark this page now to shop the #Target20 anniversary collection on September 14, 2019. Target is celebrating 20 years of design by re-releasing some of its bestsellers, Jason Wu included. See which pieces they are bringing back and get shopping tips here.
With a better camera than the one I usually take when I'm photographing looks in fitting rooms, some natural lighting, and the comfort of home, I put together these five looks featuring some of my favorites from the Jason Wu for Target collection.
The dot print shirt dress in cream runs large and is made of thin polyester. I'm wearing size XS, and due to the long length, I've belted it in a blouson style to shorten it to a more flattering above-the-knee length on me. It's a trick that I have learned since I'm petite, and it's useful because it both emphasizes the waist and shortens the dress - no alterations needed. The contrasting collar and cuffs, pintucking, and trim make this dress really special, not to mention the fun print.
Where/how to wear the dress: under a blazer with pumps and a floral bag, or to brunch with wedges, black tights, and a denim jacket.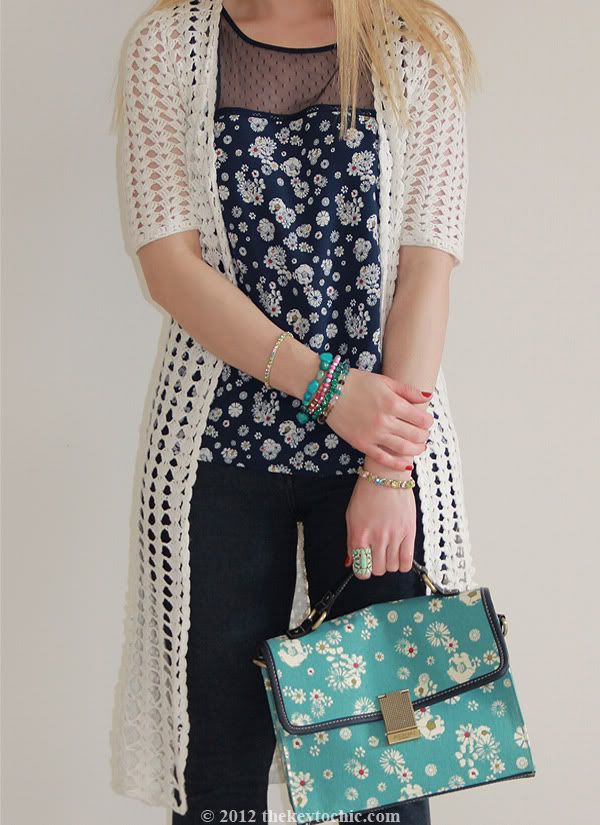 The sleeveless sheer panel floral top also runs big, and I'm wearing size XS. It is a bit boxy, but also looks great tucked into jeans or skirts. It required a strapless bra if you want to avoid visible straps. It's lightweight and comfortable, and perfect for spring. Since the weather is cool and windy, I've layered it under a cardigan.
As far as the floral flap handbag, I like the size and I love the print. There is a zip pocket on the back which I find useful. The clasp can be tricky, though, but I like that the shoulder strap is removable.
Where/how to wear the top: under a crochet sweater and with flared jeans for a casual school look, or tucked into an A-line skirt and paired with a trench coat and platform heels for a polished winter look. For spring, I may pair it with a kimono top, vintage 501 cutoffs, and ankle boots.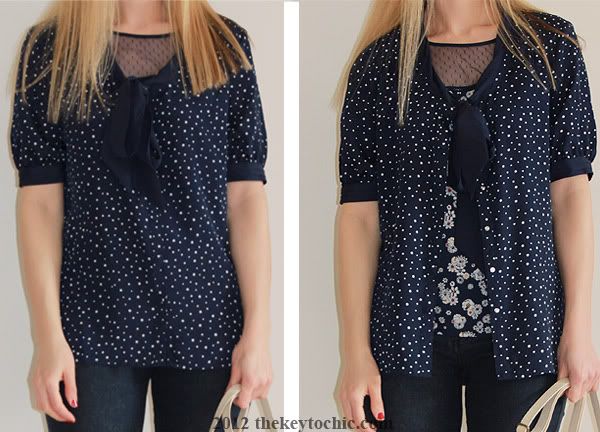 I layered the navy dot tie blouse over the sheer panel top on a whim, and liked the effect. I'm wearing size S, and found it to run true to size. The snaps are lacking in quality, but the top is comfortable and versatile. The length is suitable for me to wear tucked in or out.
Where/how to wear the blouse: with a striped pencil skirt, tailored blazer, and kitten heels for a print-mixing work look, with skinny jeans, a fringe bag, and ankle boots for a casual day, or with a blue floral maxi skirt and strappy wedges for a bohemian vibe.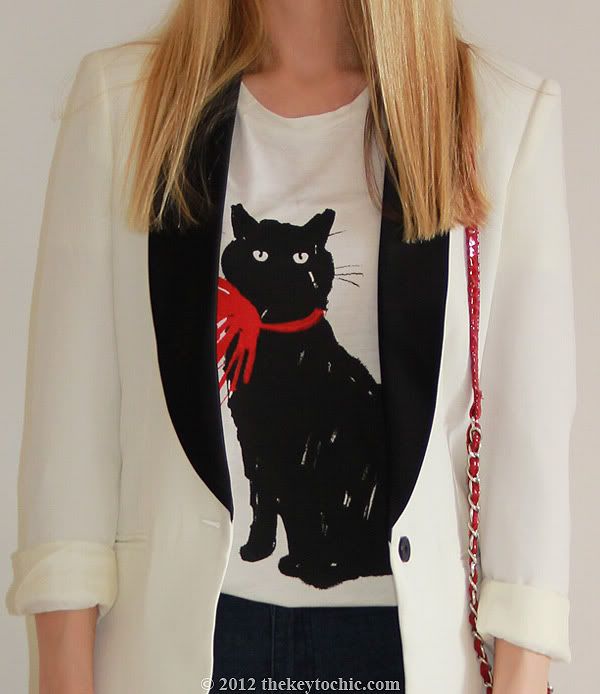 The quirky cat print of this tee is right in line with spring's conversational print trend. I couldn't resist the cute Milu print. I'm wearing a size S. The tee does run big, and unfortunately, it's made of wrinkle-prone rayon. Like some of the other tops, it's slightly sheer. My solution with sheer tops is to wear a skin-tone color tank top or camisole underneath. I get mine at H&M.
Where/how to wear the T-shirt: under a tuxedo blazer with skinny jeans and wedge pumps for a night out, or under a red cardigan and with a black pleated skirt and high-heeled Mary Janes for a preppy daytime look.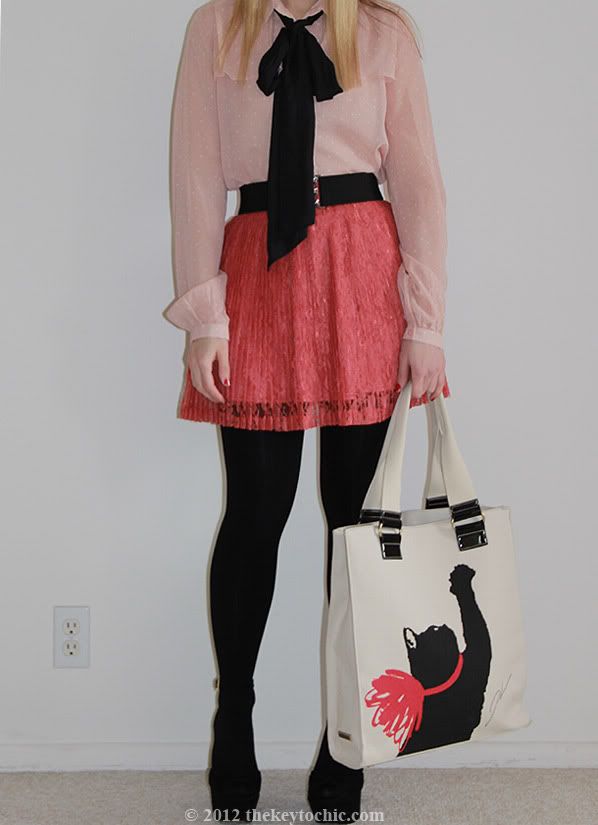 The sheer dot blouse was not an item that I planned to buy, however, I liked the feminine shape and the flounce in the front. I'm wearing size S, and I think it runs true to size. In order to get the Equipment-esque fit that I desire, I probably should have gone to a size M. I added the black bow, layered a nude tank underneath, and tucked it onto a Forever 21 skirt for a dressy French-inspired look.
The cat print tote bag is well worth the hype. It's roomy, has sturdy construction, and is adorable. The main drawback is that due to its light color, it's prone to getting dirty.
Where/how to wear the blouse: with a bow, opaque tights, and tucked into an A-line skirt for the office, or worn untucked with a faux fur coat, skinny trousers and pumps for a casual lunch date. For spring, the top would work well with cuffed dress shorts and ballet flats, or with colored skinny denim.
I will likely incorporate more pieces of the collection in upcoming personal style posts, and I'm looking forward to finding new and creative ways to wear them in order to make them unique to my style. I'm excited to see how everyone else wears their Jason Wu for Target pieces, too.