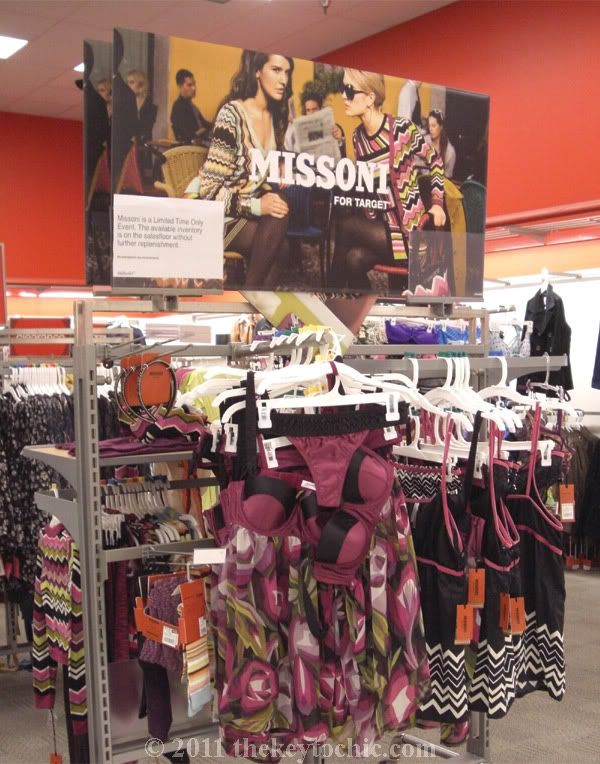 Unlike many people who may not care about Target's capsule collections, I'm a loyal shopper at Target and have been for decades, and I appreciate most of their clothing collaborations. Naturally, I shopped the Missoni for Target collection both as a fan of Missoni's signature knitwear and Target's wallet-friendly prices. I admire Target's savvy marketing techniques with Missoni for Target, particularly with their well-timed pop-up shops and oversized doll Marina and its
Tumblr
and
Twitter
accounts.
September 17, 2019 update - If you are in search of the Women's colore zig zag cardigan in size small or the Women's blue floral chiffon pullover in size small, I have them.
Please e-mail me at info at thekeytochic dot com or DM me on social @thekeytochic to purchase.
August 2019 update - If you missed out on Missoni for Target the first time around, bookmark this page now to shop the #Target20 anniversary collection on September 14, 2019. Target is celebrating 20 years of design by re-releasing some of its bestsellers, Missoni included. See which pieces they are bringing back and get shopping tips here.
Based upon the frenzy at the NYC pop-up shop last week and the wide variety of products in the collection, I knew this collaboration would be the biggest to date. When I woke up on Tuesday morning, it came as no surprise that Target's website was down. (I liked the site much better when it was affiliated with Amazon, as I could view the lookbook and price points in their press room section.) My plan was already in place the night before. I'd go to the Target stores in my area bright and early to seek out the items on my wish list. Fortunately, my schedule allowed for that.
Predictably, there were about 20 young women camped outside of the doors as of 7:45am. One was wearing a Missoni sweater. Others were in sweatpants and Uggs. They each had their shopping carts ready to go. One woman in the very front rubbed her belly and jokingly remarked, "please don't push me, I'm pregnant!" Another woman chided, "please be nice, everyone!" I felt as though we were about to start a marathon. I hoped that they would all be polite, with no grabbing, pushing, bartering, or aggressive behavior, but in reality, these collections can bring out the worst in people. More on that later.
The anticipation was palpable, and people chatted about their must-have items. I was the only shopper without a cart because a) I didn't plan on buying that much, b) I have a lifelong dislike for pushing carts, and c) I didn't want to have anything bulky in my way while breezing throughout the store, since I like to walk fast and maneuver easily in the aisles. So I grabbed a carry basket and watched as a poor Target employee unlocked the doors and narrowly avoided getting plowed down by a sea of Ugg boots, sweatpants, and early morning ponytails. As we flooded in, I headed straight for the Women's apparel and accessories. Most of the departments were cleared within 5-10 minutes, leaving the end cap displays left with nothing but promotional signage. There wasn't time to think; it was necessary to take what you wanted off the rack or else someone else would. Good thing I'd studied the lookbook and knew exactly which pieces I wanted.
If I had gone to bedding first, I may have gotten the throw I wanted for my new sectional, however, I wouldn't have snagged the two sweaters and floppy hat on my
wish list.
(For those who are wondering, the quality is nicer than previous capsule collections, the fabrics are soft, and fit is true to Target's sizing. Clothing prices were a bit higher, though.) Being a clothes horse, the apparel and accessories were higher priorities for me than the home goods and beauty items. I also wanted the bike, but thought it would only be available online, which was hopeless due to the unavailablity of Target's overly popular website that day.
Understandably, there's an abundance of animosity towards Target for being unprepared, and for eBay re-sellers who buy multiples in bulk to sell at inflated prices. I witnessed this with both Liberty of London for Target and Lanvin for H&M, but it was much more prevalent on Tuesday morning. Women were bartering in the aisles, chatting with each other, and grabbing whole racks and shelves of merchandise for their carts. Although I can sometimes relate to eBay sellers, I felt like the only one actually buying things for myself.
To my pleasant surprise, I spotted a Missoni bike on the shelf. I was so shocked to see it in the store that I did not hesitate, and as soon as I walked down the aisle with it and began to test ride it, I was accosted by no less than 15 women, some of whom swooned over it and encouraged me to buy it, and others who attempted to manipulate me out of buying it so that they could make the coveted purchase themselves. One woman confessed that like me, she rides a road bike, and she bought a cruiser only to ride it once. Well that's not me. I grew up riding cruisers, and can appreciate the comfort. In reality, they were quite mistaken about the appropriateness of my potential purchase, since they don't know that I ride a bike an average of 4 days per week (or about 40 miles per week), and would likely get more use out of it than any of them. Two women actually asked me to let them know if I wasn't going to buy it, and ironically, one kept telling me, "...not to pressure you or anything, but let me know if you don't get it." Upon leaving the store, I observed that the only Missoni products left were the headband, lingerie, and a few pieces of girl's clothing.
With Versace for H&M on the horizon, it's easy to suspect that designer capsule collections will continue to have this type of sell-out success. They'll also polarize shoppers into several camps: those that don't care, those that care and want it for themselves, and those that want to profit from them. If you follow me on
Twitter
, you may have seen my tweet that Missoni for Target is the epitome of classic economics: low prices + low supply + high demand & publicity = lots of high eBay prices and unhappy consumers. In terms of profits, it's a dream come true for Target, but hopefully, they'll learn something from this and be better prepared next time.
This post contains affiliate links and I may be compensated if purchases are made by clicking links.