My alarm went off bright and early this morning, but this was one day when I didn't mind getting up before dawn. What could get me up so early on a Sunday? Fashion, of course!
I shopped (and scored my favorites) during the
Altuzarra for Target
launch at my local Target. (Some of the goods are also still available for sale as of Jan. 2015 on net-a-porter U.S. and net-a-porter UK.) In true form, I'll be sharing my fitting room photos and thoughts in this review.
September 16, 2019 update - Shop Altuzarra for Target:
August 2019 update - If you missed out on Altuzarra for Target the first time around, bookmark this page now to shop the #Target20 anniversary collection on September 14, 2019. Target is celebrating 20 years of design by re-releasing some of its bestsellers, Altuzarra included. See which pieces they are bringing back and get shopping tips here.
September 17, 2017 update - Get inspired by Altuzarra:
The vibe at my store? Fortunately, my store didn't have a crowd, and I arrived at 7:30 to find another shopper and her dedicated (and well trained) boyfriend. Later, a few more shoppers trickled in quietly and tried the merchandise on. My store didn't stock very much, but that's OK, because I had a small wish list.
Below, a look at the racks waiting to be attacked by hungry #AltuzarraforTarget shoppers first thing in the morning.
The black croc belts were the first to go, while the
python print bow blouse
and
oxford snake dress
dress didn't seem in demand.
Bonus points for the pockets on these well made and comfy peasant dresses. I scored the black one, but it wasn't even on my wish list. Oops! It'll be perfect with ankle boots and a floppy hat for an upcoming casual wedding.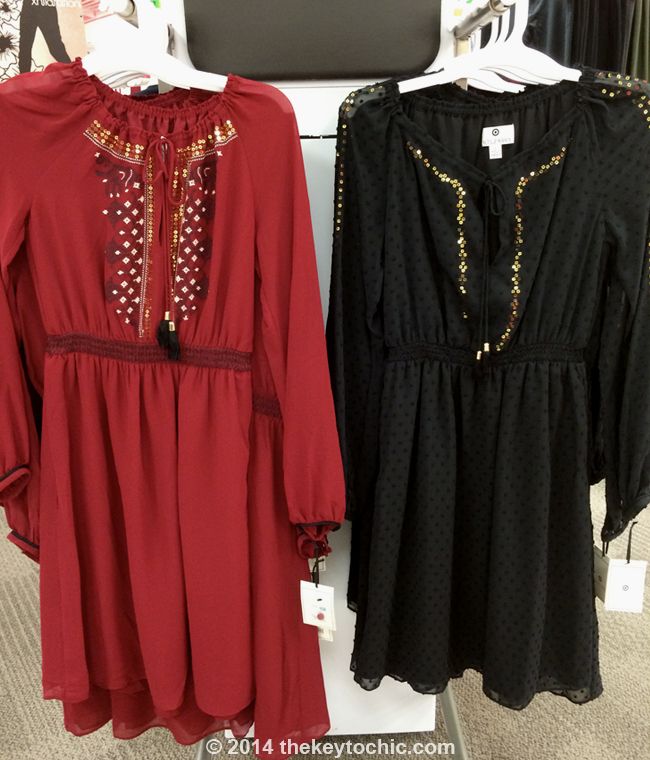 As a frequent wearer of florals, I was intrigued by the orchid print pieces. The orchid sweatshirt pictured below was a must-have for me and speaks strongly to my casual personal style.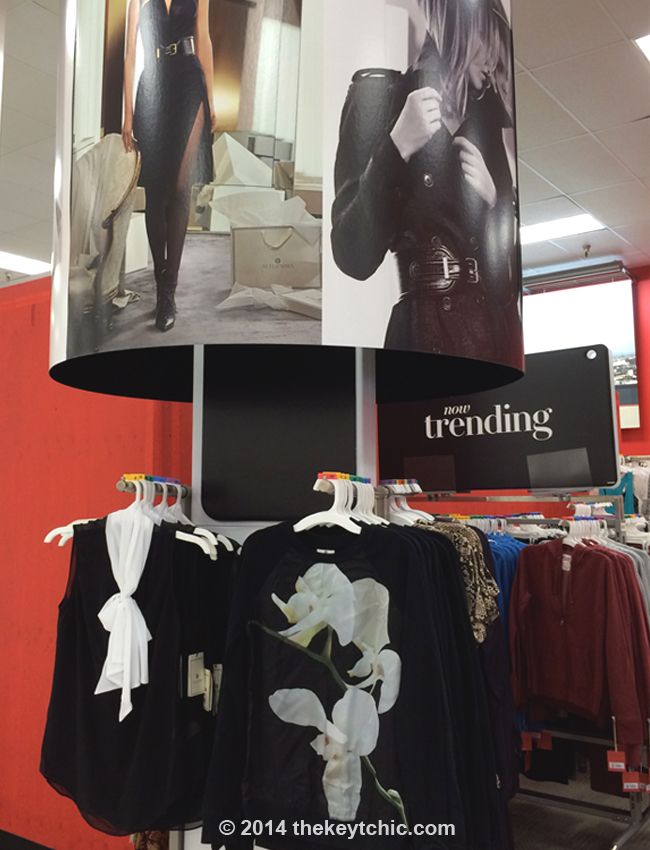 The orchid sweatshirt was not in high demand in my store, and they carried several of each size. The bow blouse is sheer, and both pieces run true to size.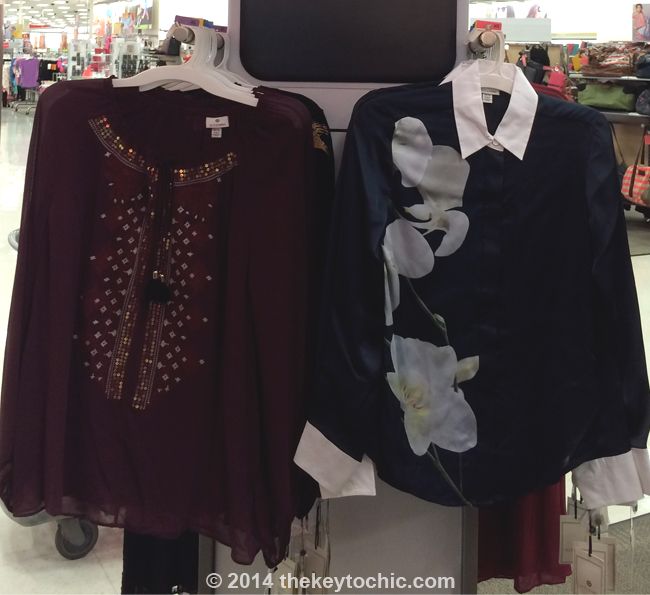 The ruby peasant blouse is beautifully embroidered, had sequins, and is very comfortable. It is slightly sheer, though. The navy orchid blouse has an easy fit with great tailoring, but the cuffs felt narrow. The top button is white and has an Altuzarra logo, which is a thoughtful detail.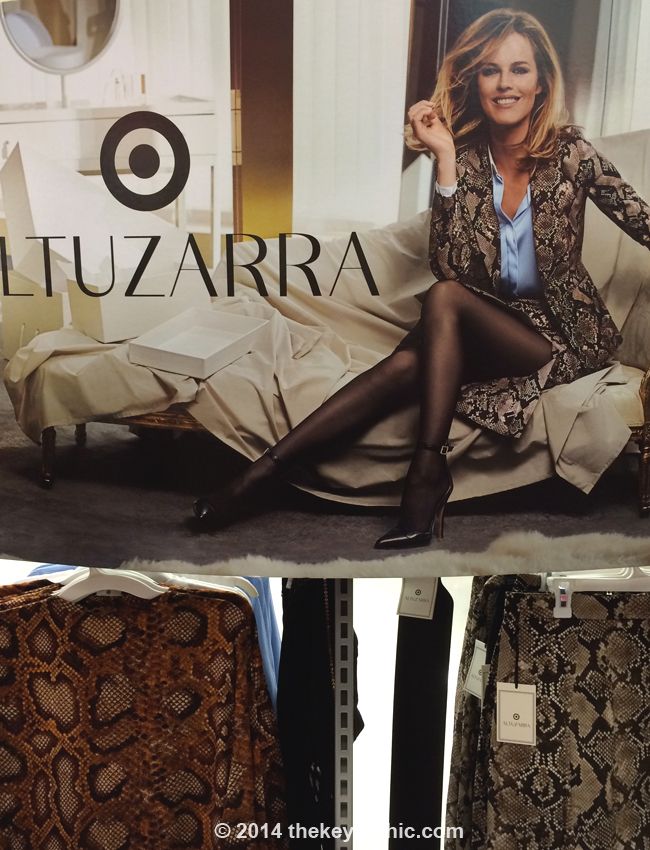 Let's start with my fitting room photos and favorites. For reference, I usually wear XS and size 2 in Target's Women's department, and small or size 3 in Juniors.
I really wanted the jacquard pencil skirt, and I sized up to a 4. It's fitted, sleek, and has a great snake texture. I'm wearing XS in the orchid sweatshirt, black/white bow blouse, and python bow blouse. All felt comfortable, lightweight, and chic, although the contrasting polyester front panel on the orchid sweatshirt was plagued with wrinkles.
A few of the glam dresses are pictured below. The ruby wrap dress runs small, so I sized up to a 4. It's super low cut on me, but I love the way it drapes. I'm wearing size 2 in the purple orchid dress and 2 in the ruby peasant dress. My favorite of these 3 is the peasant dress due to its easy fit and neckline. My least favorite is the purple orchid dress. I saw loose threads on the cuffs, which was disappointing. All were very comfortable and easy to put on. My studded belt is an old H&M purchase.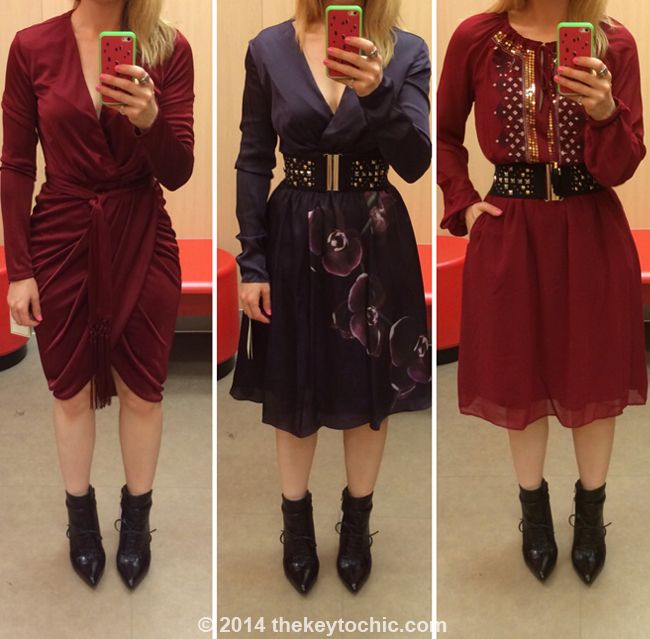 The crane sweater felt hefty, and the embroidery is well done. I'm wearing XS, and found it to be bulky in the shoulders. I'm wearing a size 2 in the oxford snake dress, and it was snug. I'd size up on this one. I appreciated the 3 buttons on the cuffs and the quality side zip. The red peasant blouse is an XS, and it was slightly sheer, or I would've bought it. It has an easy fit with fitted wrists, pretty gold sequins, and a tie at the neck. I think all three looks would be perfect for a professional office environment.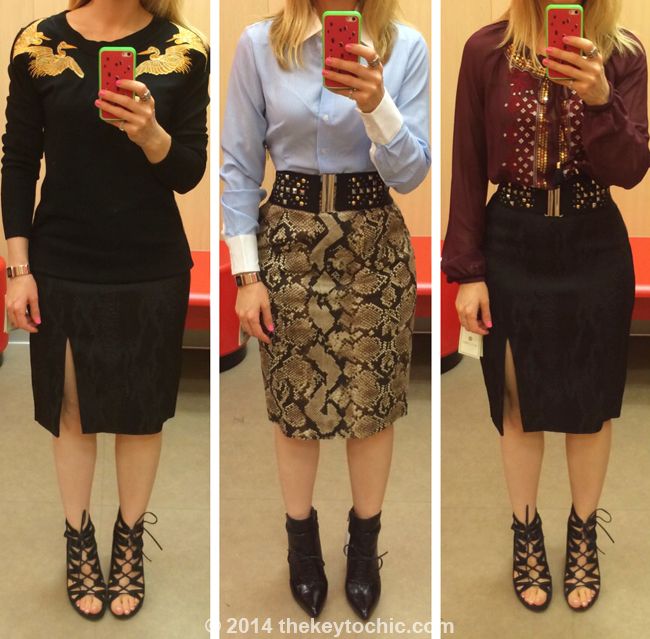 *Sept 15 update: I went to a second store to try more on. Below, the well-tailored peplum blazer in XS. It has satin lapels, one button closure, and an unexpected curved peplum with jacquard fabric in the back. I loved the fit but have something similar already. The faux fur jacket is XS, and has hook and eye closures, with a subtle sheen, and two pockets which are slightly awkward to stick your hands in due to the cropped length. I found it too voluminous, and it reminded me of a gorilla, but I think it would suit someone taller than myself.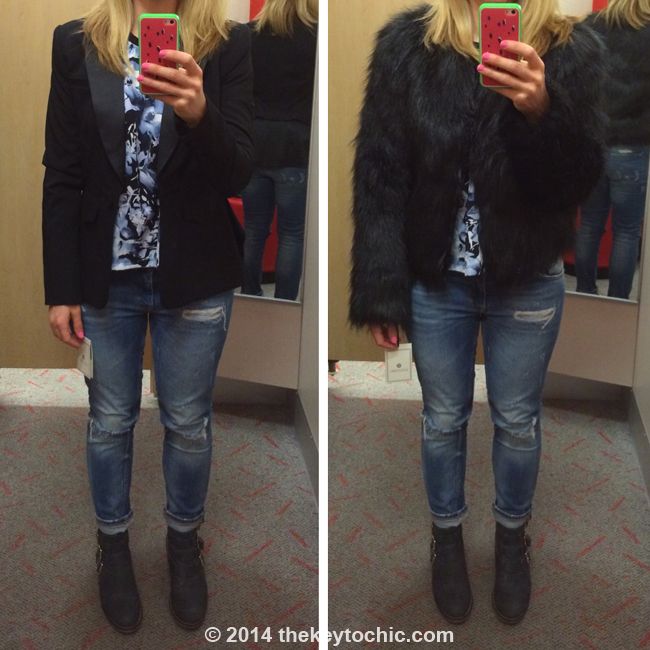 I tried on a size 6 in the orchid maxi dress because that's the smallest size this store had. It was tricky to zip up because of the waist detail in the back. (The zipper was too flimsy to get past that seam, which is a problem I've had at Target in the past.) The sleeves and waist run tight, and some shoppers may not appreciate the slippery hand of the polyester. I felt glamorous in it, and it was comfortable, although I'd wait for this to go on sale. If you buy it, I recommend going a size up! The ruby velvet blazer was a favorite, but the tuxedo ankle pants not so much. I'm wearing S in the blazer (it runs small in the shoulder/armpit area) and a size 4 in the pants. Shoulder pads give the jacket a nice shape, and I can see it being styled with a dark floral dress for '70s boho glam, or with skinny jeans for a modern rocker vibe. The pants had a chic tuxedo side panel, but were too low-rise for my taste. As for the crane dress, It runs small, so I tried on a 4. There's a sturdy side zip, it felt comfortable, and the fabric has plenty of structure.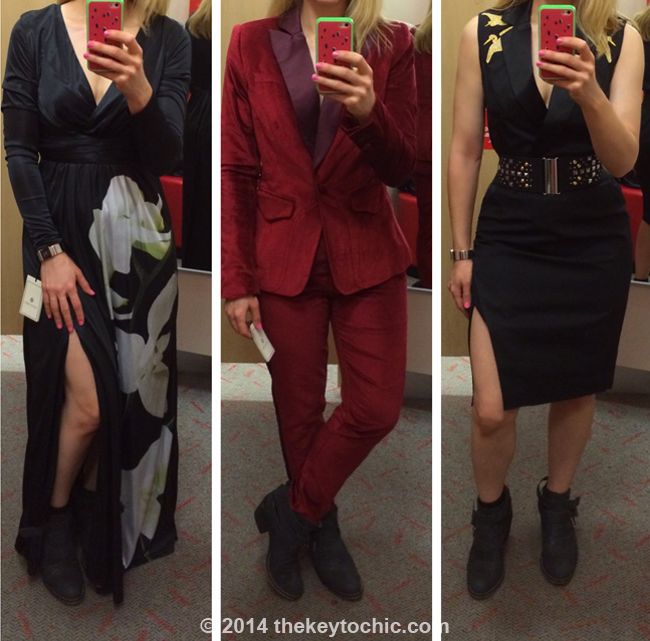 As an ankle boot enthusiast, I had to give these croc print versions a try. They run small and pointy, so I went up half a size. They're pretty comfortable and have an inside zip with straps around the ankle. Shoppers with an aversion to synthetic shoes may not like them, however, I think the texture and design details work fine for me.
My overall impressions of the collection? Kudos to CFDA award winner Joseph Altuzarra for a sleek collection! Sizing is varied, so if in doubt, size up because you can always get it tailored. In the future, a larger range of sizes beyond 2-16 would be nice to accommodate more shoppers. While I'm not a fan of snake prints, I still appreciated the solid construction of the snake blouse and pencil skirt (didn't try the matching blazer). I felt that the trench coats, maxi dresses, and pencil skirts were all very chic and true to Altuzarra's signature sophisticated vibe. (I didn't love the sleeveless striped shirtdress as it did not flatter my curves and felt flimsy. It's best to size up on that one and all the pencil silhouettes if you're curvy.)
This is the most sexy, grown-up collaboration that Target has done, in my opinion. The dresses and jackets look luxe and exude confidence, as evidenced by the perfect styling at net-a-porter.
I'm excited to style my new purchases in a way that speaks to my casual personal style.
Interesting to note that the return policy for Target shoppers is 14 days, with an extra 30 days for RedCard holders.
This post contains affiliate links and I may be compensated if purchases are made by clicking links.

* Connect with me on Facebook, where I'll be sharing more TargetStyle favorites, exclusive shopping info, and personal style content.
If you didn't get what you want, read my 12 tips on how to score your favorites!


Score the collection on sale at theoutnet.
Shop Altuzarra: