Some people like sports. Some people like fashion. To me, fashion is a sport, especially on days like today when Target launches a well-publicized designer capsule collection. If you've been following me since my early blogging days, you may know that I've never been one to say no to a bold color palette, vivid print, or a Target designer collaboration. Being able to have a piece of something "designer" at a mass retailer and budget-friendly price point is still exciting after all these years. No collaboration fatigue here, not yet anyway. So naturally, I shopped the Peter Pilotto for Target collection on Target's site last night with help from Twitter hash tags, lots of refreshing, multiple browsers, and patience. I've learned many tricks from past collections - too many to list in a blog post - in order to snag my favorites.
The pieces being sold by net-a-porter apparently became available to international buyers after 1am PST while I was sleeping and are selling quickly as I type this.
November 12, 2018 update - Shop Peter Pilotto for Target:
May 2017 update - shop a selection of deeply discounted Peter Pilotto pieces at The Outnet.
After studying the New York Fashion week launch party coverage, eBay listings, early blogger reviews, and general social media sentiment, I predicted that demand wouldn't match the Missoni or Phillip Lim for Target collections. So I hit my suburban Target store upon its 8am opening this morning and was first at the front doors.
The shopping vibe? Only three other shoppers arrived after me to pick their favorites. I even recognized one well-heeled woman from the Phillip Lim launch last fall.
Pictured below: Shoes, bags, and swimwear are just begging for warmer beach weather. The totes are large, shiny, and have a zip pocket inside with two small patch pockets.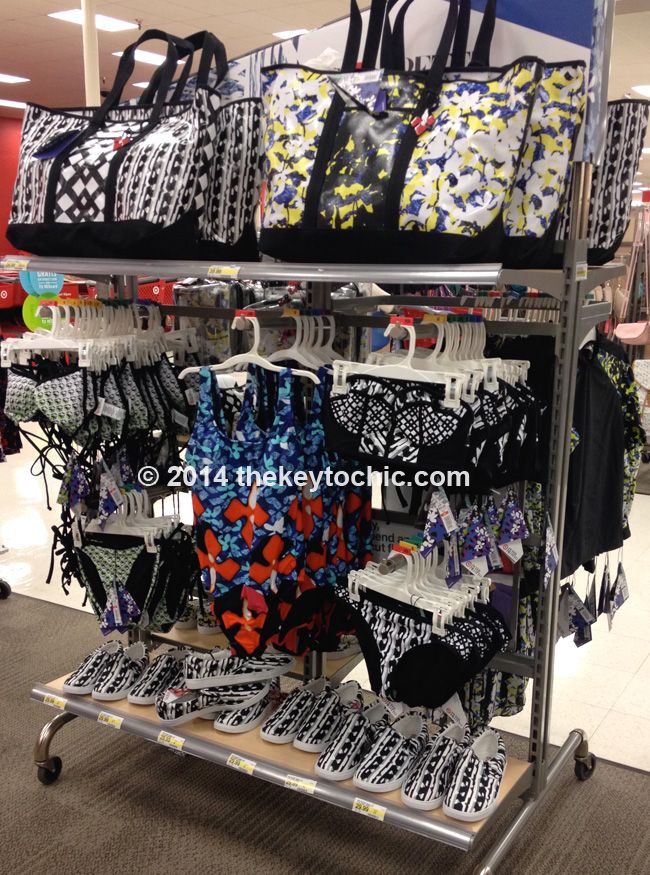 I didn't try on any swimwear but be aware that the shoes run a half size big, and since they come in whole sizes only, I recommend ordering your regular size. The floral ones were my favorite, and are a major trend for spring.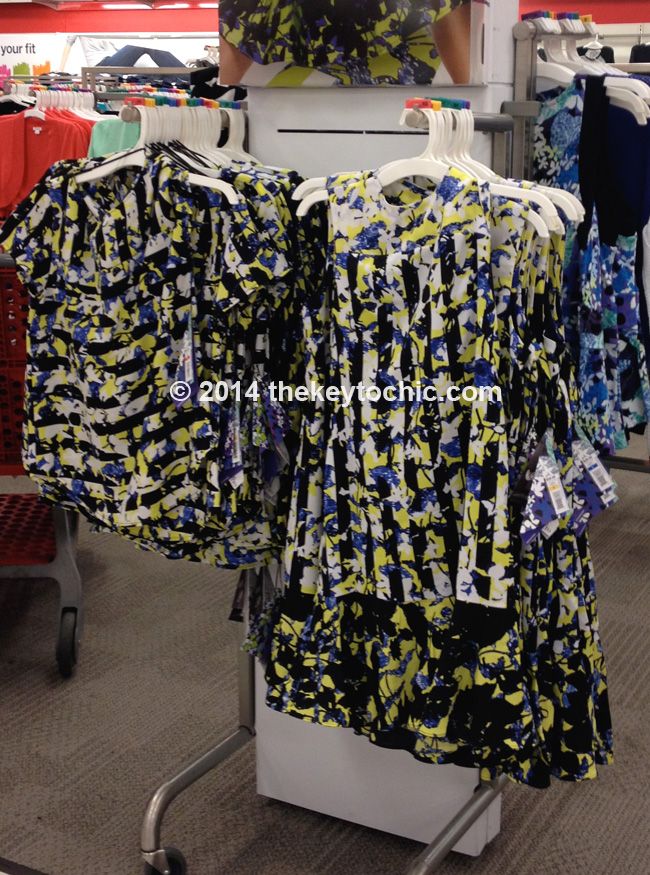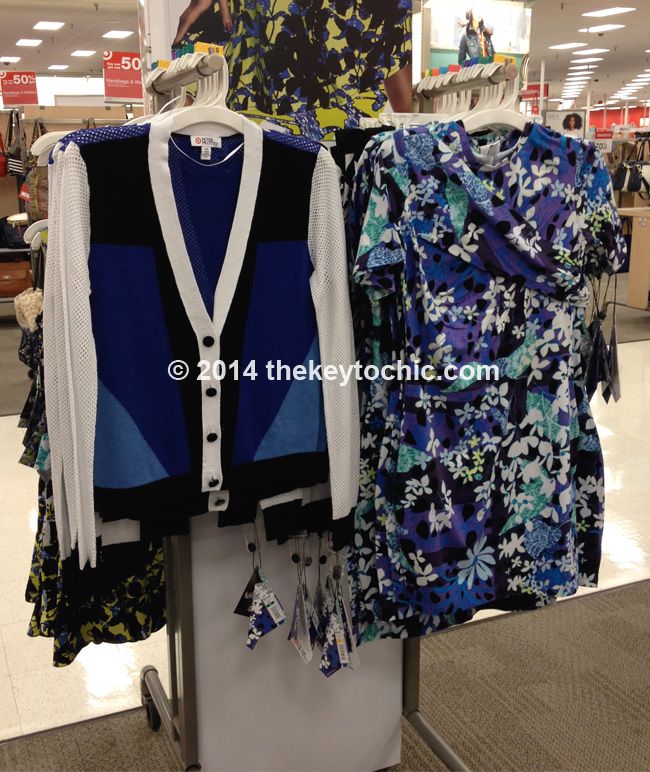 The clothing was merchandised into blue, red, yellow, and black/white color palettes. I quickly grabbed my top pieces for some fitting room photos.
** For reference, I tried on XS and 2 in everything except for the check print trousers.
Let's start with my least favorite. This belted red floral/check dress runs small and tight in the chest just as the Phillip Lim for Target colorblock dress did. The back zip was tricky, and the faux patent belt snaps in back. Thumbs up for a feminine shape but the fit was too small and tight in the neck and chest. My verdict? Size up if you buy it and be prepared not to have much mobility in your upper arms due to the restrictive tailoring.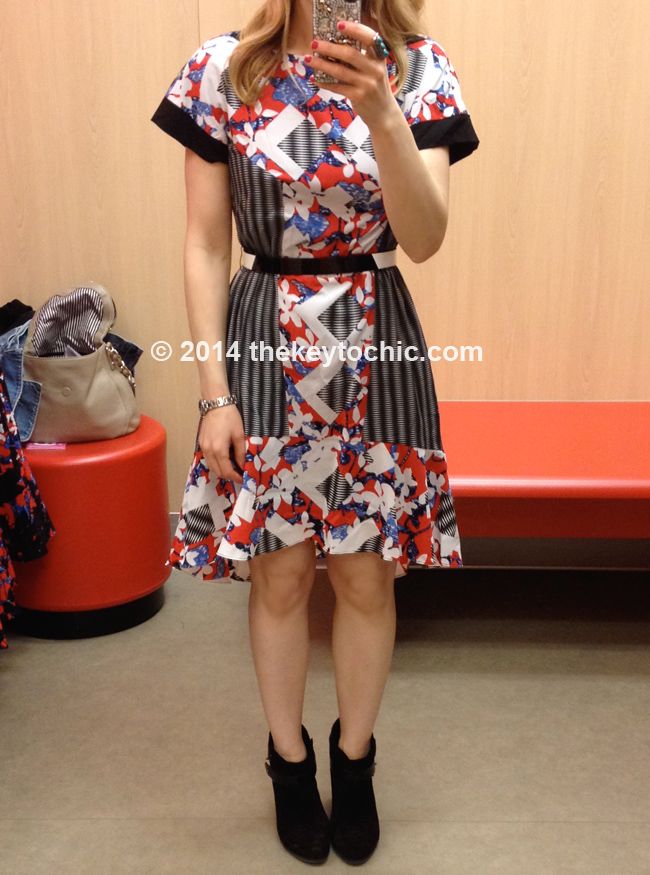 I added my own belt (a styling trick I employ often with dresses) to give this red floral stripe dress below more shape. The back zip was easy to use, it was lined, and I liked the lightweight woven fabric and on-trend ruffle hem. Thumbs up for fitting true to Target's Misses (not Juniors) sizing and being comfortable. Perfect for a Valentine's Day date, I might add!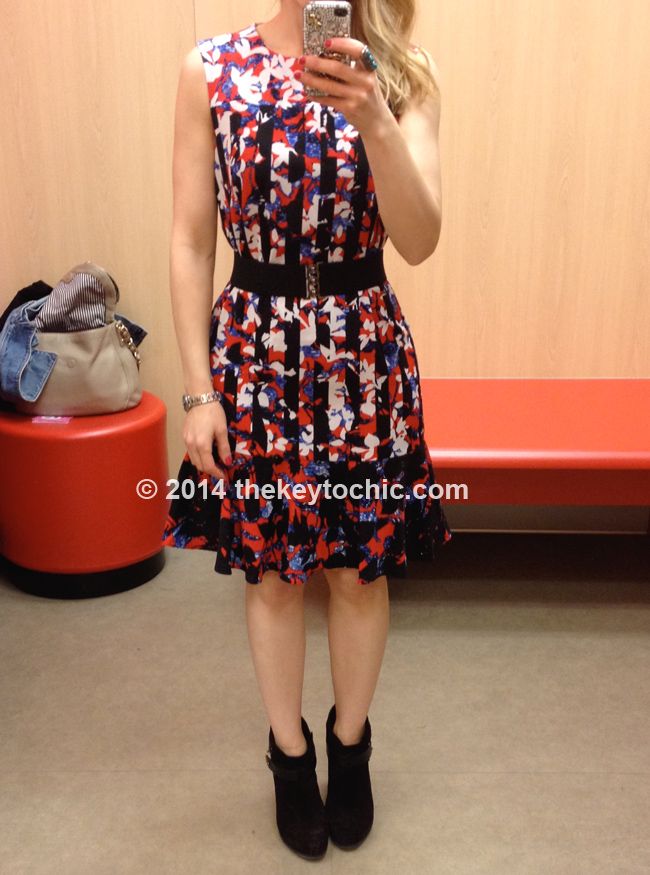 This blue floral dress was the least expensive dress in the collection at $29.99, and the cotton/rayon/spandex blend felt both comfortable and non-flimsy with plenty of stretch. I was not crazy about the pleats and draping in the chest area, but I loved everything else. It's a very fitted bodycon slip-on style, so no zippers or fastenings to mess with. Cute with strappy flat sandals for summer or tights, a wool coat, and black knee boots for winter.
Below, a few more looks as seen on my Instagram. The long-sleeved red floral tee on the left was another favorite. I am wearing XS and found the cotton/modal fabric to be soft and true to Target's Misses sizing. I tucked mine in to reduce the long length.
Some more looks below: the floral peplum top (which I loved for its spot-on tailoring) under the versatile mesh-sleeved colorblock cardigan, the red floral lace blouse, and the red floral/check print skirt. The wrists of the red floral lace blouse were a bit tight, but I liked it otherwise and found it comfortable. No itchy lace here! The skirt has pockets, which I adore, but the pleats in front didn't flatter me. As for the cardigan, I was on the fence. Love the sporty mesh sleeves and the fact that it will go with many items in my wardrobe and in this collection. It felt big in the shoulder area though.
Below, the tops I adored and took home: the floral peplum top fit surprisingly well in XS (and reminded me of the Phillip Lim version) and was soft and stretchy. The green floral stripe top was woven polyester with a scoop hem (perfect for tucking into skirts or wearing loose over skinnies). The red iris tank with its racerback shape was surfer girl-meets street style star rolled into one. It really surprised me and I loved it due to its easy fit and sporty vibe. Finally, the p
ièce de résistance,
the blue floral check sweatshirt, was my pick for overall shopper favorite. It was cozy, soft, and a total win. Easy to dress down with denim and boots or dress up with a pencil skirt and strappy heels for spring. I'll be wearing mine with the coordinating pencil skirt. Sizing was similar to Prabal Gurung and Phillip Lim sweatshirts.
During a second visit to browse the collection, I was able to style some new looks. Below, from left to right: the green netting print shirt tucked into my favorite skirt in the collection, and in the middle, the blue floral shirt dress layered under the check print skirt for some print mixing, and on the right, the shirt dress tucked into the pencil skirt for a matched look. The pencil skirt is a woven cotton/nylon blend with 2% spandex for some stretch, a back zip, and a structured, tailored silhouette. While I might've preferred an
Hervé Léger
-esque knit fabric, I still love the print and shape, as I'm trying to incorporate more pencil skirts into my wardrobe. Since I'm not a fan of shirt dresses, I styled this one as a blouse instead. As for the netting print tee on the left, I didn't care for the sleeve shape or length, as it broadens the shoulders.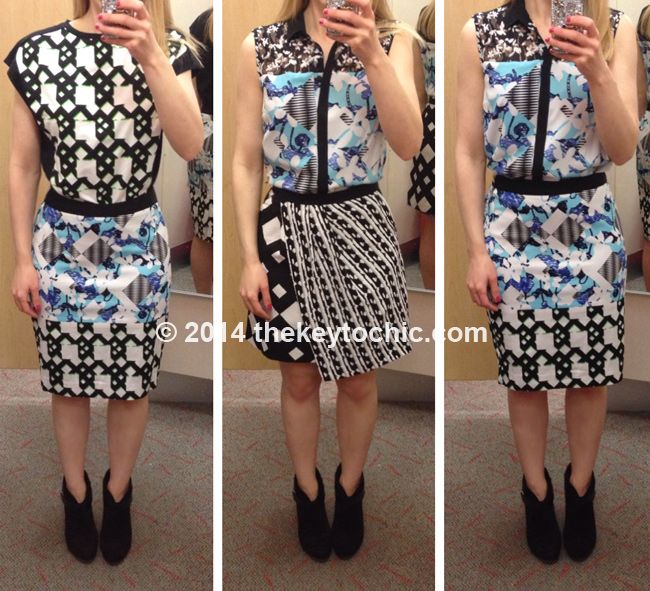 I added my belt to give the shirt dress below some definition and it makes all the difference. On the right, I styled the netting print tank top tucked into the check print trousers, which I grabbed in a size 4 for a slouchy fit. The trousers are very lightweight with contrasting panels near the pockets and hem. I wasn't crazy about the trousers or tank due to fit issues (too long and not flattering on me). For taller women, though the tank would be chic tucked into a skirt or worn with a blazer and skinnies.
I appreciated the prints staying true to the design aesthetic of Peter Pilotto and Christopher De Vos, who specialize in bold graphics, digital fabrications, and modern architectural tailoring. If shoes were the highlight of the Prabal Gurung for Target collection, and handbags the highlight of Phillip Lim's line, then kaleidoscopic printed frocks were certainly the main event with Peter Pilotto. Unfortunately, my store didn't stock many of the dresses, blazers, or the romper, so I couldn't mix and match to play stylist as much as I wanted in the fitting room.
Many of the tops I tried on felt great and will pair well with my casual lifestyle.
Did you shop the collection online or in store? Let me know in the comments!
If you didn't snag your favorites, here are some tips:
1. Go to Target often if you can over the next few days and weeks to check for returns (especially at the end of this week, when online orders reach their destinations). There will be plenty of shoppers with buyer's remorse, and online exclusives get marked down up to 70% off when they are returned. Remember that Target has a 90 day return policy and a generous 120 day return policy for RedCard purchases.

2. When you go to the store, stalk the fitting room go-back racks. A lot of the merchandise sits there before it's put back on the racks. Also check the customer service desk in the front of the store for returns, as well as other areas of the store for items that are placed in the wrong area.

3. Ask friends and family or use social media to reach out to people/shoppers who can help you find what you need. The #PeterPilottoforTarget #Pilottorama and #TargetStyle hashtags may be most helpful. Stay positive and be polite!

4. Some pieces are already sold out online, but use Target's "find in store" search function to find items in your area. I search by zip code to find what's nearby, and although it can be inconsistent or inaccurate at times like today, I still find it helpful most of the time.
5. Check net-a-porter's selection of the goods if you live outside the U.S. or Canada.
6. Target will generally mark items down about a month after the collection launches, typically on Thursday for clothing. What doesn't sell at Target eventually ends up at Goodwill. If you're patient, lucky, and your timing is right, you could score! Happy thrifting!
**For a closer look at my Peter Pilotto for Target picks, styling tricks, and outfits, follow along on my Instagram.
This post contains affiliate links and I may be compensated if purchases are made by clicking links.
Shop my favorites or shop the collection on sale at The Outnet before it sells out:

Shop Peter Pilotto: