While I rarely devote blog posts to non-fashion topics, I'm going to depart from my usual subject matter because of a recent experience that had life-changing effects on both myself and the community that I love.
It's almost been one month since the start of the Thomas Fire, the most destructive wildfire in California history. As a resident of the burned areas, I can see the ugly scars the fire left behind each and every day. From the piles of rubble where houses once stood to the blackened hillsides, the makeshift insurance offices set up in local parking lots, or the solemn chatter at the grocery stores, there are constant reminders of the destruction and devastation. Entire neighborhoods decimated, hillside landscapes changed forever, dreams shattered, lives altered. It's nearly impossible to drive around town or look out of my window and not see the destruction. My heart sank when I saw a neighbor who lived less than half a mile away from me sitting in a folding chair while sifting through the charred remains of his hillside home. Heartbreaking doesn't begin to describe the sadness and pain.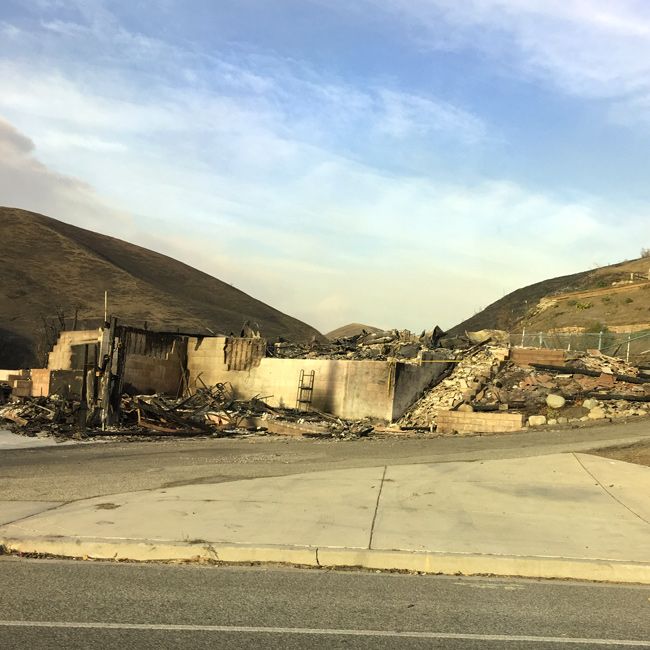 My Thomas Fire story starts with a text message from a longtime friend warning me about the fire shortly before I got ready for bed on an otherwise uneventful Monday night. Somehow, I knew it would be impossible to sleep knowing that a fire was burning nearby. I packed my essentials in my handbag and placed it next to my bed, just in case.
With rolling hillsides just a stone's throw from where I reside, I was no stranger to fires. I've seen flames there in the past, and I've been ready to evacuate before. This fire, however, was something else. Its speed and strength, combined with the vicious Santa Ana winds, were unprecedented. Shortly after I turned on my computer to check for local fire updates, we lost power. An ominous sign, indeed. I then turned to my smart phone for social media updates and texts from friends. Less than one hour later, as I glanced out of my bathroom window, what I saw was so alarming that when I opened my mouth to react, nothing came out. I saw a blur of glowing orange light. You know that nightmare when you want to scream but you can't? I'm not proud to admit that I panicked, running through the house with terror in my heart. "We gotta go!" I yelled in a quivering voice as I gasped for breath and prepared my dog to evacuate. I knew that I was not going to wait for any reverse 911 calls or evacuation notices, voluntary or mandatory. Those flames were far too close for comfort. At this point, I feared for my life and I only thought about taking my loved ones and my handbag and leaving ASAP. Your house can be rebuilt, but your life cannot, is what I kept thinking. Who cares about material things when there's a vicious fire looming on the hill? We gotta go, we gotta go...
Fortunately, I had friends texting me with information and first responder updates. I was able to gather my thoughts and grab a few more belongings, and for that I'm grateful. An hour later, after navigating traffic jams and intersections without functioning traffic lights, we safely got on the freeway, and what I saw was shocking. Flames engulfed my city from both the east and the west, casting an eerie orange glow in the sky. I did not feel safe and was reminded of the fire in Malibu that burned all the way down to the ocean a few years ago. I envisioned the same thing happening here. I just wanted to get far away as quickly as possible. Whether my home would be there or not when I returned, I did not care in that moment. I didn't even know where I was going; I just wanted to flee the raging fire.
My story has a positive outcome because my home is still standing. This of course was a great relief. It's taken me at least three weeks to fully come to terms with everything that's happened. The scene above took place behind my home. I've since experienced every emotion ranging from survivor guilt to euphoria, gratefulness, and various symptoms of PTSD. The memories of running through the house with a flashlight, hearing the parade of sirens, frantically trying to decide what to take, and trying to talk myself out of my panic will forever be etched in my mind Next time, I'll know exactly what to take and my emergency go bag will be within reach.
If you follow me on Instagram, you may know that I do Jillian Michaels workouts on a regular basis, and one of my favorite quotes of hers is "it is though the times that we struggle that we're the strongest." This rings truer than ever. It's gratifying to see my community pull together to help those who lost everything. As a result of the fire, I learned who I can truly depend on in my own circle of family and friends. I found out who cared about my safety, and who was willing to go out on a limb for me. To those friends and family members who helped me through this experience and read my blogs, I appreciate you more than I can express. Thank you!
I watched video of the fire burning behind my house, and I broke down when I saw just how close it came. I did not go to sleep the first night of my evacuation. How and why my house wasn't destroyed is still a mystery to me. Although I have a deep desire to know why my home survived, I just have to accept that it may have been chance, the wind direction, or perhaps a team of firefighters. There's no rhyme or reason as to why some houses were burned while others right next door were unharmed. My house is still intact, and I'm grateful to the firefighters and to the forces that be. As many times as I drive around town, I still can not get used to seeing piles of rubble and burned-out cars where houses used to be. It looks as much like a war zone as I'll probably ever see. Now I'll never take fresh air or my home for granted. It's a life-changing experience to experience such a destructive wildfire and it's a daily (and often hourly) reminder to be grateful that I have a place to live.
On a more shallow note, although I try not to think about it, the thought of what I could have lost in terms of clothing and shoes naturally crosses my mind. I'm a fashion blogger, and I don't deny being materialistic. I love shoes and clothes. It's who I am, it's what I do, it's my passion. In the end, yes, it can be replaced…well maybe not my vintage clothing or my grandmother's coats from the '40s, but there are lessons to be learned.
In the event of a fire, stay calm and have an emergency go bag ready. Keep emergency supplies (medication, flashlights, water, chargers, important documents, etc.) in an accessible place. Coordinate with friends and family to go somewhere safe. Wildfires and such events have a tendency to let us know who we can truly depend on. Once you know, keep those people close!
When I'm overcome with despair thinking about those who lost their homes, I think about how much worse things could've been. In the past few weeks, I've made donations to a few agencies such as the Red Cross, United Way Ventura County, Ventura County Animal Services, and local clothing drives.
If you are a Thomas Fire victim in need of women's clothing or accessories in size XS or small, please feel free to e-mail me, as I can help.
After experiencing such an overwhelming natural disaster, my hope is that I'll inspire someone else to be prepared, help others in need, or not take things for granted. I know that my life and my community have changed forever, and my hope is that we'll become stronger and wiser as a result of this terrible experience.
Stock up on emergency essentials now:
Thomas Fire, you may have stolen our homes, our fresh air, and our beautiful landscapes, but you haven't taken our spirit, our strength, or our hope for the future. We will rebuild in time.
Here's how you can help:
More info on how to help:
Key lessons I learned:
1. Do not wait for a mandatory evacuation order. Get your emergency "go bag" ready as soon as you are aware of any fire within 30 miles. Pack essential medications, ID cards, financial papers, home/health insurance info, etc in your bag.
2. Have an evacuation plan, think about where you can go (hotels may be booked up), and make sure you have enough cash and gas in your vehicle to last for several days. It also helps to keep water and non-perishable snacks in your go bag.
3. Make a plan for your pets as well. Many communities set up local shelters that take pets. Use social media for local information. See the Humane Society of Ventura County for more tips on how to help animals.
4. Buy some N95 masks to protect your lungs when the air quality is poor. If you can smell or see smoke in the air, wear your mask. You do not want those micro particles in your lungs.
5. Sign up for local text and phone alerts and keep your phone nearby at all times.
6. Have your mobile devices charged up, keep the chargers in your go bag, and keep extra batteries, flashlights, and radios ready in case you lose power and internet service.
7. Stay calm and let firefighters do their jobs. The last thing they want is homeowners getting in their way and telling them how to do their jobs. They are well trained and will do what they can to save your property. If you have to evacuate and you have time, leave hoses in a visible place for fire crews to use.
8. Remember that your life is worth more than your property! Do not put your life at risk. Evacuate early and contact neighbors and loved ones to let them know how you're doing. You can replace your home, but not your life.
This post contains affiliate links and I may make a commission if purchases are made. Proceeds from this post will go to Thomas Fire victims.
See what to pack and buy emergency essentials: