It was the decade that defined my youth, and a time that I'll never forget. It was also the era that brought us scrunchies, Seinfeld, the Rachel haircut, waifish models, the grunge movement, and unforgettable movies such as Clueless and Singles. And the style icons...w
ho doesn't remember flipping through a magazine to stare at Drew Barrymore's generously plucked brows and dark lipstick, Cindy Crawford's sexy, athletic curves, or doe-eyed beauty Kate Moss? Ah, the memories.
Let's hear it for the '90s!
As much as I both adore and cringe at the thought of some of the fashion trends from the '90s, they're back in a big way this season. From the decade that brought us everything from
daisy prints and floral denim to attitude tees and chunky-heeled sandals, comes the versatile slip dress. We wore them with flannels and Docs back in the day, and now, for our Target Twins project, Toni and I are putting the spotlight on this lace-trimmed slip dress that comes in either pastel floral or plaid print. Here's a look at how we wear them.
Merona jacket, Xhilaration cropped tee (in other colors), Xhilaration floral slip dress, Mossimo skull belt, Merona turnlock satchel, and Glaze heels (similar)
As a teenager, we wore our '90s slip dresses in ditsy floral printed rayon with baby tees (that had contrast topstitching) layered underneath and flannels tied around our waists. Not to mention Doc Martens, backpacks, acid washed denim, and lipstick in dark berry hues. What else to wear when rocking out to Pearl Jam or dancing at a house party to Snoop Dogg? As awesome as that sounds (or not), I've styled my slip dress in a more modern way with simple heels, a slightly subversive skull belt (to define the waist and shorten the dress), minimal accessories, and classic layered pieces. It's a slight nod to the '90s with an emphasis on slight.
Click each numbered item below to shop my look.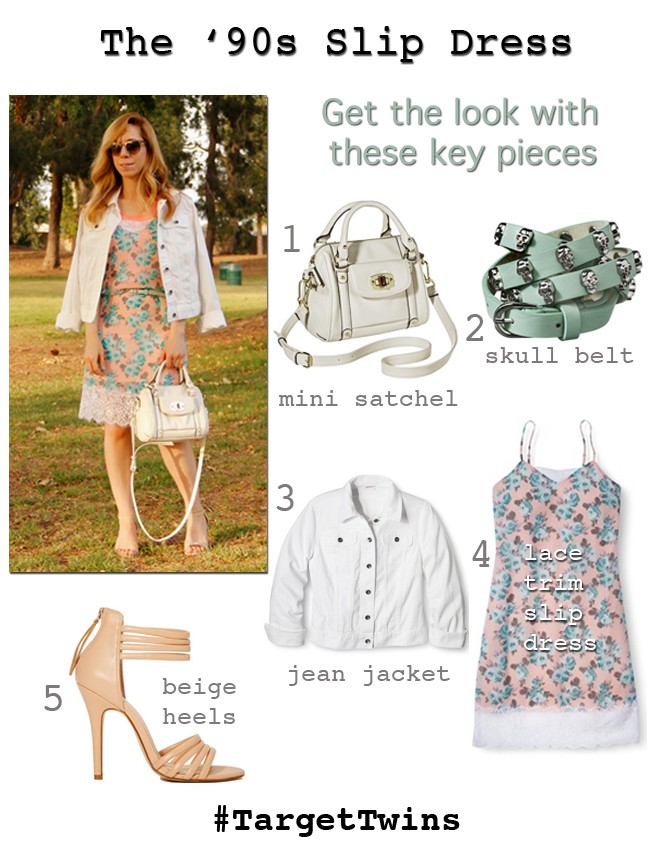 Have a look at Toni's blog to see more of her elegant outfit and how to get her look for yourself.
Share your own 1990s favorites with us and get more style inspiration by using #TargetTwins on Pinterest, Twitter, and Instagram. W
atch this space for a continuation of our '90s nostalgia theme on Friday.
Love the '90s? See more inspiration: